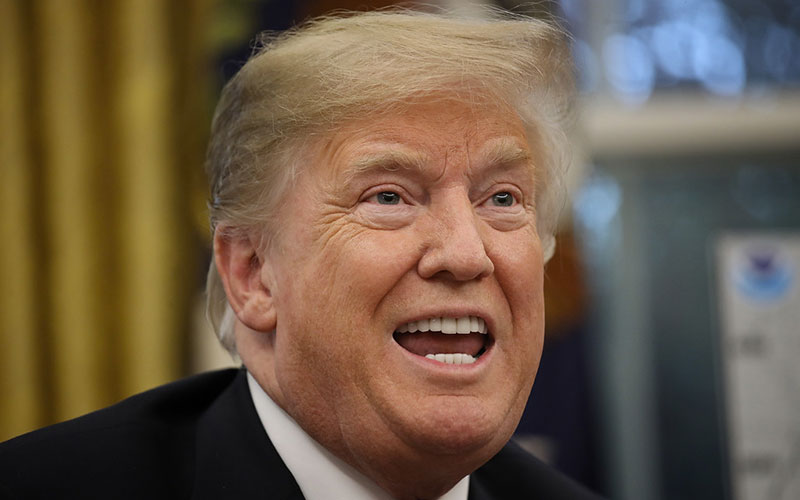 Not much has changed about Donald Trump over the years.
17 years ago, on September 11th, 2001—infamously known as "9/11″—Donald Trump bragged that he owned the tallest building in downtown Manhattan just hours after the Twin Towers collapsed. And it wasn't even true.
Over the years, Trump has made a number of false and tone-deaf remarks regarding the worst terror attack on U.S. soil, but we don't think anything can top what he said the day of the attack itself.
In the hours following the 9/11 terrorist attacks, the real estate mogul called into a New York radio station and made a very distasteful comment about how his 40 Wall Street building was Manhattan's tallest skyscraper now that the World Trade Centers had been reduced to ash and rubble.
"40 Wall Street actually was the second-tallest building in downtown Manhattan, and it was actually, before the World Trade Center, was the tallest—and then, when they built the World Trade Center, it became known as the second-tallest," he said. "And now it's the tallest."
17 years ago, today, Donald Trump bragged about how his building was now the tallest one in downtown Manhattan since the Twin Towers fell. pic.twitter.com/XOQxAVAoL5

— Brian Klaas (@brianklaas) September 11, 2018
Not only was that a ridiculous thing to say on the day thousands of Americans lost their lives, but it was also ridiculously false. According to the Council on Tall Buildings and Urban Habitat, the 70 Pine Street building is about 25 feet higher than 40 Wall Street, with the former being 952 feet tall, and the latter being 927 feet tall.
Trump also claimed $150,000 from the government's 9/11 fund, money that was originally set aside to help small businesses cover "rent loss" and "repairs," claiming that Trump Tower was damaged. Guess what: it wasn't.
More than a decade later, Trump (who by then was a reality TV star and host of The Apprentice) tweeted a bizarre message out to the "haters and losers" on the anniversary of the attack.
"I would like to extend my best wishes to all, even the losers and haters, on this special date," he wrote in 2013.
"@realDonaldTrump: I would like to extend my best wishes to all, even the haters and losers, on this special date, September 11th."

— Donald J. Trump (@realDonaldTrump) September 12, 2013
Two years later, in November 2015, during his presidential election campaign, Trump notoriously claimed he had seen thousands of Muslims cheering in New Jersey as the Twin Towers collapsed.
"I watched when the World Trade Center came tumbling down, and I watched in Jersey City, New Jersey where thousands and thousands of people were cheering as that building was coming down," he said at a rally in Birmingham, Alabama.
Trump later claimed the cheers came from areas with "large Arab populations," however, many residents of New Jersey and police representatives have refuted the ridiculous claim.
He also claimed to have lost "hundreds" of friends in the 9/11 attacks, which would mean that he knew around one in ten of the nearly 3,000 people who died. Meanwhile, he's never named a single person he lost in the tragedy.
Trump has also insisted that he would have handled terrorism better than his predecessors George Bush and Bill Clinton, saying both of them failed to prevent the attack.
He also said 9/11 never would have happened under his immigration policy, despite the fact that 15 of the 19 terrorists involved in the attacks were actually citizens of Saudi Arabia—a country that was not a part of his travel ban.
"Those people that knocked down the World Trade Centre most likely under the Trump policy wouldn't have been here to knock down the World Trade Centre, just so you understand," he said during an August 2016 campaign rally in Florida.
And we can't forget about April 2017 when in an interview with the Associated Press about his first 100 days in the White House, he boasted that his TV ratings at the time were higher than those for 9/11 news coverage.
"It's the highest [ratings] for 'Deface the Nation' since the World Trade Center," he said of the CBS show that is actually called Face the Nation. "Since the World Trade Center came down. It's a tremendous advantage."
Yesterday, on the 17th anniversary of 9/11, Trump was called out on Twitter for his extremely minimal tweet recognizing the tragedy.
He simply wrote: "17 years since September 11th" to commemorate a day in which thousands of American lives were lost.
17 years since September 11th!

— Donald J. Trump (@realDonaldTrump) September 11, 2018
And Twitter users were quick to let him know how much of a trash tweet it was.
Thanks. We're aware https://t.co/mZjfrAW9ST

— Dusty (@DustinGiebel) September 11, 2018
A lot of presidents would use this day to honor the dead, rather than prove they have the ability to count.

— James Felton (@JimMFelton) September 11, 2018
Why do you put an exclamation point like it's something to be excited about? It's a sad day of remembrance. You have no humanity.

— elaine d (@never_martha) September 11, 2018
Him do good math

— tc (@toddcnyc) September 11, 2018
So you can tweet long paragraphs about your "Witch Hunt" but that's all you can say about 9/11?

— Emily Benz (@ebenzzz_94) September 11, 2018
Someone even pointed out how he looked as he arrived at a ceremony in Shanksville, Pennsylvania, the site of the United 93 crash:
https://twitter.com/Dommy00785548/status/1039530288026726400
For comparison's sake, this is what a tweet from the POTUS about 9/11 should look like:
We will always remember everyone we lost on 9/11, thank the first responders who keep us safe, and honor all who defend our country and the ideals that bind us together. There's nothing our resilience and resolve can't overcome, and no act of terror can ever change who we are.

— Barack Obama (@BarackObama) September 11, 2018
Be the first to receive breaking news alerts and more stories like this by subscribing to our mailing list.