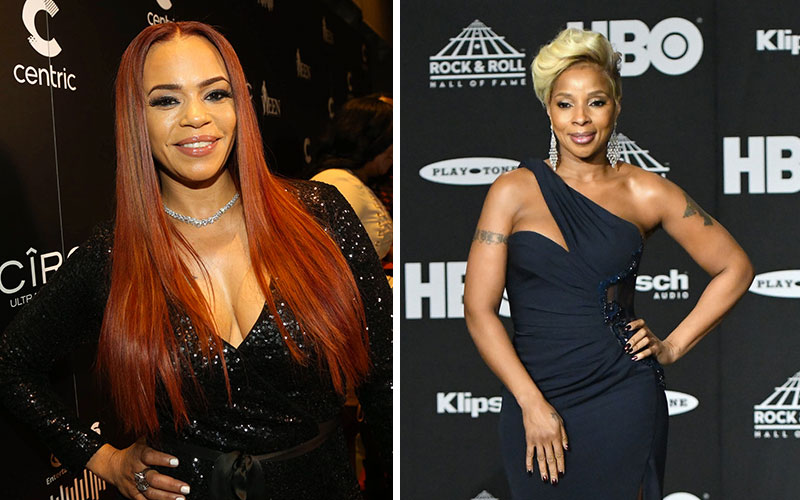 ******
Original story below:
What. The. F***. Is. Going. On?!
While we're all still reeling over the fact that Cardi B and Nicki Minaj almost came to blows at a New York Fashion Week event, which culminated in Cardi throwing a shoe at Nicki and walking away with a knot on her forehead after allegedly getting elbowed by Nicki's security, comes news of another big brawl Friday night (Sep. 7).
According to an unconfirmed internet rumor, our favorite R&B aunties, Mary J. Blige and Faith Evans, got into a fight of their own, and it all allegedly went down at a party hosted by Diddy in the Hamptons.
No credible news sites have reported on the alleged incident, and no one from the party has come forward to confirm or deny the rumor.
We also have no idea where this rumor started from and why Faith Evans and Mary J. Blige would be fighting in 2018 in the first place. But none of that is stopping folks from talking about it on Twitter. So much so that "Mary J," Faith Evans" and "Mary and Faith" are currently trending!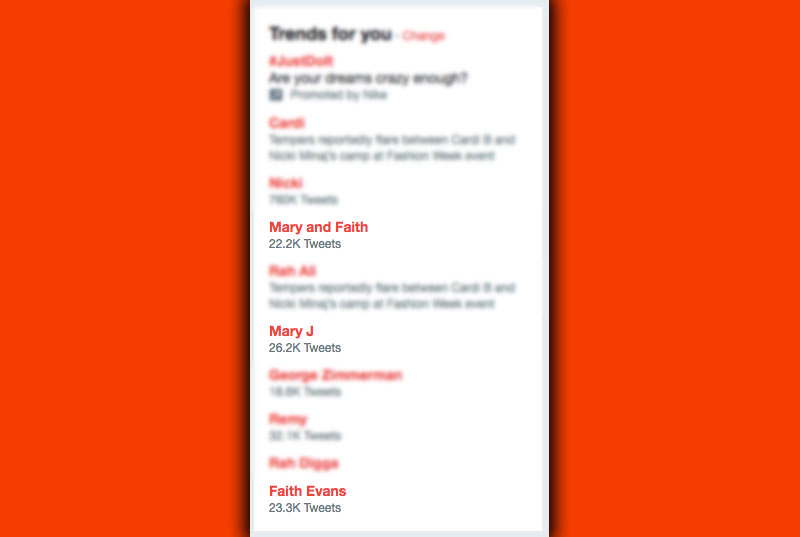 We're not sure which incident happened first—Cardi and Nicki's or the alleged fight between Faith and Mary—but the fact that Cardi and Nicki got into it sparked rumors that Faith and Mary got into their own altercation as well.
Check out the tweets below:
https://twitter.com/AwesomestOn3/status/1038282090654195712
so…y'all are telling me Mary J. Blige and Faith Evans fought at Diddys party in the HAMPTONS? And then Nicki and Cardi got into it at a NYFW party? pic.twitter.com/CcE6I4rs4O

— arian (@michaelsbieber) September 8, 2018
https://twitter.com/tigergreen404/status/1038298224170291200
Mary J. Blige and Faith Evans were fighting at Diddy's party in the Hamptons? WHEWWWWWWWWW!!! Black Hollywood is spicy tonight.

— BRIANA??? (@briasoboojie) September 8, 2018
Cardi B going at it with Nicki's people, Mary J and Faith Evans fighting at the Hamptons?? Alexa, play Knuck if you buck #FightNight pic.twitter.com/R2jpGSrbgJ

— .:KeArianLachelle:. (@KKearian10) September 8, 2018
Bitch nick and cardi fighting and now y'all telling me Mary j blige out here throwing hands too tf is going on pic.twitter.com/lVZcLCDrf6

— Jeremy? (@TrueBasicJeremy) September 8, 2018
I just want y'all to know I would prefer a hd video of Mary and Faith fighting rather than a Nicki and Cardi video pic.twitter.com/JzTouzQ6Yx

— arian (@michaelsbieber) September 8, 2018
this how mary j blidge rolled up on faith evans pic.twitter.com/kr1Ieu1onV

— trap money benny (@_TonyHilfiger) September 8, 2018
Everybody worried about Cardi and Nicki, but my old ass is more interested in the Mary and Faith fight. That's the one right there. Shit been brewing for years…

— V. Shawn (@Sha_boogi3) September 8, 2018
Nahhhh i wanna see footage of Mary and faith pic.twitter.com/x9Xe8noJPs

— Daydreamer ?? (@_boymeetsboy_) September 8, 2018
https://twitter.com/KiaChantel/status/1038310445487149056
Nicki and Cardi. Mary and Faith. Whew Chile. The ghetto. pic.twitter.com/qgGdLP6tWk

— Christina ? (@_TinaNotTurner) September 8, 2018
Not Mary and Faith?!?! I cannah pic.twitter.com/ARbcPn1qPO

— Ina Musse Ali (@TallieSomali) September 8, 2018
Again, we have no idea how credible this story is, because, at this point, it is simply a rumor that has taken a life of its own on Twitter. Most tweets are people simply asking whether a fight even happened between Mary J. Blige and Faith Evans.
We'll keep you posted on any updates about this rumor.
Be the first to receive breaking news alerts and more stories like this by subscribing to our mailing list.