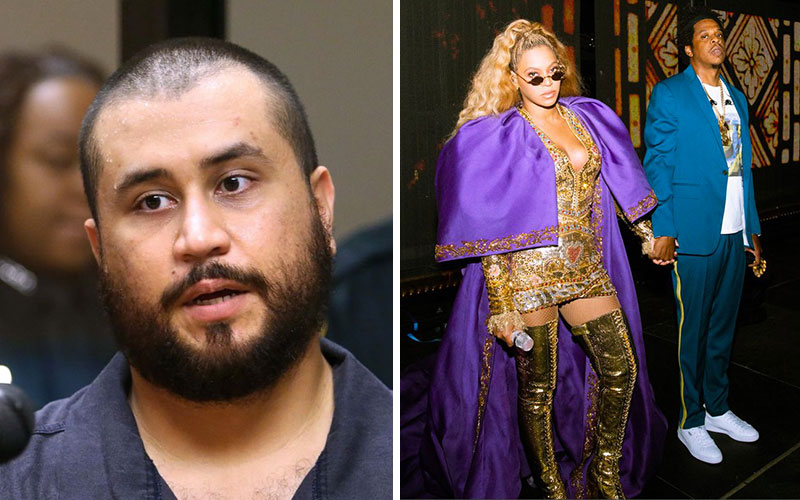 The BeyHive is up in arms over reports that George Zimmerman allegedly threatened Beyoncé and JAY-Z during the filming of "Rest in Power: The Trayvon Martin Story," a six-part documentary series that was co-produced by JAY-Z.
The Blast reports that Zimmerman, who is known for getting away with the murder of Trayvon Martin (which he claims was self-defense), sent a series of text messages in which he called Beyoncé a "broke whore" and promised that she and Jay would "find themselves inside a 13 foot gator."
His words verbatim: "Tell Jay-Z he's a bitch and his wife is a broke whore. If I see either of them in my life, they'll find themselves inside a 13 foot gator."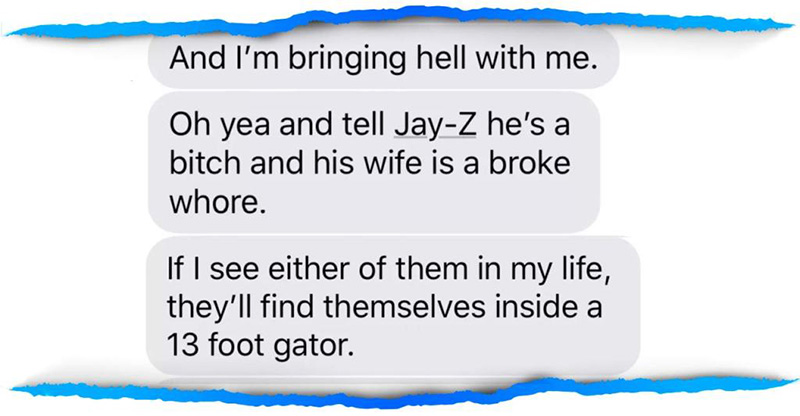 The disturbing messages were allegedly sent when private investigator Dennis Warren was reaching out to people, including George, to potentially appear in the docu-series, which is about Trayvon and the tragedy that inspired the Black Lives Matter movement.
George, who was acquitted in Trayvon's shooting death, allegedly sent hundreds of harassing messages and voicemails to Dennis, and they're all (including the threats towards Beyoncé and JAY-Z) set to appear in the upcoming finale of the docuseries. The interactions eventually led to George being charged with misdemeanor stalking back in May.
Despite the charge, Zimmerman tried to hit Warren with a subpoena that demanded him to show him records of his investigation, but Warren fought it, arguing that revealing that information could put a number of already fearful participants at serious risk.
In addition to Warren, Zimmerman also sent similar threatening messages to Michael Gasparro, who executive produced the series alongside JAY-Z. According to the Blast, George messaged Michael with the producer's own address and told him that members of the Genovese family, a known powerful organized mafia family, were looking for him.
George Zimmerman's threatening messages to the production crew are similar to ones he directed at JAY-Z last year when he threatened to "beat" him and feed him to an alligator after George claimed production was harassing his family for interviews.
Once word of Zimmerman's threats against Beyoncé and JAY-Z hit the internet, the BeyHive—Beyoncé's loyal fanbase—made it crystal clear that they were not here for any slander against the King and Queen of Hip-Hop.
https://twitter.com/crowdgoinape/status/1038293454768496640
The Beyhive after George Zimmerman threatened Beyonce. pic.twitter.com/TE046aS6kg

— Wakanda Citizen (@wakandacit) September 8, 2018
George Zimmerman gone turn up dead fuckin with Beyonce ???

— Tierra Whack (@TierraWhack) September 8, 2018
George Zimmerman threaten Beyoncé which means he should end up missing within the next 48 hours. Hive y'all know what to do.

— fatuma. (@DopeDjiboutian) September 8, 2018
GEORGE ZIMMERMAN REALLY THINK HE FINNA COME FOR BEYONCÉ?!!!! BEYONCÉ?????????????? pic.twitter.com/EqE95H28KN

— merry thiccmas? (@deannasthrone) September 8, 2018
Hold up, George Zimmerman threatened WHO?!

Aww naw. pic.twitter.com/ztUXahScoB

— Reggie Cunningham (@kidnoble) September 8, 2018
Meanwhile, some folks are just tired of the fact that George Zimmerman is still breathing.
george zimmerman is always trending but never dead

— douglas wead (@muhmentions) September 8, 2018
When you see George Zimmerman trending and find out he didn't die pic.twitter.com/oQGP6CnNd8

— Tarek Fontaine (@NBA_REK) September 8, 2018
Every time George Zimmerman is trending I'm relieved that it's not because he murdered another person but disappointed that it's not because he's dead.

— Judah Maccabeyoncé (@OhNoSheTwitnt) September 8, 2018
Everytime I keep seeing George Zimmerman trending, and I end up getting excited for nothing pic.twitter.com/O4Vh0eXGTu

— Tariq Nasheed (@tariqnasheed) September 8, 2018
How is George Zimmerman still alive? This guy has been nothing but problems and seems to be actively trying to get into any violent confrontation that he can get into. The way he's conducted himself is despicable. Clearly he's a very disturbed person. https://t.co/7ewktLarrz

— Robby Starbuck (@robbystarbuck) September 8, 2018
Saw George Zimmerman trending… pic.twitter.com/UtTJlwPARP

— Ben Arp (@thatbenarp) September 8, 2018
another day, another "George Zimmerman" trending and not because he choked, fell and died. pic.twitter.com/Gvp37wYfui

— ALT- Immigration ? (@ALT_uscis) September 8, 2018
Another "George Zimmerman" trending where he's still alive. Dammit.

— Myandra MerryMesmeric?? Mueller's witchy lil' elf (@naughtywriter2) September 8, 2018
The final episode of "Rest in Power: The Trayvon Martin Story" airs on Monday (Sep. 10) at 10:00 p.m. ET on the Paramount Network.
Be the first to receive breaking news alerts and more stories like this by subscribing to our mailing list.