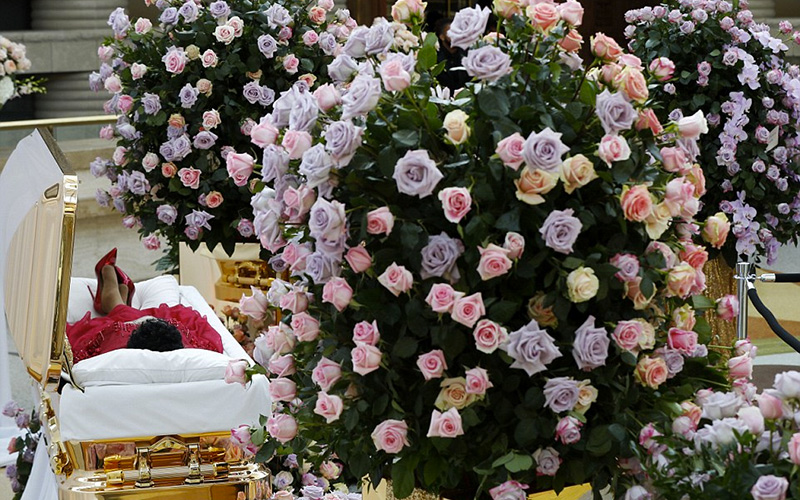 Hundreds and hundreds of fans lined up to pay their respects to the late Aretha Franklin Tuesday (Aug. 28) as she lay in repose at the Charles H. Wright Museum of African Museum of African American History in Detroit, Michigan.
Franklin's body made a regal entrance at the museum in a glossy, gold casket that emerged from a white 1940 Cadillac LaSalle hearse amid a sea of adoring fans.
Franklin was dressed in a red lace dress with matching red Christian Louboutin heels, which, according to her niece Sabrina Owens, was to symbolize her honorary membership in the Delta Theta Sigma Theta Sorority, whose colors are crimson.
Owens told the Associated Press that Franklin's dress looked like "something she would have selected for herself" to wear on stage. She said the pastel roses surrounding Franklin's gold casket reflected the Queen of Soul's love for flowers and her propensity to send arrangements "in grand fashion." Owens said she wanted to give her aunt a send-off that "would match her legacy."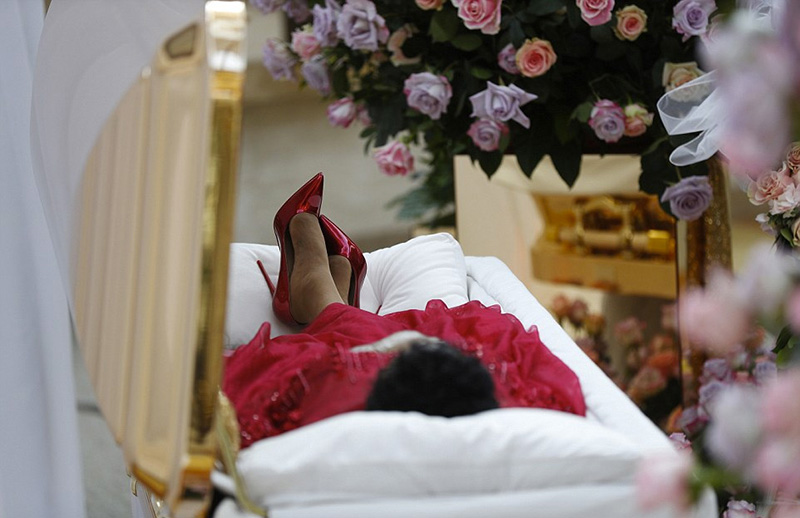 "She is presented in a way that reflects her life and her legacy," Linda Swanson, executive vice president of Swanson Funeral Home, told the Detroit Free Press. "She is, indeed, resplendent in repose, as a queen should be."
Swanson, whose funeral home is handling services for Franklin, said the singer had covered the funeral expenses of many needy families over the years.
"It was nothing for Miss Franklin to call us," she said. "She would take care of the expenses — and usually in full without being asked or prompted to do so. Many of the people you see are here because they were blessed by her big heart and her desire to reach beyond the boundaries of her own success and touch others."
Franklin's longtime publicist, Gwendolyn Quinn, told Inside Edition that the official photo of Franklin in her casket—shot from behind, revealing her red outfit and legs crossed at the ankles—was taken and released by the legendary singer's family because they wanted a "respectful photo to share with her millions of fans around the world who could not attend the viewing."
Museum officials made mourners put away their cell phones before viewing Franklin's body and quickly ushered them long so that the line could move more efficiently.
As many as 200 fans camped out overnight so that they could be the first to enter the museum. 50-year-old Melissa Howard, of Austin Texas, said she flew into Detroit the day before Franklin's public viewing so that she could ensure she would be able to get inside the museum to pay her respects.
Howard, who has been a fan of Franklin since she was a child, told the Detroit Free Press that she arrived to wait in line around 6:30 p.m. Monday and that Franklin was "royalty" and "worth it." She said around 1 a.m. early Tuesday morning, Franklin's niece, Chrystal came to visit fans at the line and handed out bottled water and White Castle hamburgers as a way to say thank you on behalf of the family.
Thousands of mourners are expected to visit the museum over the next few days. A public viewing will be held from 9 a.m. to 9 p.m. on Tuesday and Wednesday, then on Thursday, from noon to 4 p.m., her body will be moved to New Bethel Baptist Church, which was founded by her late father, Rev. C.L. Franklin.
Franklin's private, invite-only funeral for family and friends will be held on Friday (Aug. 31) at Detroit's Greater Grace Temple. The service is scheduled to feature an all-star lineup of performers including Stevie Wonder, Faith Hill, Jennifer Hudson, Fantasia and Shirley Caesar. Ron Isley, Chaka Khan, Yolanda Adams, Jennifer Holliday and Franklin's own son, Edward Franklin, are also set to perform.
Scheduled to speak at the service are former President Bill Clinton, Rev. Jesse Jackson, Rev. Al Sharpton, Bishop T.D. Jakes, Cicely Tyson, former U.S. Attorney General Eric Holder, Clive Davis, Michigan Gov. Rick Snyder, and Franklin's close friend Smokey Robinson.
The Rev. Jasper Williams Jr., pastor of Atlanta's Salem Baptist Church, will deliver the eulogy for the marathon service, which is expected to last between five and seven hours, and will be live streamed online and broadcast on television.
Greater Grace Temple has called on people with pink Cadillacs to line up prior to the funeral to create a "Freeway of Love" in tribute of Franklin, a nod to her 80's song of the same name. And those who show up the funeral in a pink Cadillac, along with one extra person, will be admitted to the funeral.
After the funeral, Franklin will be entombed at Woodlawn Cemetery in Detroit, along with her father, Rev. C.L. Franklin, brother Cecil Franklin, sisters Carolyn and Erma Franklin, and her nephew, Thomas Garrett.
Aretha Franklin passed away the morning of Thursday, August 16th surrounded by family and friends at her home in Detroit following a battle with advanced pancreatic cancer.
Be the first to receive breaking news alerts and more stories like this by subscribing to our mailing list.