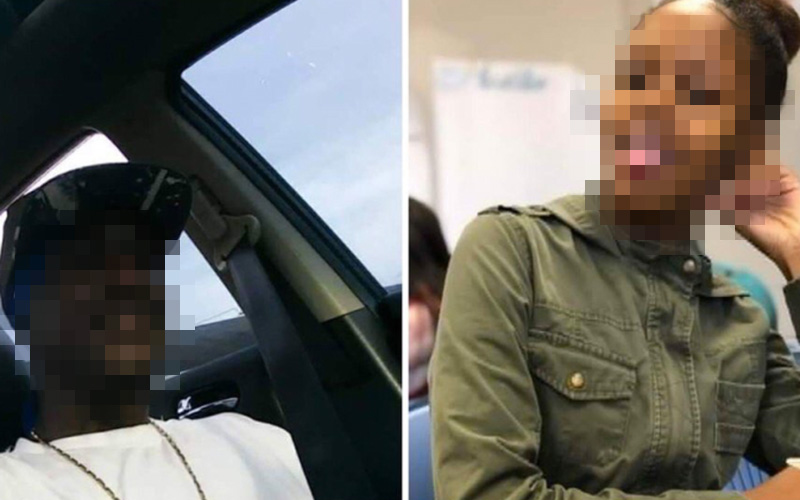 What would you do if you found out your 40-year-old boyfriend and your teenage daughter were (allegedly) going behind your back and having sex with each other? One woman from Selma, Alabama says she found herself in that position recently, and let the whole world know via Facebook.
In late July, Tresa Murphy took to Facebook to expose her boyfriend "Boomane" for allegedly sleeping around with her now 18-year-old daughter Brionna.
According to Murphy, Brionna and Boomane had been having sex since she was 17 years old, and she had her suspicions, but didn't want to publicly speak on it until she knew it was 100% true. Once she found out, she decided to "put them on blast" via Facebook, and she said no longer has a relationship with her neither the man nor her daughter.
"Thank God for putting me in the right place at the right time. I said when I found out about the situation with Boomane (the guy I was seeing) and my daughter I would confirm it on FB," Murphy wrote. "Well I just ran into some people that have been seeing them together all along. They didn't know she was my daughter until after the post. So YES FB it was true!"
She continued, "His 40-year-old a**, soon to be 41, was dating me and sleeping with my daughter when she was 17. SMH, but I'm over it. Just wanted to put them on blast and as far as I'm concerned, they can have each other. I just thank God for removing both of them out my life!"
WHEW, CHILE … THE GHETTO!!!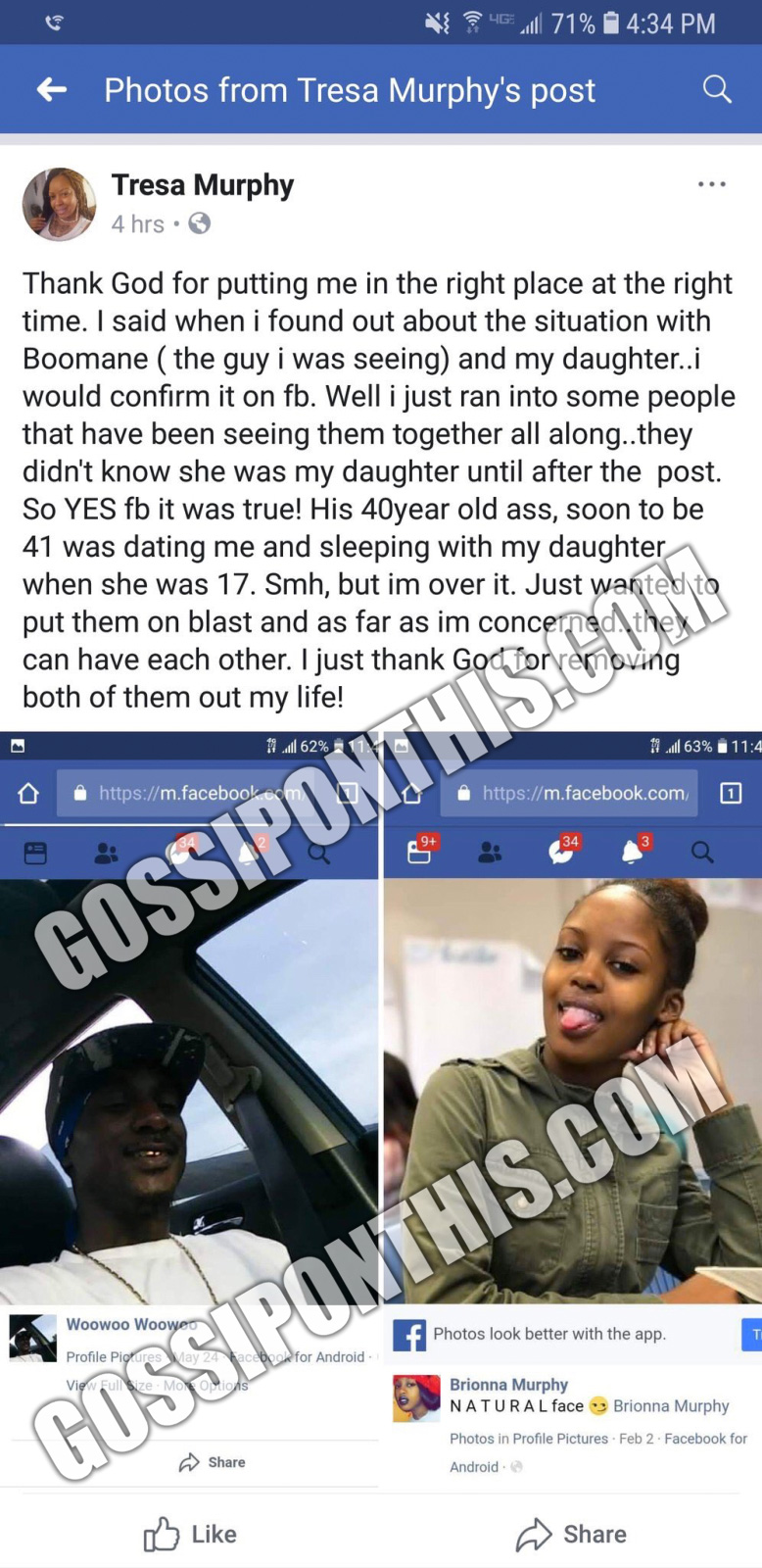 When Brionna found out her mom had put her "on blast," she responded with her own Facebook status, saying that what her mother said was all lies:
"I really said I [wasn't gonna] post no status, cause I AIN'T GOTTA POINT TO PROVE TO NO MFN BODY! Don't none of y'all miserable messy mfs know wtf going on so all y'all can stfu and die y'all b**ches/n****s just want some to talk about. Y'all live for sh** like this cause y'all mfs ain't got sh** going for y'all self, but brionna gone live her best life still. DON'T NOBODY KNOW WTF I GO THROUGH, and them lies y'all can kill and die with."

"Only reason I'm so pissed is because this sh** coming from MY OWN F***ING MAMA. I could never see myself putting my child through the sh** she put me through. But God ain't sleep, and neither am I. I'm off this sh**."
Brionna reiterated her statement in a Facebook Live video and apologized to the man for her mother's actions.
"That man could've really went to jail for some sh** like that," she said. "That sh** ain't no sh** that you can go around and blame somebody on. That sh** ain't nothing to play with, but I just leave that sh** in God's hands 'cause how I feel about the situation, I'll beat a hoe up."
After Brionna went off on her, Tresa fired back with another post:
"I could care less what anyone has to say about my post yesterday. Irrelevant people who don't know jack about me running they di*k suckers like they know me personally. But FYI…I was a damn good mother and if you knew me 'personally' you would know that. Some may not agree with how I handled the situation (not like I GAF) but I don't regret it and it would still be up if my sister didn't talk to me. Regardless of how good of a mother you are it takes two to raise a child. So until you know my entire situation… just like you… your opinion about me will always remain IRRELEVANT! I'm not explaining sh**! I'm just clearing that up."
According to Alabama's age of consent laws, individuals aged at least 16 years old are legally old enough to consent to participate in sexual activity.
So while it isn't against the law for a 17 or 18-year-old to have sex with a 40-year-old old, it is still considered to be morally wrong, especially when that teenager is the child of your significant other.
As for the accusations, it sounds like the mother is a real messy bitch who lives for drama … because even if this were true, why would you take something like that to Facebook, of all places?
Be the first to receive breaking news alerts and more stories like this by subscribing to our mailing list.