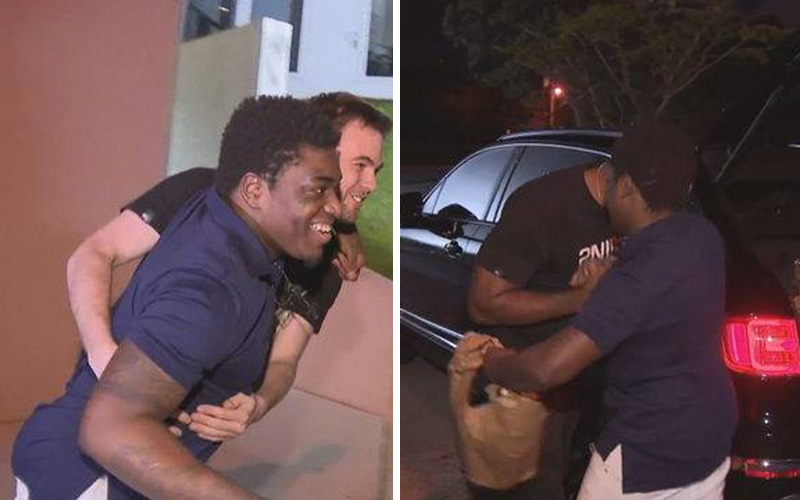 Kodak Black is a free man after serving 7 months in Florida's Broward County jail.
He was all smiles as he was seen greeting two men who met him at the jail right after he was sprung from prison. His first stop after leaving prison was going to his mother's house to see his son, Local10.com reported.
The 21-year-old rapper, who legally changed his name to Bill K. Kapri earlier this year, was arrested in January on charges including grand theft of a firearm, possession of a weapon or ammo by a felon, possession of marijuana and neglecting a child.
Kodak's arrest, which resulted in two probation violation charges, came after he filmed himself on Instagram Live while having marijuana near his son while on house arrest.
The child neglect and grand theft of firearm arm charges were later dropped, and Kodak pled "not guilty" to the marijuana possession and felony firearm possession charges.
Kodak was originally facing 12 years behind bars, but after those charges were dropped, he was scheduled to be released in October, and fortunately for him, the judge trimmed some time from his sentence even more last month.
"All I can say is, I work very hard to try and give all of my clients a second chance," Kodak's attorney Bradford Cohen told Pitchfork in July regarding the shortened sentence. "We were lucky that the matter concerning […] Kodak was resolved in a way we felt was extremely fair by the prosecutor handling the matter. He looks forward to getting out and creating new music and spreading his charity work."
Kodak changed his legal name from Dieuson Octave to Bill K. Kapri back in May so that he could have a "fresh start," his attorney Bradford Cohen said. While in jail, he took steps to better his life, including getting his GED and taking parenting classes.
Including his January arrest, Kodak Black has been arrested at least five times since 2015. He still has a pending sexual assault case in South Carolina.
Be the first to receive breaking news alerts and more stories like this by subscribing to our mailing list.