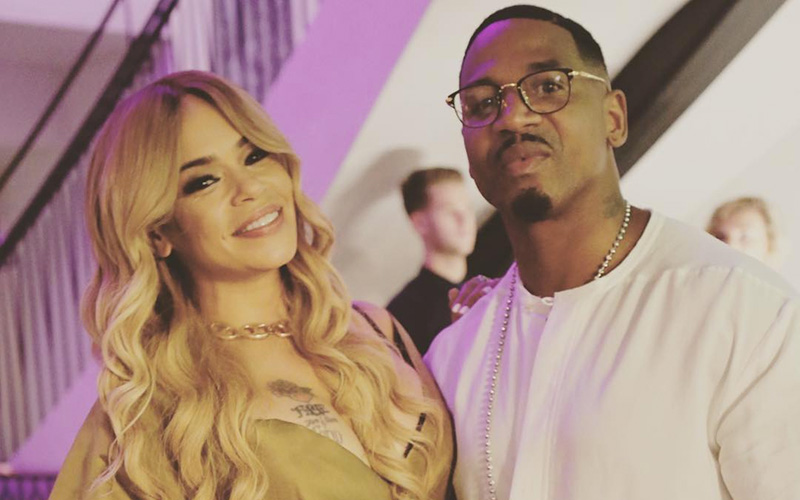 Are Stevie J and Faith Evans REALLY married? That's the question on the minds of many after TMZ reported yesterday that the couple applied for a marriage license on Tuesday (Jul. 17) just hours before they tied the knot in a secret "quickie wedding" in Las Vegas.
Several attendees at the top-secret ceremony confirmed the news to TMZ that Stevie and Faith exchanged "I Do's" in their Vegas hotel room around 10:30 p.m. Tuesday night, about four hours after Faith called in a local minister to ask him if he was available to do a wedding at Trump Hotel ASAP.
Because folks like receipts when it comes to stuff like this, TMZ also published a photo of the supposed newlyweds outside of a courthouse in Las Vegas after obtaining their marriage license.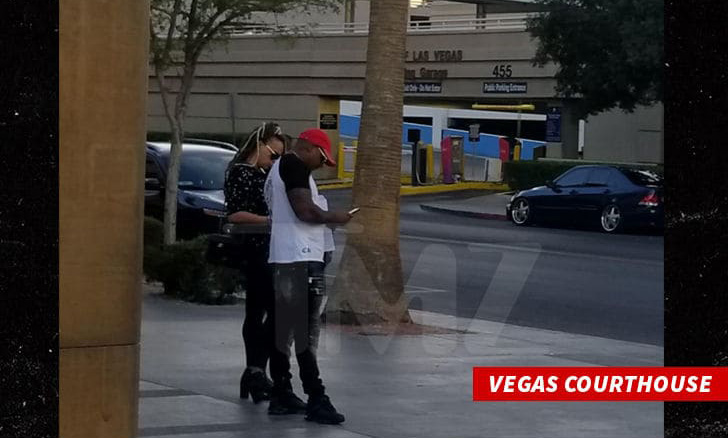 The ceremony was performed in the living room of their hotel suite with Faith and Stevie overlooking the Vegas strip. Sources close to the couple tell us they held hands and teared up while "Ave Maria" played on a portable speaker.

We're told the "Gypsy Minister" — whose services cost a couple hundred bucks — had no idea she was marrying off celebs. She even asked Faith if she was a model or an actress. Faith politely said she's a singer … to which the minister said, "Me too!"
Apparently, after tying the knot, the couple exchanged tweets affirming their love for one another. Stevie tweeted "I love you Faith Renee Jordan" and Evans tweeted back, "I love you back Steven Aaron Jordan."
I love you Faith Renee Jordan

— Stevie J. (@hitmansteviej) July 18, 2018
I love you back Steven Aaron Jordan

— Faith Evans (@faithevans) July 18, 2018
The reports have fans scratching their heads because while Stevie and Faith have dated in the past, them getting hitched seems to be a bit … strange. If they are, indeed, married, as the multiple reports suggest, this is Stevie's first marriage and Faith's third. She has previously been married to Todd Russaw and the Notorious B.I.G.
Though Stevie has never been married, he currently has six children and a grandchild. His sixth child, his daughter with his former Love & Hip Hop Atlanta co-star Joseline Hernandez, is barely two years old.
News of their marriage also comes immediately following the release of a sneak peek of the video for their collaboration "A Minute," which also has fans wondering if this is all a publicity stunt for reality TV and to promote their new song and video, which will both be released "EVERYWHERE on July 27th," according to this tweet from Faith:
?? Here's something to HEAT up the SUMMER! ?? Come #BehindTheScenes with Big Fizzy & The Good Guy @hitmansteviej on #AMinute! ?

SONG + VISUAL available online EVERYWHERE on JULY 27th!

??: @dblanks pic.twitter.com/OlefqFrM6i

— Faith Evans (@faithevans) July 12, 2018
Stevie J and Faith Evans have known each other for a while, since the 90's to be exact, when Stevie was a producer for Evans' then-husband, the Notorious B.I.G. Stevie and Faith started dating in 2016 after working together in the studio, but broke up for a brief period.
"I've known her for like 25 years," he told The Breakfast Club in December 2016. "We was like family and then as years progressed, we just began to hang out more [and] talk more."
A few months later, in her own interview with The Breakfast Club in March 2017, Evans said of the romance, "I never took Stevie serious, actually."
She continued, "I think probably in the last 10 years, I would say, is he trying to flirt? Lets go. But I never saw him like that. I have always had plenty of male friends. Never dated any of them. I was just really cool like that. I think I really should have been a boy or something. But I'm just cool with dudes. I would check on him, just hear if he was going through stuff and find out how to get in touch with him….[I was] Just really sincerely his friend."
Faith explained that when she and Stevie finally got together, she told him the relationship had to be serious, or else it would be nothing at all. She said, "You know, I'm like, 'you know I'm not about all the craziness. If I'm going to be in a relationship, it's gotta be a serious one. You know?' And I think probably for a few months he definitely went through the convincing and not getting a real response. You know, just, even though I was brushing him off, [he was] like, 'no for real I really wanna be with you, I love you.' And I'm like, 'I love you too, but I don't know if I wanna be with you.' You know what I'm saying?"
In April 2018, Stevie and Faith rekindled their romance when Stevie attended a party Faith was throwing, and the whole thing was documented on Stevie's VH1 reality show Leave it to Stevie. "Faith is beautiful," Stevie said on his show. "When I'm around her, I feel like I'm the best version of myself."
Stevie said to Faith: "If I'm being honest, I did some things I shouldn't have done." Evans replied: "You know we are always solid."
"I want to be tighter than solid, you know what I'm saying?" Stevie J said. "I never speak to you anymore." Stevie then got on one knee, as if he were proposing to her. "I know what I need to do," he said, and Evans laughed back, "Where's the drinks?"
A few months later, it looks like Stevie J made good on the joke he made to Evans. And friends and family of the "newlyweds" are reportedly not too pleased that they got married in a secret ceremony.
According to TMZ, family sources on both sides said they were never given a heads-up that a marriage between the two was even a possibility. The person who's most upset? Faith's 21-year-old son CJ Wallace—her child with Biggie Smalls.
We're told there was never talk — not a hint — of a wedding. Faith was scheduled to be in L.A. getting ready for a London trip, and Stevie was just in Atlanta for 'Love & Hip Hop' … so the Vegas rendezvous that ended in "I do" floored everyone.

Our sources say there are a lot of hurt feelings among those close to the couple … especially their kids. We're told Faith's son, CJ Wallace — her child with Biggie Smalls — is especially upset … because he's also Stevie's godson.

Family sources on Faith's side tell us … Faith told them Stevie J went to her Tuesday and told her they needed to get married that day. The sources think Stevie J knew if Faith started telling friends and family she was marrying him, they would talk her out of it.

And, get this … friends and family members were blowing up Faith's phone Wednesday, asking her why she did it. She responded by sending them a song she just recorded with Stevie J called, "A Minute" with the explanation … it only took a minute to fall in love.
Meanwhile, Twiter has thoughts and questions:
when the hell did Stevie J and Faith Evans get married????????

— Don Fonso ???? (@fonzfranc) July 18, 2018
How Stevie J supposedly married to Faith Evans and got Biggie in his cover pic on his page ?

— Coco Supreme Queen?? (@MissCocoDeluxe) July 18, 2018
The crazy thing about the Stevie J/Faith Evans marriage thing is the fact that Stevie J has a pic of him & Biggie as his header picture on Twitter. Niggas are foul out here smh

— Nick R. (@NickRob90) July 18, 2018
Faith Evans married Stevie J?? For why?? pic.twitter.com/vpj8BWOv6m

— ?J. (@mapIenutcheerio) July 18, 2018
Wait. Stevie J and Faith Evans getting married. Bitch hold the phone.

— Dani Tha Don (@two__legit) July 18, 2018
-Toni Braxton is engage to Birdman.

-Faith Evans and Stevie J applying for a marriage license.

We gotta protect the rest of our 90's R&B queens by any means necessary. #BlackTwitter

— Dontez Gray (@tezzz16) July 18, 2018
Y'all keep Faith Evans in your thoughts and prayers. Imagine being with Stevie J voluntarily…. pic.twitter.com/1EmI1Q1kJc

— Antoinette "Asst (To The) Regional Manager" Childs (@TheFancyFriend) July 18, 2018
Biggie lookin down on Stevie J and Faith Evans right now like: pic.twitter.com/BOgBfjSo6H

— Jay Breeze (@DeLaBreezus) July 18, 2018
Can somebody explain to me how "Faith Evans" went from being married to the Legendary "Biggie Smalls" to now marrying the low-life "Stevie J" pic.twitter.com/QY1YpvGruq

— Truth Only (@TruthTellerAsh) July 18, 2018
I feel like Faith Evans has been going THROUGH IT her whole career.
STEVIE J?
Are you okay girl? pic.twitter.com/Txhc5tXFSO

— The Kid is Alright ??? (@glamhergirl) July 18, 2018
Be the first to receive breaking news alerts and more stories like this by subscribing to our mailing list.