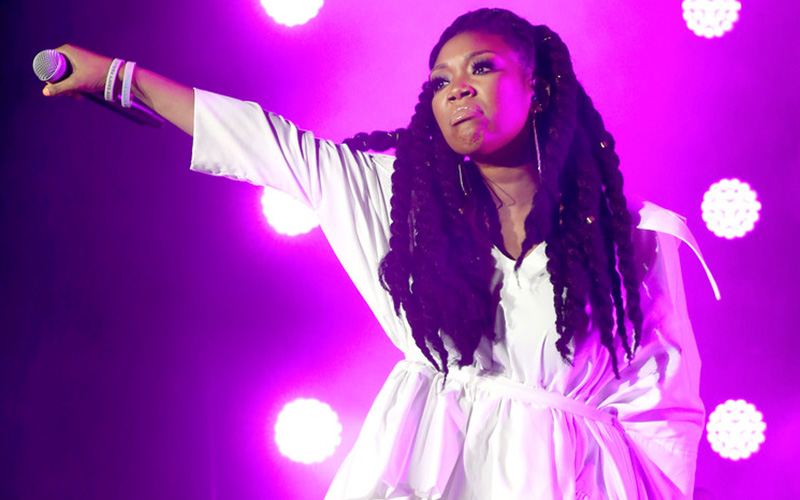 Brandy is singlehandedly keeping the beef between her and Monica alive.
While performing at the 2018 Essence Music Festival in New Orleans, Brandy took the audience on a trip down memory lane by singing her 20-year-old hit single "The Boy Is Mine," which also features Monica. During the song, Brandy switched the lyrics from "the boy is mine" to "the song is mine," which was clearly meant to be shade towards Monica.
"The Boy Is Mine" was released as a joint single in May 1998 and was featured on Brandy's second studio album Never Say Never. A month later, Monica also released the track as the lead single from her sophomore album titled The Boy Is Mine.
The song marked the first #1 Hot 100 hit for both artists and spent 13 weeks at the top of the chart. Both singers also won a Grammy Award for Best R&B Performance by a Duo or Group at the 1999 Grammy Awards.
It is believed that part of the song's success came from ongoing rumors that Brandy and Monica had an unspoken rivalry. Monica also reportedly had an issue with Brandy performing the song on The Tonight Show with Jay Leno without her, and Brandy was reportedly upset with Monica for using the song's title for the name of her album.
The beef gained so much traction that the singers' managers were forced to release a joint statement addressing the feud after rumors began to swirl that the duo almost had a physical altercation while rehearsing for the 1998 MTV Video Music Awards. Their managers blamed the media, calling the behavior "disturbing" and saying that the "ongoing negativity [was] totally unfair."
Although Brandy and Monica reunited 14 years later on "It All Belongs To Me" in 2012, it looks like Brandy still has some unfinished business to tend to and is taking the title of their 2012 collaboration literally.
Fans on Twitter were hella confused and quickly voiced their opinions online:
When will Brandy realize that Monica don't give a damn? ? girl let it go…

— Lisa Bonet (@SincerelyyNadia) July 8, 2018
chile this beef between brandy and monica still exists? pic.twitter.com/PGoRGk9fIb

— ?chiyani? (@CHlYANl) July 8, 2018
Every three or so months, Brandy goes after Monica. Nothing provokes it. She's just timed that way, lol.

— G. Cracker (@juicencrackers) July 8, 2018
I love both Brandy and Monica equally. Their voices are dope. Still confused about this beef tho.

— Lynne (@a_lynnedividual) July 8, 2018
Monica has to be terrorizing Brandy behind the scenes or Brandy is just hella bitter from 20 years ago.

— Maxamillion (@RegalBasil) July 8, 2018
The only time Brandy & Monica ever trend is when it comes to this stupid 20+ year old feud. pic.twitter.com/nbN1w4SmCC

— Craig (@ThaCRAIGGLEZ) July 8, 2018
What's so disturbing though is that Brandy CONSTANTLY has Monica on her brain. Monica literally be minding her business, raising her kids, enjoying her husband, and showing love and supporting her friends. I don't understand why Brandy is so obsessed with Monica. I don't get it. pic.twitter.com/ObcQKAUqnp

— ? Manny K. Soul ? (@MannyKSoul) July 8, 2018
The ONLY time Monica mentions Brandy's name is when she's asked about her or when she's paying respects to her while performing The Boy Is Mine. Monica literally says often that Brandy is one of the best to ever do it. And Brandy pulls stunts like this! So disrespectful.

— ? Manny K. Soul ? (@MannyKSoul) July 9, 2018
The Brandy and Monica beef started when I was 11. I'll be 31 next month. This has got to stop? pic.twitter.com/e4EK2DyJIX

— Fiona Gallagher (@BlaqueZack) July 8, 2018
The fact that Monica will really shoot Brandy is the part that tickles me pic.twitter.com/tuDLjDLZk7

— A²? (@aluminummedal) July 8, 2018
There's something, like, reassuring and orderly about Brandy still trying Monica after all these years. The sun rises, the wind blows, and Brandy shades Monica. Like clockwork.

— Craig Bro Dude (@CraigSJ) July 8, 2018
Actual footage of Brandy still beefing with Monica 20 years later. ?? pic.twitter.com/4tXenu9u7S

— Devén Marvell (@StairwayToDeven) July 8, 2018
Of course, as some of the tweets above suggest, this is far from the first time Brandy has thrown shade at Monica. Based on our own records, Brandy has taken jabs at Monica at least seven times (including this one) over the past couple of years. See below for proof:
As you can see, it's clearly time for Brandy to move on with her life and let that hurt go. Because this beef is CLEARLY one-sided. Instead of focusing on the "boy is mine" part of the song, she needs to focus on the "you need to give it up" part.
Be the first to receive breaking news alerts and more stories like this by subscribing to our mailing list.