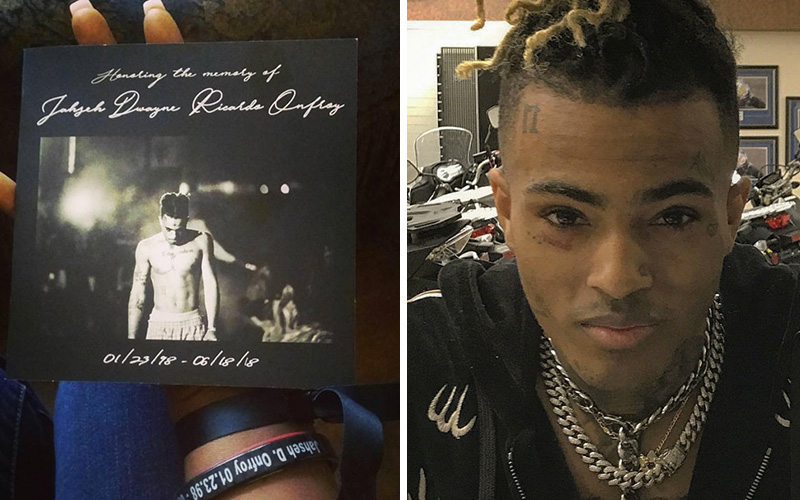 XXXTentacion's friends and family said their finals goodbyes to the rapper Thursday (Jun. 29) during a private funeral service in Florida.
Unlike the public memorial service that was attended by fans the day before, Thursday's service was just for the "SAD!" rapper's close friends and family. Among those in attendance included Erykah Badu and "Cash Me Ousside Girl" Danielle Bregoli (also known by her rap name Bhad Bhabie).
"LONG LIVE XXX," Badu wrote along with a heart emoji while showing the funeral program. "'They may try to erase your face But millions spring up in your place.' -e.b."
Bregoli, who made headlines last week after she broke down crying while talking to TMZ about her late friend, apparently took the service pretty hard. "Out of this short 15 years I've been alive watching that casket close today was the hardest thing I have ever had to watch," she wrote on Snapchat. "I finally feel a little better that I got to say goodbye and tell you I love you for the last time."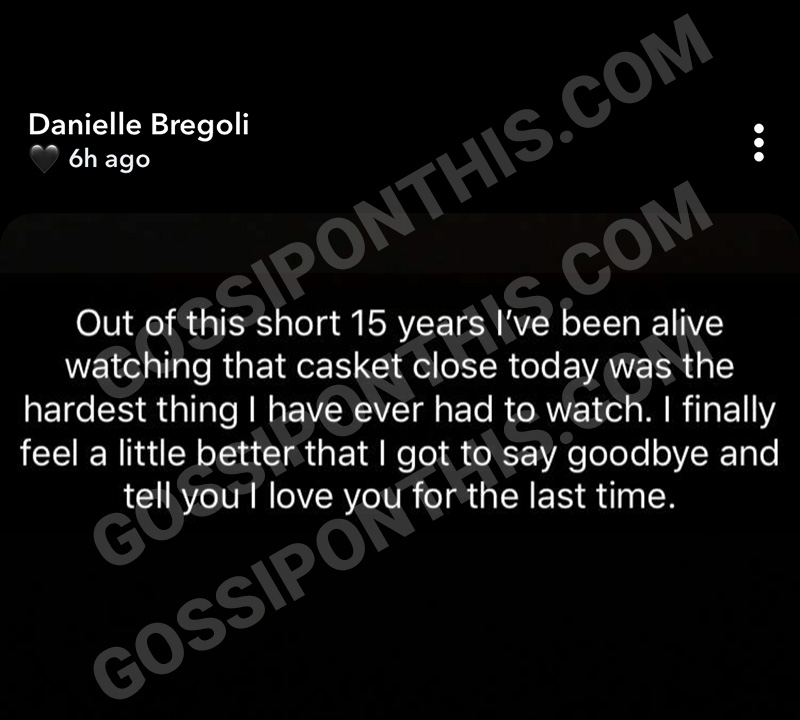 Nima Etminan, Vice President of EMPIRE, the record label XXX was signed to, recalled a quote the rapper's great-grandmother said during the private funeral service. "In life, you can wait for storms to pass, or instead you can learn to dance in the rain," she shared with the crowd. "Jah danced in the rain."
XXXTentacion's mom, Cleopatra Bernard, also posted about her son's funeral on Instagram. "Goodbye my love, until we meet again," she wrote.
The day before the private service, XXX was memorialized in a 6-hour open casket public service attended by thousands of his biggest fans at the BB&T Center in Sunrise, Florida.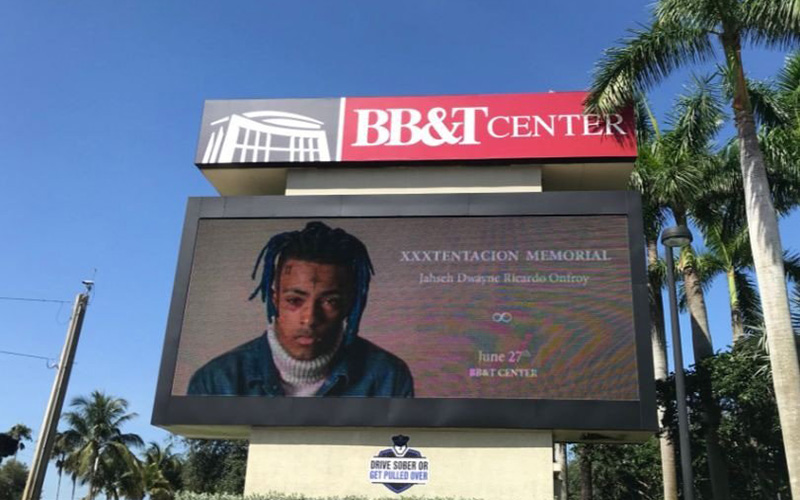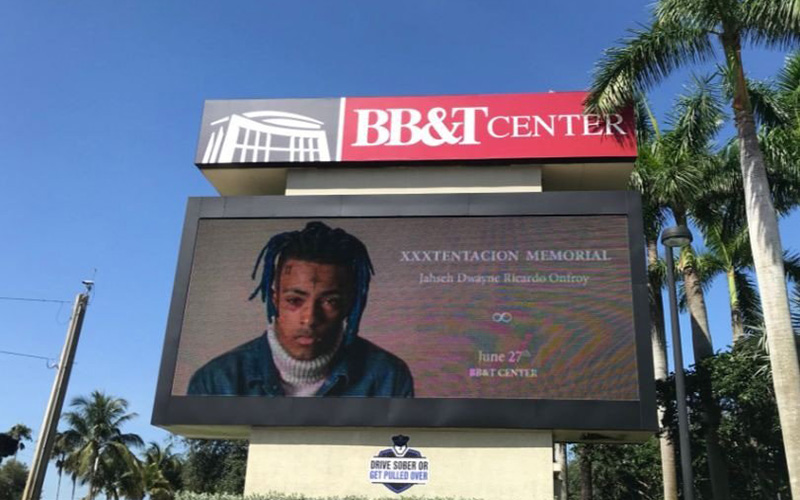 According to reports, mourners traveled from all over the country to pay their last respects to the rapper (real name: Jahseh Dwayne Ricardo Onfroy) who was shot and killed last Monday in Deerfield Beach. The turnout was so large that many people opted to arrive as early as 7 a.m. Wednesday morning, about five hours before doors opened. Many were pictured breaking down in tears.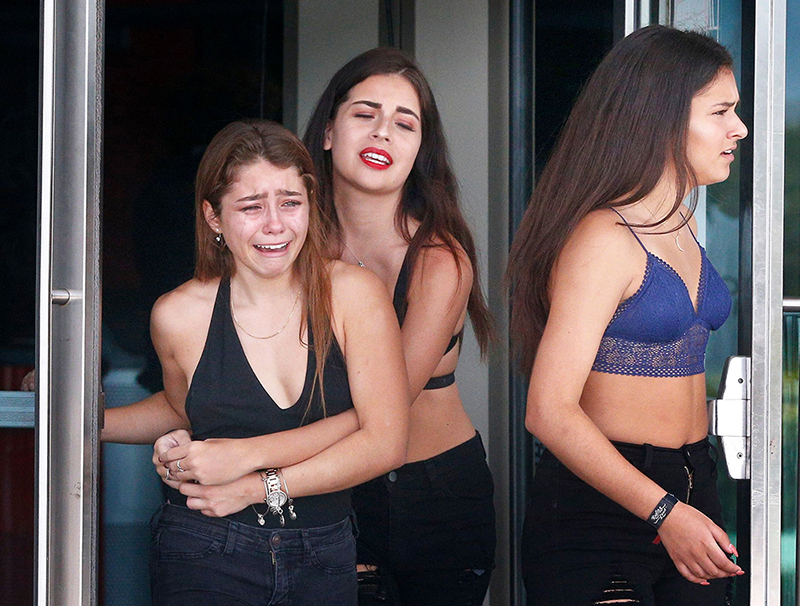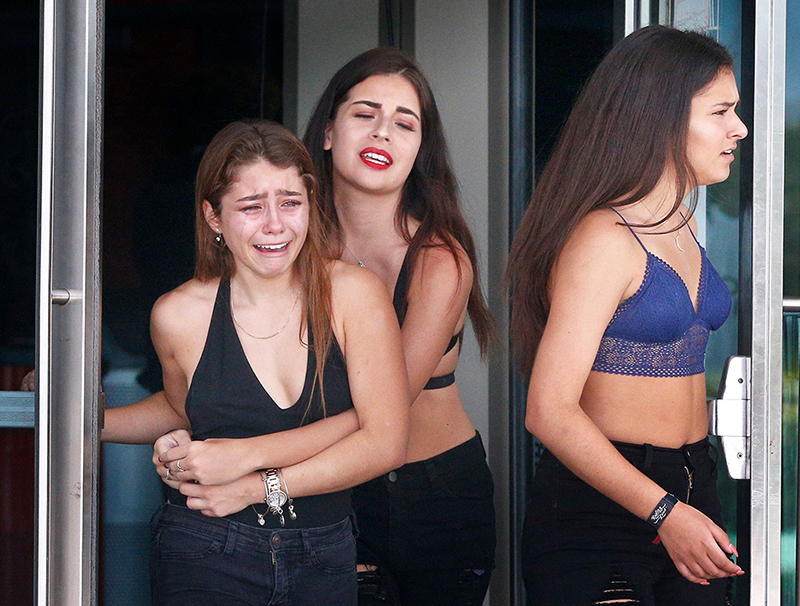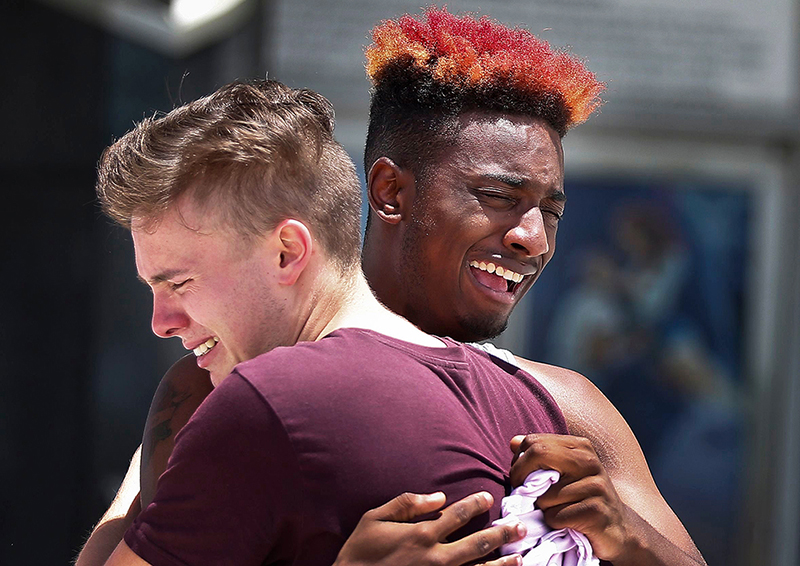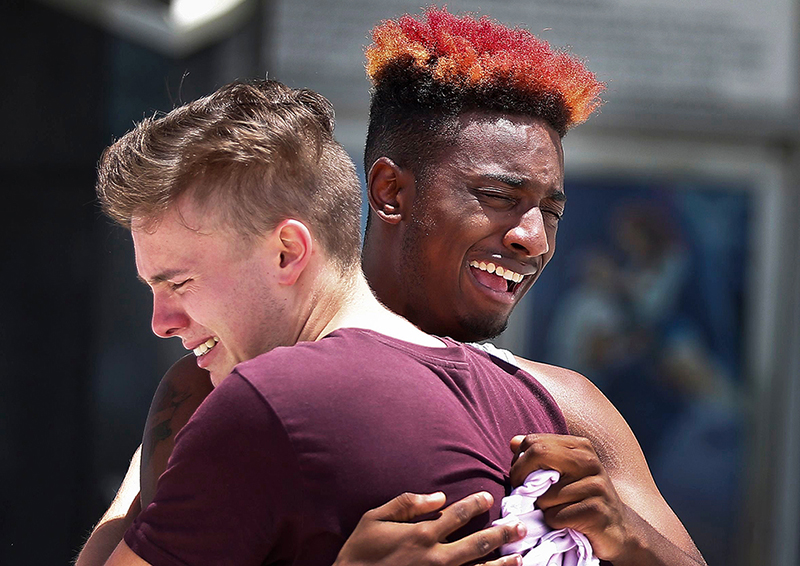 A number of celebrities were spotted at the public service, including rappers Lil Uzi Vert, PNB Rock, Lil Yachty and more. During the memorial, DJ Scheme, XXX's producer and personal DJ, played the rapper's music, and in between tracks, fans were treated to motivational words from his past viral videos.
A video montage of his performances played on two giant screens on the stage and the scoreboard in the middle of the arena. Two large photos of the rapper were placed on each end of the stage where his casket was.
"It was the most perfect thing for Jah," Scheme told Billboard. "It described everything he was perfectly. These fans are our family so it's nothing to show them his body. He would want that. I promise Jah was looking down at that event today with a huge smile."
Cameras and cell phones were not allowed into the building, but those who attended were able to describe what XXX was wearing in his casket—a denim button down jacket and burgundy pants, with his signature locks braided.
Lil Uzi Vert and Lil Yachty stood by the casket with X's mother, who would periodically pause the line so that X's famous friends could have their own private time with him. Ugly God was "visibly heartbroken" as he walked up to the casket and eventually became "inconsolable," according to Billboard.
Tiurakh$ushii—a rapper form Lauderhill, FL and childhood friend of X—spoke to reporters outside the venue, saying that he didn't want to go in and look at his friend inside his casket. "I don't want to see my boy like that," he told the Sun-Sentinel.
Brett Clarkson, a reporter for the Sun-Sentinel, described the scene in vivid detail via Twitter:
I was just inside the BB&T Center for the XXXTentacion memorial. No cameras or phones were allowed in, so no pics from inside. This is what I saw. Thread:

— Brett Clarkson (@BrettClarkson_) June 27, 2018
X's casket is open. The casket is on a stage and is guarded by security. A young woman ahead of me in line threw a necklace into the casket and was crying. Security had to get the necklace out of the casket. Other than that it's been mostly quiet and somber.

— Brett Clarkson (@BrettClarkson_) June 27, 2018
This is a hockey arena by the way. The entire floor where the ice would be is filled with people waiting in line to file past the casket.

— Brett Clarkson (@BrettClarkson_) June 27, 2018
Two huge video screens are playing a video montage of X clips that show him performing and just in his daily life jamming it up for the camera. The video is also playing on the giant scoreboard. X's music is also playing.

— Brett Clarkson (@BrettClarkson_) June 27, 2018
Lil Uzi Vert is here. He stood at the casket for a while with X's mom.

— Brett Clarkson (@BrettClarkson_) June 27, 2018
As lil uzi was standing at the casket, X's song Hope began to play. At the beginning of the song X dedicates the song to the victims of the Parkland shooting. He says Rest In Peace to victims of the Douglas shooting. At that point I saw a high school aged girl with her mom cry

— Brett Clarkson (@BrettClarkson_) June 27, 2018
Lil Yachty is here. He looks genuinely distraught. He stood by the casket twice. Was with Jahseh's mom too. Yachty had organized a vigil in Atlanta. ?

— Brett Clarkson (@BrettClarkson_) June 27, 2018
PnB Rock is here. Adam from the @nojumper podcast is here. Broward rapper @tiurakhsushii is here with the guys from @NewEraPromo954 @NewEraValennn

— Brett Clarkson (@BrettClarkson_) June 27, 2018
XXXTentacion is wearing a jean jacket and what look like burgundy pants.

— Brett Clarkson (@BrettClarkson_) June 27, 2018
It's a dark blue jean jacket. Looks like the one in that photo where he's also wearing a white turtle neck sweater and his hair is blue.

— Brett Clarkson (@BrettClarkson_) June 27, 2018
I also spoke to some fans before and after they went in and filed past the casket. Just spoke to two young women from Ocala Florida who were in tears. Were hoping the death was a joke. Until they saw his body. They were sobbing.

— Brett Clarkson (@BrettClarkson_) June 27, 2018
I spoke to another girl from s few hours away from here in Florida who thought of X ass a friend even though she'd never met him. Says it's because his music was so personal. A lot of ppl saying this. That when they felt alone or depressed or had anxiety his music helped them

— Brett Clarkson (@BrettClarkson_) June 27, 2018
Talked to @tiurakhsushii who grew up with XXXTentacion in Lauderhill. They'd hang out in Deepside. Sushi didn't want to go in and see the casket, said he didn't want to see X like that. Described X as that one crazy jit that was so cool everybody wanted to hang around with him

— Brett Clarkson (@BrettClarkson_) June 27, 2018
Clarkson also posted a number of photos from outside the BB&T Center:
XXXTentacion memorial pic.twitter.com/AZm1eI5KzW

— Brett Clarkson (@BrettClarkson_) June 27, 2018
Photos from today's XXXTentacion memorial: https://t.co/nhtQFlqrEw @xxxtentacion pic.twitter.com/cvFhMjWCnz

— Brett Clarkson (@BrettClarkson_) June 27, 2018
Scenes from the XXXTentacion Jahseh Onfroy memorial: https://t.co/nhtQFlqrEw pic.twitter.com/0wqrjaBlZM

— Brett Clarkson (@BrettClarkson_) June 27, 2018
"And once you're up there on the stage and you actually see him, you're like, it's real. He's gone." My story from today's XXXTentacion memorial https://t.co/4WH3teQj0U pic.twitter.com/sjpttuxeG1

— Brett Clarkson (@BrettClarkson_) June 28, 2018
The official video for XXXTentacion's single "SAD!" was released Thursday morning. The video, written and creative directed by X, shows him attending his own funeral and fighting with his resurrected body. The song recently became the first posthumous No. 1 single on the Billboard Hot 100 for a lead solo artist since The Notorious B.I.G.'s "Mo Money Mo Problems" in 1997.
Of the three men allegedly responsible for XXXTentacion's shooting death, one was arrested last Wednesday and charged with first-degree murder. Dedrick Williams is being held in the Broward County Jail without bond, while his accomplices have warrants out for their arrest.
Be the first to receive breaking news alerts and more stories like this by subscribing to our mailing list.