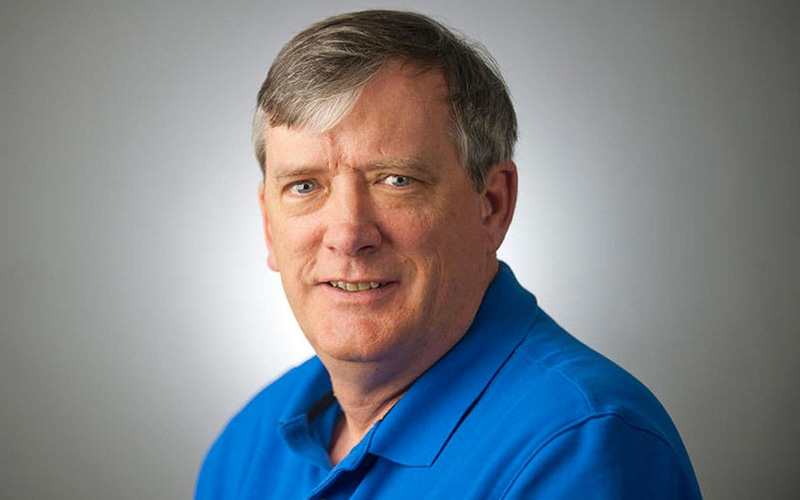 John McNamara, a widely regarded and respected veteran reporter at The Capital Gazette newspaper and editor of other local papers, was among the five people killed Thursday (Jun. 28) when a gunman opened fire in the paper's newsroom.
Born and raised in Maryland, John McNamara, who went by the nickname "Mac," graduated from the University of Maryland, College Park, in 1983, and spent the next few decades of his life in journalism, contributing to local newspapers with a particular focus in sports reporting.
A former colleague of McNamara described him as an old-school reporter.
"Definitely a pen and paper guy," said David Elfin, who co-wrote a book on University of Maryland basketball with McNamara. "He didn't wear a fedora, but maybe he should have."
On social media, McNamara was an advocate for gun control and regularly spoke out against President Donald Trump. He was remembered for his love of sports reporting, his wit and his versatility.
"At a small paper like that, you have to be versatile," former Capital Gazette editor Gerry Jackson said. "He could write. He could edit. He could design pages. He was just a jack of all trades and a fantastic person."
A profile on McNamara in the Baltimore Sun described how he switched from a copy editor to a sports reporter, which was his dream job. According to the Sun, he was "remembered by his colleagues for his flexibility, concise writing and extensive knowledge of regional sports. He had a razor wit."
McNamara enjoyed playing sports as much as he enjoyed writing about them, Jackson said. He was a part of a group who played basketball on Thursdays at the Annapolis Recreation Center. "He had this sneaky left-handed shot," said Jackson, now an editor at The Baltimore Sun.
Reporter Claudia Rosenbaum wrote on Twitter: "I worked with John McNamara at a small local Maryland paper when I was starting out. He was the sports editor. I remember speaking to him about becoming a sports writer, even though I had no knowledge or interest in sports. Despite all that, he still encouraged me. Very sad."
Another wrote, "John McNamara was the true essence of journalism—unbiased, strictly to inform the public type of storyteller. He was a really good guy. This is devastating. Prayers to his family, friends and loved ones. But it feels like prayers are just not enough."
Marc Carig, Senior MLB writer for subscription-based sports website The Athletic, said, "John McNamara is one of the kindest people I've met in this biz. We've been friends since I was a young journalist covering Terps basketball. I had no idea what I was doing. He showed me the ropes. Please keep John and the other #CapitalGazette victims in your thoughts tonight." He added, "John McNamara is one of the best people I've met in journalism. He was a great friend. I'm heartbroken. My thoughts are with his family and the rest of the victims of his horrible tragedy in Annapolis … Just so f***ing senseless.
Doing our part to remember John McNamara. His name was synonymous with Terps sports coverage. Three years ago, John also wrote an article on Annapolis' own @davejsports. Dave shared his memories with our audience tonight on @NBC4Sports pic.twitter.com/aPCIzO9MtY

— Heather McDonough (@HeatherMcD4) June 29, 2018
McNamara discussed current events on Facebook, writing recently, "To anyone reading this: I cannot urge you strongly enough to see the two documentaries now out featuring Ruth Bader Ginsberg and Mr. Rogers. Seeing these two films will do you some serious good. Both are marvelous and moving. And, in these troubled times, when the forces of darkness seem to have gained the upper hand, it's nice to be reminded that there is still justice and kindness in the world. You can thank me later…"
A post on June 19th, 2018 read: "Are we not all God's children?"
Earlier this month, on June 4th, 2018, he quoted Theodore Roosevelt, writing: "No man is above the law and no man is below it: nor do we ask any man's permission when we ask him to obey it."
He also quoted Robert F. Kennedy in a 2017 post, writing, "What we need in the United States is not division; what we need in the United States is not hatred; what we need in the United States is not violence and lawlessness, but is love, and wisdom, and compassion toward one another, and a feeling of justice toward those who still suffer within our country, whether they be white or whether they be black."
On some posts, he would get political. "Trump's next move in his quest to erase Obama's legacy: Declaring Hawaii's no longer a state," he shared on May 8th, 2018. And sometimes he would write about his life as a journalist. One post from March 2018 read, "Writing for a newspaper is like having a paper due every day of your life."
His last post on Facebook, written on Tuesday morning (Jun. 26), quoted an African proverb that states "Where there is no shame, there is no honor."
According to his biography on The Capital Gazette's website, McNamara—who edited the Bowie Blade-News and the Crofton-West County Gazette—"worked in various capacities" for the newspaper "for more than 20 years." His LinkedIn page said he was a sports writer for The Capital Gazette.
In addition to sportswriting and reporting, McNamara also authored several books about Maryland sports, namely Maryland basketball and football. The books are for sale on Amazon. According to his Facebook page, he was working on his third book at the time of his death.
John McNamara was 56 years old.
Be the first to receive breaking news alerts and more stories like this by subscribing to our mailing list.