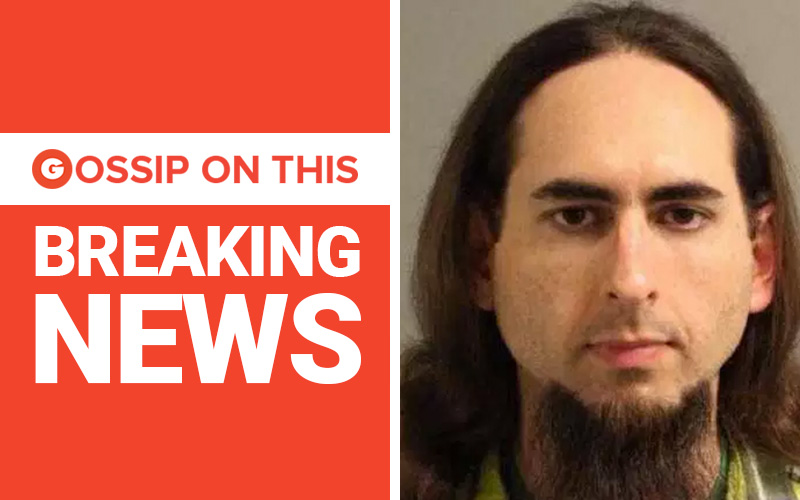 Police said a 38-year-old man has been identified as the suspected gunman who opened fire at the Capital Gazette Newspaper office in Maryland Thursday (Jun. 28), killing at least five people and injuring several others in a "targeted attack" on the news organization.
The suspected gunman, identified by NBC News as Jarrod Ramos, is in police custody, but has not yet been charged. Police were executing search warrants at his home in Laurel, Maryland.
According to NBC News, Ramos had a history with the paper, and had previously filed a defamation lawsuit against it in 2012. The suit was dismissed the following year and was upheld in 2015 by a Maryland appellate court.
Acting Anne Arundel County Police Chief William Krampf said at a press briefing that Ramos "was prepared to shoot people. His intent was to cause harm." Krampf said it would take time to determine Ramos' motive and to complete the investigation.
Prior to the shooting, Threats were made to the Capital Gazette via social media, but police are working to find out if they were sent by Ramos, Krampf said, adding that authorities don't believe Ramos was specifically targeting anyone at the newspaper, just the newsroom itself.
Authorities said the suspect has not been "forthcoming" with interrogators. "The investigation has just started," Krampf said. "We're going to be quite a while in determining what occurred, why it occurred, how it occurred."
The shooting occurred around 2:30 p.m. Thursday at the Capital Gazette newsroom just outside of Annapolis in Anne Arundel County, Maryland. Officials declined to provide details about the weapon that was used, other than saying it was a "long gun."
Law enforcement also identified that they believed was an explosive device on the scene. More than 170 people were evacuated from the building after the shooting, Anne Arundel County Executive Steve Schuh told reporters at a briefing following the shooting.
According to Maryland Governor Larry Hogan, law enforcement responded to the incident within 60 seconds. A crime reporter at the Gazette provided horrific details about the shooting via his Twitter account in the moments after it occurred.
"Gunman shot through the glass door to the office and opened fire on multiple employees. Can't say much more and don't want to declare anyone dead, but it's bad," crime reporter Phil Davis tweeted. "There is nothing more terrifying than hearing multiple people get shot while you're under your desk and then hear the gunman reload."
Gunman shot through the glass door to the office and opened fire on multiple employees. Can't say much more and don't want to declare anyone dead, but it's bad.

— Phil Davis (@PhilDavis_CG) June 28, 2018
President Donald Trump tweeted that he had briefed on the shooting and that his thoughts and prayers were with the victims and their families.
Prior to departing Wisconsin, I was briefed on the shooting at Capital Gazette in Annapolis, Maryland. My thoughts and prayers are with the victims and their families. Thank you to all of the First Responders who are currently on the scene.

— Donald J. Trump (@realDonaldTrump) June 28, 2018
The Capital Gazette has been around since 1884 and is a daily newspaper that serves the city of Annapolis Maryland. Its sister newspaper, the Maryland Gazette, which was founded in 1727, is one of the newspapers in the United States.
The Capital Gazette building is home to several publications, including The Capital, the Maryland Gazette, the Bowie Blade-News, the Crofton-West County Gazette and Capital Style Magazine, along with CapitalGazette.com. Other businesses, including a medical office, are also located in the building.
The Capital Gazette and the Maryland Gazette are both owned by the Baltimore Sun Media Group, which is owned by Tribune Publishing. Police also responded to check the Baltimore Sun newsrooms as a precautionary measure in the wake of the shooting.
Capital reporter Chase Cook tweeted after the shooting: "I can tell you this: We are putting out a damn paper tomorrow."
I can tell you this: We are putting out a damn paper tomorrow.

— ? Chase Cook ? (@chaseacook) June 28, 2018
Here's what you need to know about Jarrod Ramos and the Capital Gazette Newspaper shooting:
1
Witnesses said the gunman shot through a glass door and opened fire on people inside the newsroom.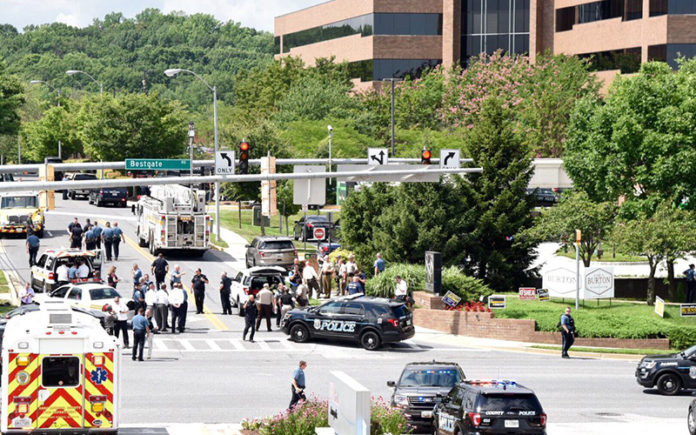 Police said the suspected gunman, Jarrod Ramos, used smoke grenades when he entered the building armed with a shotgun.
Active shooter 888 Bestgate please help us

— Anthony Messenger (@amesscapgaz) June 28, 2018
Around 2:40 p.m. Thursday, an intern at the newspaper, Anthony Messenger, tweeted: "Active shooter 888 Bestgate please help us." Messenger is okay, according to a co-worker, who also said that John McNamara, a writer for the Capital Gazette, had been shot. McNamara was confirmed as one of the five victims fatally shot.
Reporter Phil Davis confirmed to the Baltimore Sun, which owns the Capital Gazette, that there was a shooting and multiple people had been shot.
Davis told the Baltimore Sun it was "like a war zone," and the situation is something that will be "hard to describe for a while." He added, "I"'m a police reporter. I write about this stuff—not necessarily to this extent, but shootings and death—all the time … But as much as I'm going to try to articulate how traumatizing it is to be hiding under your desk, you don't know until you're there and you feel helpless."
Davis told the newspaper the shooter stopped on his own and police then arrived and surrounded him. "I don't know why. I don't know why he stopped," he said.
Joshua McKerrow, a photojournalist for the Baltimore Sun and the Capital Gazette tweeted along with photos from the scene: "Massive police response to shooting in my newsroom in Annapolis."
Massive police response to shooting in my newsroom in Annapolis. @capgaznews pic.twitter.com/M1Bjwa0mMh

— Joshua McKerrow (@joshuamckerrow) June 28, 2018
According to Ann Arundel County radio traffic scanner audio, the suspect was described as a "white male with a ponytail." CBS News added that the suspect wasn't carrying an ID at the time of the shooting, and initially refused to identify himself to officials. He was reportedly ID'd via facial recognition software.
SCANNER AUDIO: Anne Arundel County radio traffic during Capital Gazette shooting – approx. 2:50pm:

Officer 1: "All units, all units, limit your transmissions. Do we have any kind of intel on our shooter?"

Officer 2: "White male with a ponytail."

Courtesy: @Broadcastify pic.twitter.com/lUrwtRvz43

— Kevin Lewis (@ABC7Kevin) June 28, 2018
AUDIO: Emergency scanner traffic shows quick response, confusion in responding to mass shooting at Capital Gazette newspaper in Annapolis, Maryland (audio edited for brevity) pic.twitter.com/3DtRoM6RJH

— Matthew Keys (@MatthewKeysLive) June 28, 2018
Anne Arundel Police Lieutenant Ryan Frashure told reporters, "This is going to be a long, long, long investigation." Frashure said that officers responded to active shooter reports very quickly, in about 60 to 90 seconds of the first call. He said they engaged the suspected shooter and took him into custody. "At this point he's the only suspect, we have one suspect," Frashure said.
2
Jarrod Ramon sued the Capital Gazette in 2012 over a column written by a now-former staffer about him pleading guilty to criminal harassment. The victim of Ramos' harassment called him a "f**king nut job" and had previously warned police that he "will be your next mass shooter."
Actual print edition from when the Capital Gazette wrote about Jarrod Ramos harassing a woman on Facebook; Ramos is today's suspect in the mass shooting at the newspaper pic.twitter.com/4aZitMSI3B

— Matthew Keys (@MatthewKeysLive) June 29, 2018
According to court records, Jarrod Ramos was convicted of harassment in January 2011 in a case that stemmed from a March 2nd, 2010 incident. He was sentenced to 90 days in jail and 18 months supervised probation. Ramos was also ordered to continue therapy and refrain from contact with the harassment victim and her family.
In 2012, Ramos filed a defamation lawsuit against Capital-Gazette Communications, its then-staff-writer Eric Hartley and the paper's publisher at the time, Thomas Marquardt. Ramos sued the paper, Hartley, and Marquardt over a column written by Hartley in 2011 about Ramos' guilty plea to criminal harassment.
Hartley's article, titled "Jarrod wants to be your friend," which was reproduced in court documents, said that in 2011 Ramos had spent a year stalking and harassing a woman he had known in high school, but with whom he had recently reconnected via Facebook.
According to Hartley's article, even though Ramos and the woman hadn't seen each other in person since high school and didn't meet again until a court appearance, Ramos made vulgar comments about her online, told her to "go hang yourself" and sent an email to her boss at a local bank attempting to get her fired.
The article, which said that Ramos was "a federal employee," also said that he pleaded guilty to a misdemeanor harassment charge.
Ramos' defamation lawsuit was dismissed in 2013 by Prince George Circuit Judge Maureen M. Lamasney because the article was based on public records and Ramos had no evidence that it contained inaccurate information.
"A lawyer would almost certainly have told him not to proceed with this case," the court wrote in the opinion, according to The Capital. "It reveals a fundamental failure to understand what defamation law is and, more particularly, what defamation law is not."
In September 2015, the second-highest court in Maryland upheld a 2013 ruling in favor of Capital-Gazette Communications dismissing Ramos' defamation lawsuit.
After the Capital Gazette shooting, the woman who had been harassed by Ramos told WBAL-TV "he's a f**king nut job." She told reporter Jayne Miller that years ago she had warned a police official that Ramos "will be your next mass shooter."
"He's a f***** nut job" –woman who says she was stalked by suspect in fatal shooting of 5 people at Capital Gazette in Annapolis…says she warned former police official years ago.."he will be your next mass shooter"

— Jayne Miller (@jemillerwbal) June 29, 2018
3
The Capital Gazette's former publisher, Thomas Marquardt, said he thought Ramos "was crazy enough to come in and blow us all away."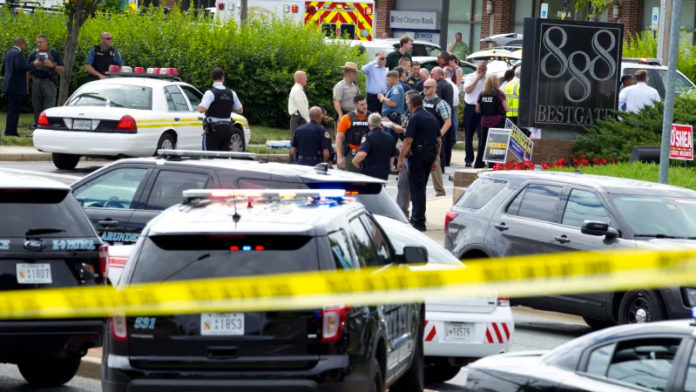 Thomas Marquardt, who retired as The Capital's publisher in 2012 and was named in Ramos' defamation lawsuit against the paper, told the Los Angeles Times that Ramos "waged a one-person attack on anything he could muster in court against the Capital."
Marquardt said he and other newspaper officials had been worried over how to stop Ramos' harassment against them. "I said during that time, 'This guy is crazy enough to come in and blow us all away."
Marquardt said police couldn't arrest Ramos for his behavior toward the newspaper, and the paper was reluctant to sue him in court.
"The theory back then was, 'Let's not infuriate him more than I have to… The more you agitate this guy, the worse it's gonna get," said Marquardt. "If it's him, I'm gonna feel … responsible for this. I pray it's not him."
4
Jarrod Ramos was apparently a Donald Trump supporter and appeared to threaten the Capital Gazette in a Twitter post that referring to Trump as "unqualified" could "end badly" for the paper. He also tweeted that he would like to see Hartley and Marquardt "cease breathing."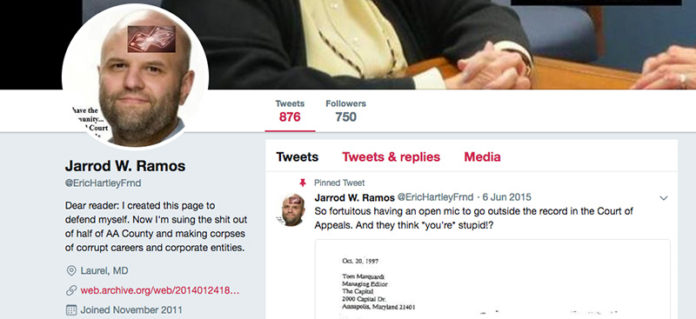 Jarrod Ramos had a Twitter account (@EricHartleyFrnd) that showed no tweets since January 2016—until Thursday, the day of the shooting, when he posted a single line message that read simply, "F*** you, leave me alone @judgemoylanfrnd." The @judgemoylanfrnd account appeared to have been created by Ramos to ridicule a Maryland judge.
https://twitter.com/EricHartleyFrnd/status/1012404716272324611
Ramos used his Twitter account for several years to talk about his lawsuit against The Capital Gazette and one of its former reporters, Eric Hartley—the man who wrote the article about his harassment charges. The account also included a bunch of rambling posts about conspiracy theories. Ramos used a photo of Hartley for the account's profile picture.
Ramos wrote in his Twitter bio, "Dear reader: I created this page to defend myself. Now I'm suing the sh*t out of half of AA County and making corpses of corrupt careers and corporate entities."
Ramos never tweeted from the Judge Moyland account, but the profile states: "This is a war. There are no grandstands on the battlefield. One does not die royalty, a nobleman, or a commoner. You die as the loser."
A third Twitter account, under the name Judge James Lombardi (@judgelingJJL) also appears to have been created by Ramos. The bio on that account states: "Not James J. Lombardi, the most disgraceful #judgeling I've seen. He wants to censor me in absentia, but he can eat my sh*t. Very truly yours, Jarrod W. Ramos."
https://twitter.com/EricHartleyFrnd/status/644292223547404288
In September 2015, Ramos used his Twitter account to criticize and apparently threaten a Capital Gazette columnist for calling President Donald Trump, then a candidate, "unqualified." He wrote, "referring to @realDonaldTrump as 'unqualified' @capgaznews could end badly (again)." He linked to a Wall Street Journal article about Trump's $500 million lawsuit against Univision.
https://twitter.com/EricHartleyFrnd/status/564272345289089024
Months before that, in February 2015, Ramos tweeted that he would like to see the Capitol Gazette shut down, but it would "be nicer" to see Hartley and Marquardt "cease breathing."
5
Ramos also wrote on an old website that Thomas Marquardt (the paper's publisher) used The Capital as a "shotgun" and news subjects as "targets."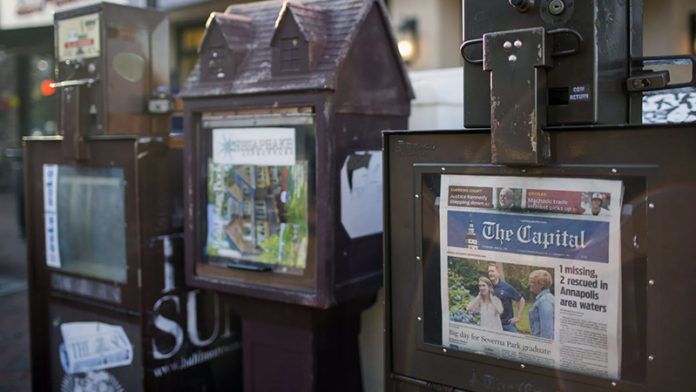 In addition to his multiple Twitter profile, Jarrod Ramos also had a website where he published documents from his defamation case and e-mails with the Capital Gazette, ironically accusing them of harassment and defamation.
Ramos wrote on the website: "Mr. Marquardt views news subjects as targets, and The Capital is his shotgun. He fills with glee when he strikes down another a**hole … Some targets are easy and some targets unclear. 'Shoot it anyway,' he says, 'I want it dead!' He hates it when civility and decency get in the way of his fun. He does it for the victims, even when 'She wants to be alone.' He'd tell you his 'personal animosity' has nothing to do with it, though he doesn't even know what that is. So don't be a killjoy."
In an email published on his website, Ramos wrote, "Dear Reader: If you're here now, you probably just Googled my name. If this story caught you off guard, there's something you should know. While I did commit the offense of harassment, the victim's version of events is a gross misrepresentation of what actually occurred. Mr. Hartley has here further distorted the truth. Upon reconsideration this afternoon, Judge Jonas D. Legum has overturned my conviction despite continued opposition by the victim. At hearing she showed her true colors and the court was unpersuaded by her attempted manipulation. If you know me, ask me. I certainly did a bad thing, but don't shun me for how it was portrayed by this newspaper."
Though Ramos mentions the courts overturned his harassment conviction, there is no official documentation proving that.
He added in a message to Hartley: "This is your written notice the conditions I provided to you are hereby withdrawn. You have chosen to ignore my letter, but your response was not invisible. The ground you tried digging was solid, as my integrity. Say the same to me and you've lied once more. You can expect my lawsuit in July. Get your people ready, because I will be."
Ramos also accused The Capital of censoring him by deleting a comment from the newspaper's website in 2011. "You people have no explanation for the removal of my comment?" he wrote. "Even though it appears you have acted with personal spite, ill will, and a desire to see me come to harm? Even though it appears to be a conscious effort to conceal or ignore anything contrary to the words of a vengeful source of highly questionable credibility? Are you guys truly the champions of free speech, accountability, and organizational transparency, or do those things only really matter when they suit your purposes to make people look bad and generate revenue?"
6
Ramos tweeted in 2014 "mass shootings cannot happen anywhere," referring to The Capital Gazette's old office. He also tweeted about the 2015 killings of 2 TV journalists.
https://twitter.com/EricHartleyFrnd/status/511181839663661056
In a tweet from 2014, Ramos said to then-Baltimore Police Commissioner Kevin Davis, "Mass shootings cannot happen anywhere, @ChiefKevinDavis. For example: 2000 Capital Drive. No one left there to shoot." 2000 Capital Drive in Annapolis, MD is the former home of the Capital-Gazette Communications offices.
On Ramos' website, he titled a section "Open Season." He wrote under that headline: "That's the life at 2000 Capital Drive, from one generation to the next. They're so sure their own sh*t doesn't stink, they feel their sewage bill should be paid by the people of Annapolis. When their guilty consciences catch up to them, the people pay for that too. They call themselves an important watchdog, but who watches the watchers? The authority that permits their power also stands poised to punish its abuse. Even kings must answer to God, and a modern day Inquisition is at hand. Thmce potential judgement is no less severe; the carnage differs only in literal terms. As this search for Truth commences, a crusader they could not kill approaches."
Ramos also tweeted in August 2015 that the suspect in the attack on two WDBJ-TV reporters was a "fake journalist" with a fake name.
https://twitter.com/EricHartleyFrnd/status/636601810585812992
Be the first to receive breaking news alerts and more stories like this by subscribing to our mailing list.