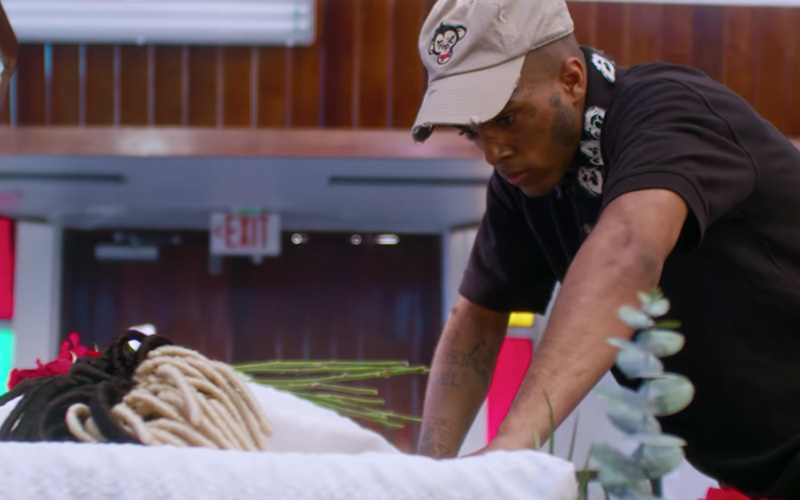 Yesterday, it was announced through XXXTentacion's Instagram story that he would be posthumously releasing the music video for his hit single "SAD!" And this morning, as promised, the video hit YouTube at 9 a.m. sharp.
With the rapper's public memorial taking place Wednesday (Jun. 27) in Sunrise, Florida, which was attended by thousands of fans, it looks like during the filming of this music video, XXX may have been foreshadowing his own death.
The visuals were written and creative-directed by X himself and could easily be compared to Tupac's "I Aint Mad Atcha" video.
The haunting, thought-provoking and captivating JMP-directed visuals find the rapper presented with the task of battling himself as a means to end the negative energy in the world and spread positivity.
At the beginning of the video, the viewer is asked a series of questions in text-form relating to themselves, with one of the questions including: "Why do you love?" When the rapper appears on screen, he's seen attending his own funeral, and when he walks up to his casket, his body—laying with his iconic half-blonde half-black locks—jumps up and attacks him.
Throughout the video, XXX can be seen sitting hunched over in a dark room clearly avoiding eye contact with a robed, masked figure, who we find out was the one asking all of the questions and making the statements about changing the world by spreading positivity. "The world is in need of change, humans must learn to love and compromise rather than destroy," the shadowy figure says. "The world will soon be more loving, you will see."
The song plays as XXX fights himself while onlookers watch, which is likely a visual representation of him "battling his old self" in front of the world. After winning the fight, XXX sits on the ground and uses supernatural powers to control his alter ego's body, dragging it across the ground and throwing it up against the wall.
The video ends with XXX laying his old self to rest—a powerful representation of what the rapper was facing and thinking during his last months on earth.
The video for "SAD!" comes just a few days after the single skyrocketed from No. 52 to No. 1 on the Billboard Hot 100 and became the first posthumous No. 1 single by a lead solo artist since The Notorious B.I.G.'s "Mo Money Mo Problems" in 1997.
Police have continued to make progress with the investigation into XXXTentacion's murder. Just one week after the first suspect, 22-year-old Dedrick D. Williams, was arrested near Broward County, a second person of interest, 22-year-old Robert Allen, has been named in the case. U.S. Marshalls are said to be assisting in the search for Allen, as well as a third unnamed suspect.
Dedrick Williams appeared in court Monday and pleaded not guilty, with his lawyer maintaining his innocence. His attorney, Mauricio Padilla, said: "It's difficult when you're dealing with media cases because as you know they take a life of their own nowadays with social media. But we're really focused on trying this case in a court of law and not in the court of public opinion."
In addition to the "SAD!" video, X's team also gave fans the opportunity to see the rapper one last time in a public memorial held Wednesday at the BB&T Center in Sunrise, Florida, where thousands of fans gathered for a six-hour open casket viewing.
Be the first to receive breaking news alerts and more stories like this by subscribing to our mailing list.