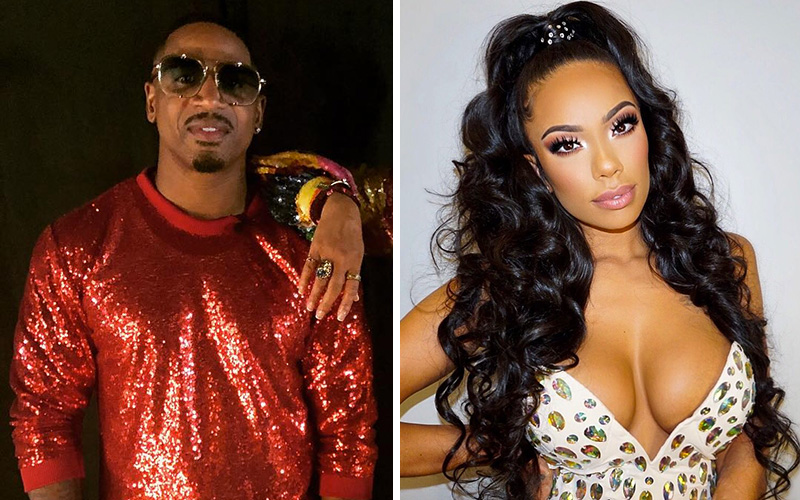 Stevie J may have let his anger get the best of him during a recent taping of "Love & Hip Hop Atlanta."
The LHHATL Season 7 reunion was filmed in Atlanta at Tyler Perry Studios earlier this month and multiple sources have confirmed that Stevie J and Erica Mena had a pretty explosive argument that turned physical and eventually ended with Stevie being escorted from the building and not able to tape the rest of the show.
Erica and Stevie have been beefing back and forth the entire season because Erica feels as though Stevie has been brainwashing and taking advantage of her former BFF Estelita, who is Stevie's new artist on his label. Before the beef, Stevie thought he and Erica were once "cool" with each other, and now things have gone completely left between the two.
According to a number of Twitter sources, Erica got Stevie J's blood boiling super high with a "low blow" comment that led to him allegedly resorting to calling her son a homophobic slur (yes, the one you're thinking of—the "f" word) and not only that, but he also allegedly tried to physically assault her before security intervened.
Erica Mena said Stevie J tried to fight her at the reunion cause she said a very very low blow about him after he called her son a fag! ? #LHHATL

— Jay (@JaysRealityBlog) June 8, 2018
Erica Mena & Stevie J got into a HEATED argument at the reunion which resulted in Stevie calling Erica's son a f*ggot & Erica said that Stevie left the building ??

— Love & HipHop Fights (@lnhhfights) June 8, 2018
Erica basically confirmed something went down between them during a brief chat on her Instagram Live. "[Stevie] likes to fight females. So if you blogs wanna blog about anything, blog about the fact that Stevie J is a B**CH, and he likes to fight girls."
https://instagram.com/p/BjwyaqFBR4w/?utm_source=ig_embed
https://instagram.com/p/Bfx39E5HW9B/?utm_source=ig_embed
There are rumors floating around that Stevie J has been fired from the show, or at the very least, suspended from filming, but none of that has been confirmed by production. We're also not sure how much of the "fight" we'll be able to see when the reunion airs next month due to VH1's extremely low tolerance for violence, especially when it involves opposite genders.
Meanwhile, Stevie's ex and baby mama, former LHHATL star Joseline Hernandez, is out here screaming I TOLD YOU SO!
Well I'm glad someone other than me speaks up. Maybe when the ships goes under the puppet masters finally will be brought up to justice…. I've been speaking on but I'm always the bad guy. Stop promoting violence. Damnnnnnnnn. Y'all gona learn

— Joseline Hernandez (@MsJoseline) June 8, 2018
The Love & Hip Hop Atlanta Season 7 finale airs next Monday (Jul. 2), with the two-part reunion following right behind on Monday, July 9th and July 16th.
Be the first to receive breaking news alerts and more stories like this by subscribing to our mailing list.