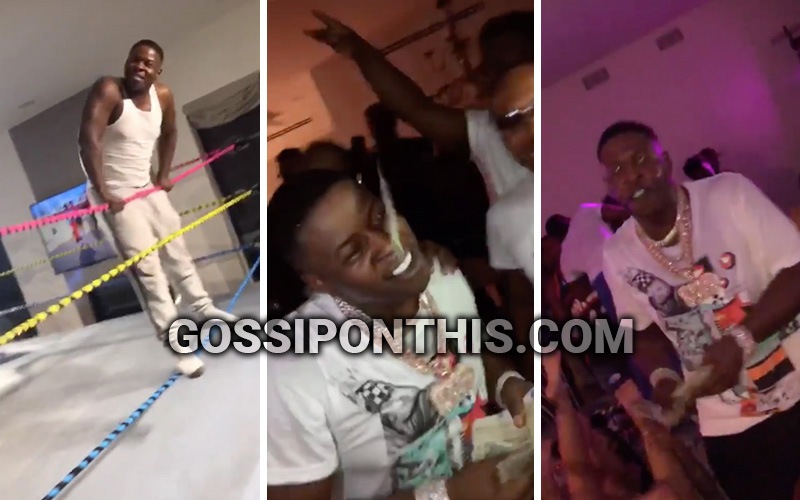 Blac Youngsta threw a LIT AF house party last night that featured a wrestling ring full of butt booty naked strippers who were busting it wide open. And when we say wide open, we mean WIDE OPEN. As someone on Twitter put it, "only on Blac Youngsta's IG can you see a girls birth canal," which should basically tell you how nekkid these women were.
On Monday morning (Jun. 24), Blac Youngsta announced via his Instagram Story that he was throwing a house party later that night. Now, we all know Blac Youngsta is a very lit individual, but I don't think anyone anticipated how lit his house party would be.
The rest of the videos on his IG story showed him preparing for the party, including the setup of a wrestling ring. Within hours, that same wrestling ring was filled to the brim with fully naked strippers as partygoers—including rapper YFN Lucci—made it rain all over them with thousands of dollars worth of hundred dollar bills.
The videos from Blac Youngsta's InstaStory are so explicit that we cannot post them on our website, but you can watch ALL of them here.
The clearly NSFW videos have caused Blac Youngsta to become a top trending topic on Twitter, where disturbed individuals are posting hilarious reactions, warning folks to not go to Youngsta's IG story if they're in church.
Check out some of the best/funniest Twitter reactions below:
Went through like 20 of Blac Youngsta ig snaps and was surprised when I saw a whole wrestling ring.
Little did know I hadn't seen nothing yet pic.twitter.com/LHgUq5xDDS

— matt ox stan account (@fiilonmusk) June 24, 2018
I thought Blac Youngsta was gonna have a full fledge WWE match at his house party, boy was I wrong ?????

— Miguel M. Pacheco (@NOBODYXFAMOUS) June 24, 2018
Accidentally opened Blac Youngsta's IG story in church https://t.co/6KKMChaPBM

— Nigeria's??Finest™ (@DMV_Drummerboyy) June 24, 2018
I need Jesus after watching Blac Youngsta's IG story

— Reid (@reid_this_) June 24, 2018
Bruhhhh. Blac Youngsta House Party last night.. pic.twitter.com/flTvEjyZmK

— EZPZ. (@PeeziQue) June 24, 2018
Bruhh only on Blac Youngsta's IG can you see a girls birth canal. ? pic.twitter.com/Hk6bAMKqaJ

— Kerv J (@KRVNZ) June 24, 2018
Blac Youngsta must got a grand theft auto cheat code or sumthin .. ain't no way his ig account still active after all that??????

— Kalblo Freshcobar (@__Kal_) June 24, 2018
I Need To Get Into A Blac Youngsta Party Before I Die????? #BlacYoungsta pic.twitter.com/CMVeITxiRp

— K'Lyn? (@KayyKrueger) June 24, 2018
Me : oh how nice Blac Youngsta got a boxing ring at his party
Me: 8 mins later pic.twitter.com/RPCzPaItI9

— Ash K. (@OhSoAshh) June 24, 2018
reginae after seeing YFN lucci on blac youngsta's IG https://t.co/18HTaURbIE

— aaliyah stan (@_vusachi) June 24, 2018
after watching blac youngsta ig story, there's no way lucci is faithful to reginae. PERIODT!

— cye ? (@icyeuhoes) June 24, 2018
Blac Youngsta's IG story …bro wtf pic.twitter.com/525IPrQwGd

— Serena Van Der Woodsen (@queennefertitty) June 24, 2018
How the fuck does blac youngsta still have instagram after his story last night LMFAOOOOOOO

— Zay?? (@azariaahf) June 24, 2018
When your girl says she going to a Blac Youngsta party pic.twitter.com/gFW09c43q6

— Emmanuel Adeaga (@DarthTchalla) June 24, 2018
*me trying to figure out the cleanup process/logistics at a Blac Youngsta party…like how many trash bags, how many brooms, how the pie is divided, the Tetris method of packing said stacks in the trunk. How many hours it took. Did anyone slip? I need answers* pic.twitter.com/SqzKKOd9xC

— Questlove (In E flat) (@questlove) June 24, 2018
https://twitter.com/LeBronHairline_/status/1010891694974423041
Blac Youngsta's IG Story is legendary and I really recommend everyone go watch it…

— ? (@uncletizzy) June 24, 2018
blac youngsta ig story is really porn man. ?

— ????? (@helloGorjuss) June 24, 2018
Be the first to receive breaking news alerts and more stories like this by subscribing to our mailing list.