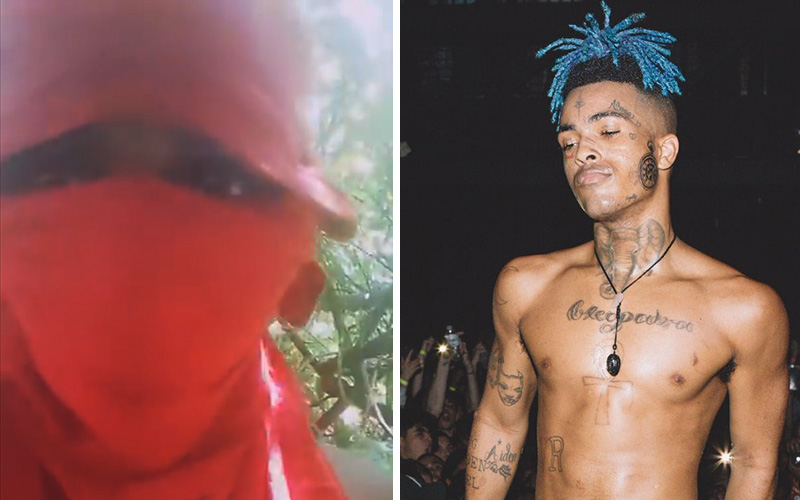 Alleged video footage showing one of the men responsible for XXXTentacion's murder bragging about the deed and mocking the rapper has hit the web.
The footage shows a man wearing a red mask over his face, similar to the description given to police of XXX's killer. The man brags about killing XXX and says the rapper did something to his cousin, citing that as the reason why he was shot and killed. The man also mocks the rapper, saying that his last words were him begging for his life.
"What y'all doing bro?! I don't got nothing, what y'all doing bro?! What y'all doing bro, I don't got nothing bro! Please please don't do it! I got kids, I got people to live for," the masked man says, laughing at and mocking the rapper's alleged last words. "F*** that X n**** man, y'all know what it is with us." The masked man also says that the police are "about to pin the wrong n****s with the murder" and calls XXX a "b**ch a** n****."
"You should've never did that to my cousin… he know what he did," the man adds. "He know what's up with us, he know what happened. F*** him." He goes on to issue threats against other South Florida rappers: "You do any f*** sh** we gone come for you."
The masked man said XXX "only had $10,000" in the Louis Vuitton bag he and his accomplices took from the scene. "F*** him, I don't give a f***, I'm already wanted for a murder and robberies and sh** around Florida." The man even taunts police, telling them to "come for me," but then turns the camera to point out that he's in an undisclosed wooded area. "B**ch a** n****s, y'all don't know where I'm at," he says.
He ends the video saying to XXXTentacion: "F**k you and your fans." If the guy in this video is, in fact, one of the men involved in XXX's killing, he's got to be one of the dumbest MFs alive for bragging about it on the internet. It's only a matter of time before the police catch up to him, considering he says he already has warrants out for his arrest.
Police have already arrested one of the men involved with the rapper's murder, 22-year-old Florida tattoo artist Dedrick Devonshay Williams, and they say they are still looking for the other two alleged killers, who both have warrants out for their arrests.
According to a detective's sworn affidavit, the XXXTentacion's killers were tracking him in his final moments Monday afternoon (Jun. 18). The affidavit states that the Williams and another man followed the 20-year-old rapper into RIVA Motorsports before shooting and robbed him in his car less than a half hour later. The court documents also say that XXXTentacion (real name: Jahseh Dwayne Onfroy) was specifically targeted in the attack and struggled with the masked men before he was shot to death.
Broward Sheriff's deputies were able to quickly identify Williams because he was seen wearing the same orange sandals he had on when he killed XXXTentacion in several photos posted on his Instagram and Facebook pages. Williams' identity was also confirmed by eyewitnesses and employees of the motorcycle shop. Williams was taken into custody within 48 hours and charged with first-degree murder for X's shooting death. He appeared in court the next day and was denied bond.
In Williams' arrest report, authorities noted that they don't believe he's the one who pulled the trigger, however, his active role in the homicide led to him being arrested on a premeditated murder charge. Williams' brother posted a video on social media denying Williams' involvement in the shooting.
Be the first to receive breaking news alerts and more stories like this by subscribing to our mailing list.