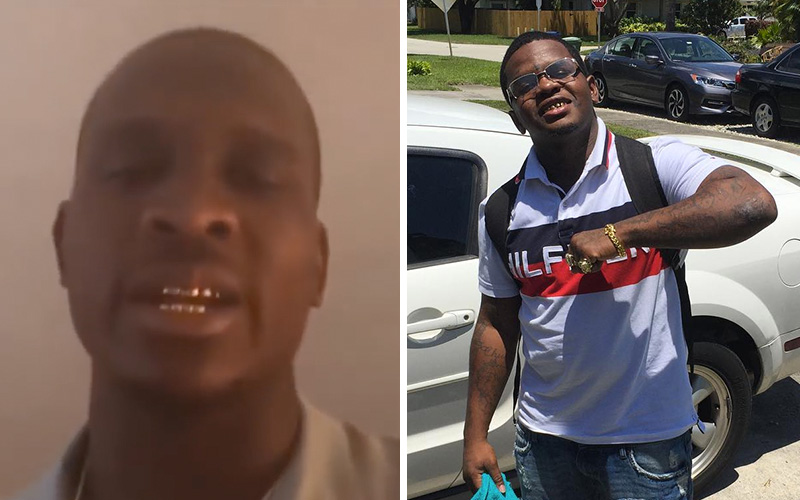 Not too long after Dedrick Devonshay Williams was taken into police custody Wednesday night (Jun. 20) in Pompano Beach, Florida—a neighboring city south of Deerfield Beach—for his alleged involvement in the murder of rapper XXXTentacion, the tattoo artist's brother vehemently denied his involvement in the shooting.
"Keep my brother name out your mothaf***in' mouth, my n****," Dedrick D. Williams' brother 26 Shotz said in a video that's being widely circulated online. "We ain't playing no games bruh, y'all getting y'all self in a whole bunch of trouble, dog. Y'all just mind y'all business, let them crackas do they mothaf****ing job… a n**** pulling up for real. All y'all out there, I don't give a f***, I don't pick faces, Z s**t n****."
Broward County investigators have credited the public and internet sleuths for helping to track down Williams, as the 22-year-old left hints to the shooting on social media platforms like Facebook and Instagram.
It was previously suspected that South Florida rappers Soldier Kidd and Soldier Jojo were responsible for the shooting because they were seen on Instagram near the same location where XXXTentacion was killed, but they quickly denied those allegations Monday (Jun 18)—the same day XXX died.
As we reported yesterday, Dedrick Williams—a tattoo artist from Florida who also goes by the name "Tattooman Chucky"—apparently loved to flash money and jewelry all over social media, especially on Instagram.
He also wrote a number of disturbing posts on social media that don't really help his case. For instance, the day he was arrested, Williams wrote on Facebook: "Don't piss me off u will never know wats next." And in a June 10th post on Instagram, he said, while holding up a bunch of 20 dollar bills in the shape a fan: "I just be ZOOLIN but I"ll lock and grip and shake a n**** til he stiff."
According to eyewitness accounts, Williams was scoping XXXTentacion out at the motorcycle shop before he allegedly robbed and killed him. The story goes that Williams waited for XXX to return to the bike shop with cash after the rapper allegedly left the dealership to go to the bank to get money. When XXX came back to the dealership (RIVA Motorsports), that's when Williams and two others took allegedly the opportunity to rob and kill the "SAD!" rapper.
The shooting is still under investigation and police have already issued warrants for Williams' two accomplices. Williams is facing first-degree murder charges and was denied bond in court Thursday.
Be the first to receive breaking news alerts and more stories like this by subscribing to our mailing list.