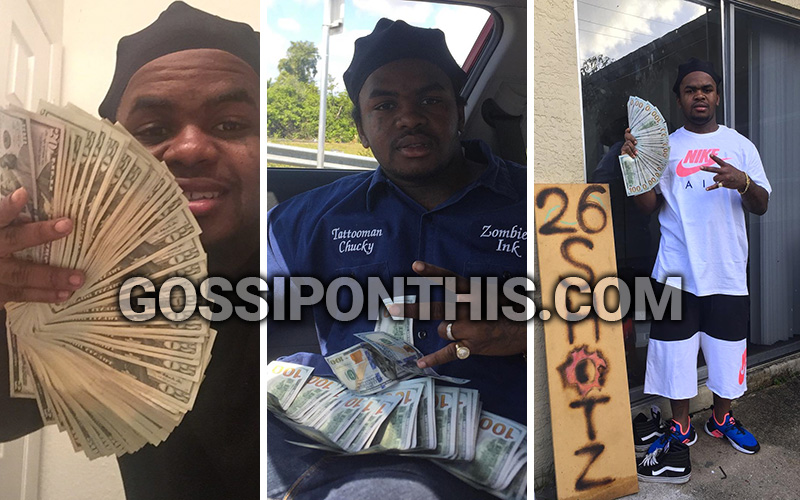 Dedrick D. Williams, a Florida man with an extensive criminal background, has been accused of shooting and killing rapper XXXTentacion. He was arrested Wednesday night (Jun. 20) by the Broward County Sheriff's Department and is facing first-degree murder charges in XXX's shooting death.
Before allegedly committing the horrible murder and being subsequently arrested, Dedrick Devonshay Williams—a local tattoo artist who went by the name "Tattooman Chucky"—apparently loved to flash money and jewelry all over social media, especially on Instagram.
In addition to photos showing off his inkwork, a significant number of photos on Dedrick Williams' Instagram page show him showing off huge wads of cash. He also wrote a number of disturbing posts on social media that don't really help his case.
For instance, the day he was arrested, Williams wrote on Facebook: "Don't piss me off u will never know wats next."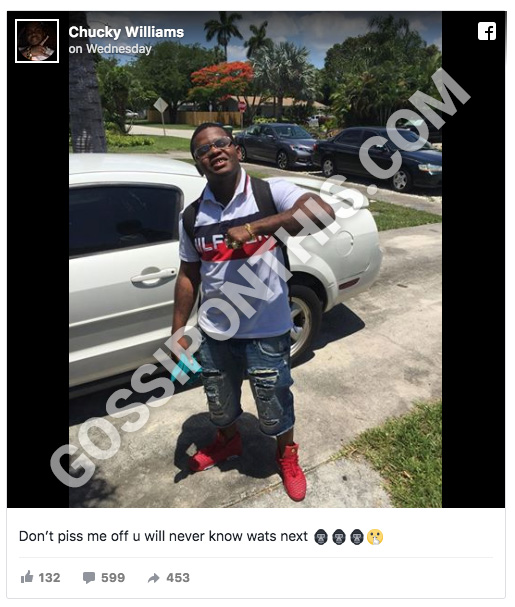 And in a post on Instagram, dated June 10th, he said, while holding a bunch of 20 dollar bills in the shape of a fan: "I just b ZOOLIN but I'll lock and get a grip and shake a n**** til he stiff."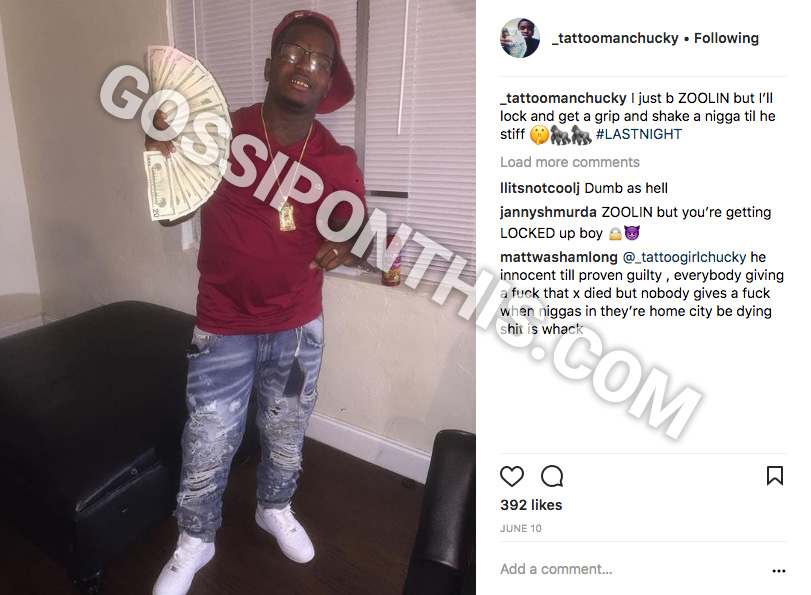 In another IG photo, shared on March 17th, he said: "I ain't neva ask nobody to like me bitch I'm full throttle" along with emojis of a middle finger, a bag of money, and guns.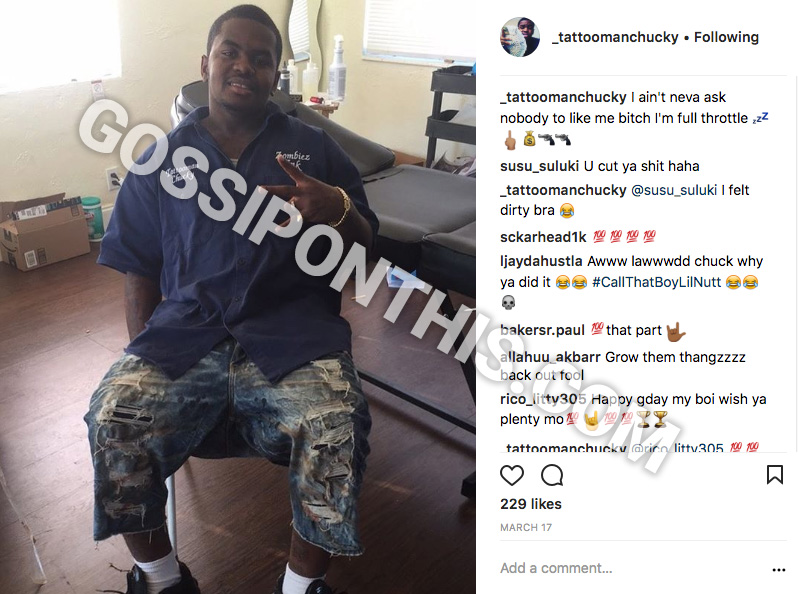 He wrote in the caption of another photo: "Every time I plea I plea not guilty in the first place."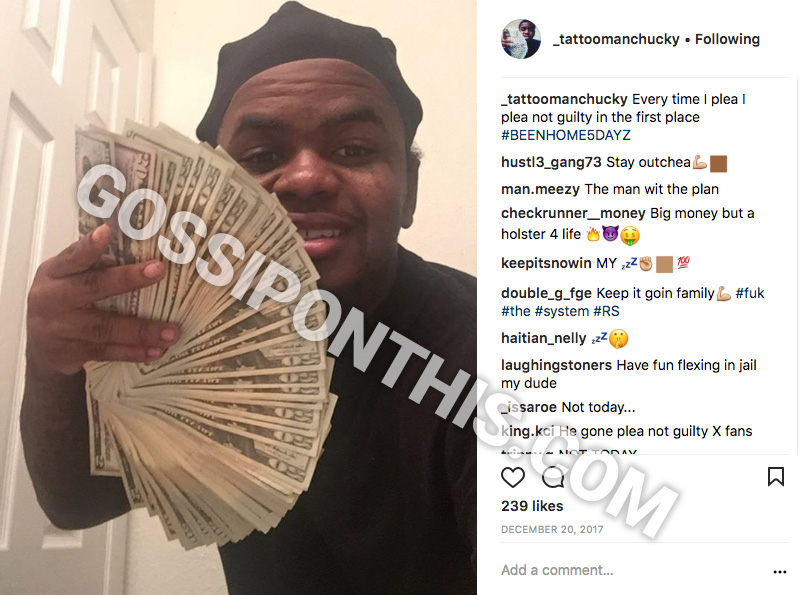 In another, Williams is posing behind bars, which some people pointed out is where he'll likely be spending a significant chunk of his life. "Look at you practicing for jail," wrote one commenter.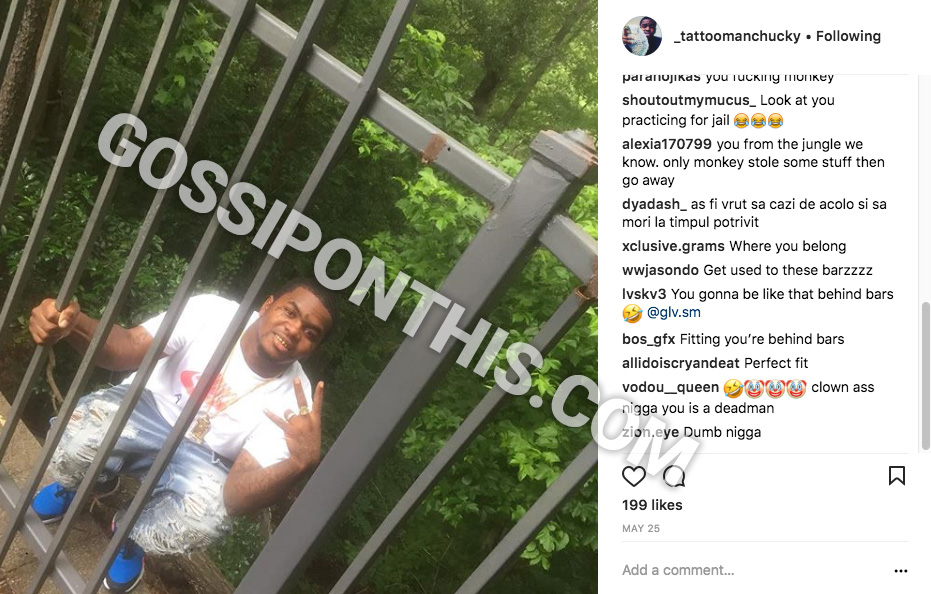 Ironically, Williams captioned a more recent photo, dated June 5th: "Thank God I ain't dead or behind bars."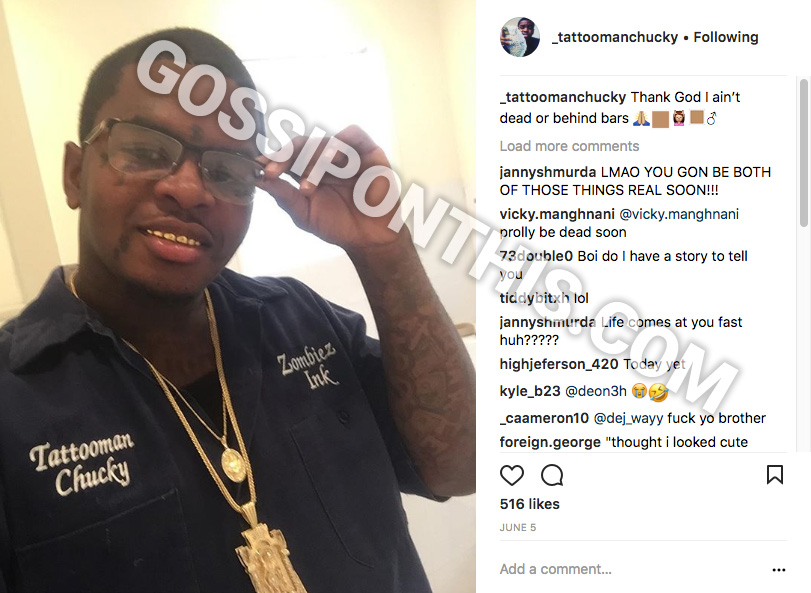 Check out more photos from Dedrick D. Williams aka Tatooman Chuckie's Instagram below:
According to eyewitness accounts, Williams was scoping XXXTentacion out at the motorcycle shop. The story goes that Williams waited for XXX to come back to the bike shop with money (the rapper allegedly left the dealership and went to the bank before heading back to the bike shop) and that's when Williams and two others robbed and killed the "SAD!" rapper.
According to Gossip In The City (aka Fameolous), the police suspected Williams was was XXXTentacion's killer the day of the murder, however, they didn't release any information because they knew Williams would try to run and/or hurt other people.
https://instagram.com/p/BkSH3YvHWqW/?utm_source=ig_embed
The case is still under investigation and police have issued arrest warrants for Williams' two accomplices.
Be the first to receive breaking news alerts and more stories like this by subscribing to our mailing list.