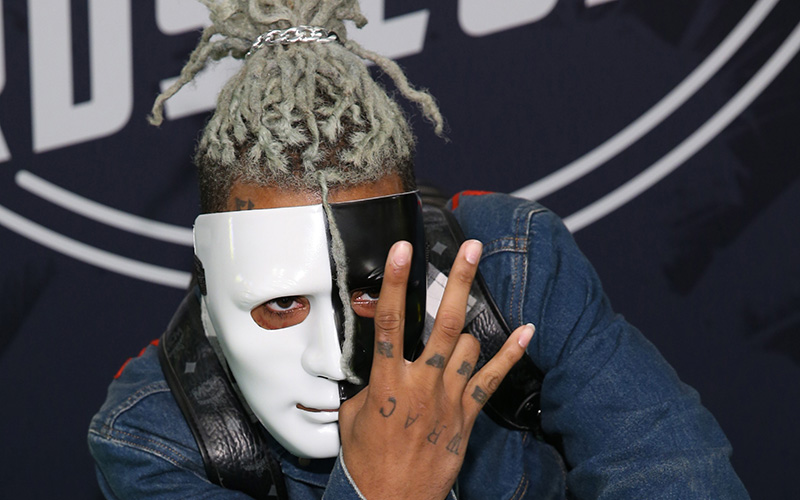 Jahseh Dwayne Onfroy's rap name was XXXTentacion, but what does it mean?
Back in March 2017, the rapper described the etymology behind his unique stage name to Miami 103.5 The Beat's K. Foxx, saying that the moniker means "unknown temptation."
Onfroy referred to "X" as the "only unknown numeral to [him]." He said: "'X' is a variable like the wildcards and unknown." As for the "Tentacion" part of his name, that comes from the Latin word for "Temptation." Additionally, the word "tentación" means temptation in Spanish.
Asked by he chose three X's, Onfroy explained that he used to watch a LOT of porn when he was younger. "I don't really know, it just came to me I guess," he said. "I used to jerk off a lot… I'm talking about I used to watch blue movie after blue movie." Onfroy added that his chronic masturbation caused his grandmother to limit his time in the bathroom.
Watch XXXTentacion's full interview with Miami 103.5 The Beat here:
A Reddit thread from 2017 speculated that the rapper's name came from his porn addiction, but one user had another theory, saying that Onfroy saw Miami rapper/producer SpaceGhostPurrp had a mixtape with the tracks "XXX" and "Temptation" and put them together, changing "Temptation" to the Spanish form to make "XXXTentacion."
The first song that Onfroy released under his rap moniker was "Vice City" in 2013. He uploaded the song to Soundcloud not too long after he was released from a juvenile detention center after spending time there for gun possession charges.
His name was written as "Xxxtentacion" at the time, but in November 2017, it was changed on Spotify to "XXXTENTACION." In a round-up explaining where rappers got their stage names from, Complex noted that XXXTentacion's name "may be hard to pronounce, but its meaning is straightforward."
Onfroy was shot dead in Deerfield Beach, Florida on June 18th, 2018 after leaving a motorcycle dealership. TMZ first broke the news that the rapper had been shot and bystanders noted that he wasn't breathing and had "no pulse." His death was confirmed an hour later by the Broward County Sheriff's Office. Authorities suspect the shooter(s)' motive may have been robbery, as his Louis Vuitton bag was stolen after the shooting.
The Broward County Sheriff's Office is reportedly offering $3,000 in exchange for information leading to an arrest in XXXTentacion's shooting death.
Be the first to receive breaking news alerts and more stories like this by subscribing to our mailing list.