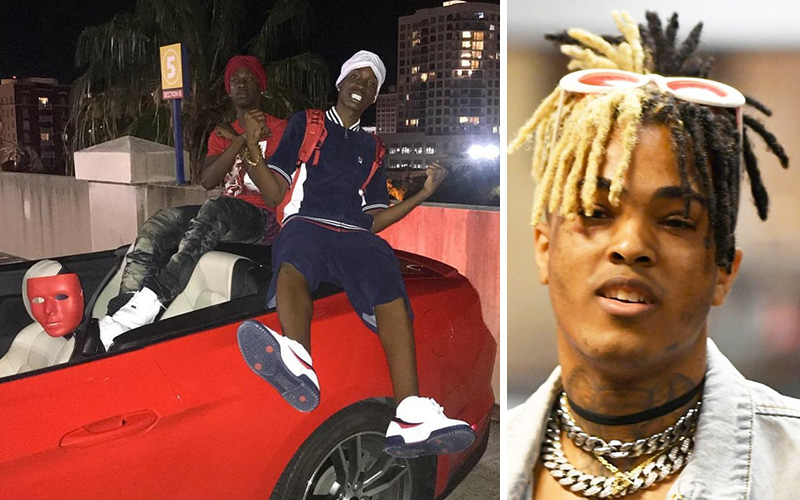 Two rappers from Miami—Soldier Kidd and Soldier Jojo—have been accused of being involved in the shooting death of XXXTentacion, but they're both are saying they're 100% innocent and had nothing to do with XXX's murder.
After the shooting death of XXXTentacion, internet sleuths went to work to find out who was responsible. Florida officials are still looking for a motive and the suspected shooters, leaving speculation to run rampant on the internet.
Shortly after XXX was pronounced dead, the Broward County Sheriff's Office released the following description of the suspects: "At least one of the suspects fired a gun striking [XXXTentacion]. Both of the suspects fled in a dark-colored SUV. Investigators say it appears to be a possible robbery." According to TMZ, police said the suspects were "black males wearing hoodies" and the "shooter was wearing a red mask."
Earlier today, just hours before XXXTentacion was shot and killed, Soldier Kidd and Soldier JoJo posted this photo on Instagram, along with a caption including what many believe are threats against XXXTentacion:
https://www.instagram.com/p/BkLCasjF-NW/?taken-by=soldier.kidd
"Triple X but we banging like we BD @soldier.jojo ON THE X," reads the caption, which also includes a target emoji. If you look closely at the photo, you'll notice a red mask (similar to the police's description) sitting on the headrest of the car's seat.
Also, a "Boomerang" photo posted on Soldier Kidd's Instagram Live showed that he had picked up food from Hook Fish and Chicken, a restaurant in Deerfield, Florida, not too far from where XXXTentacion was killed. If you pause the moving photo, you can clearly see a gun sitting in his lap, along with a plate of food.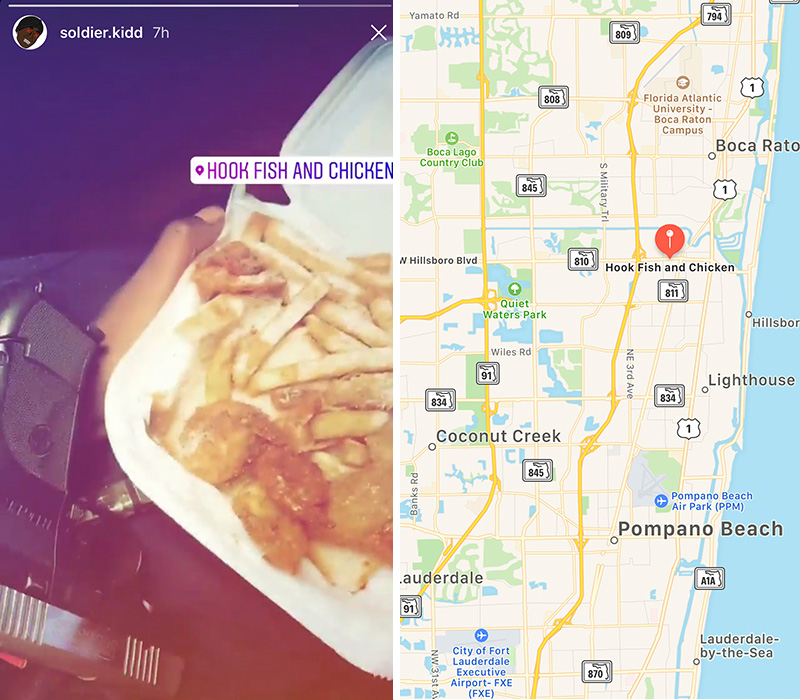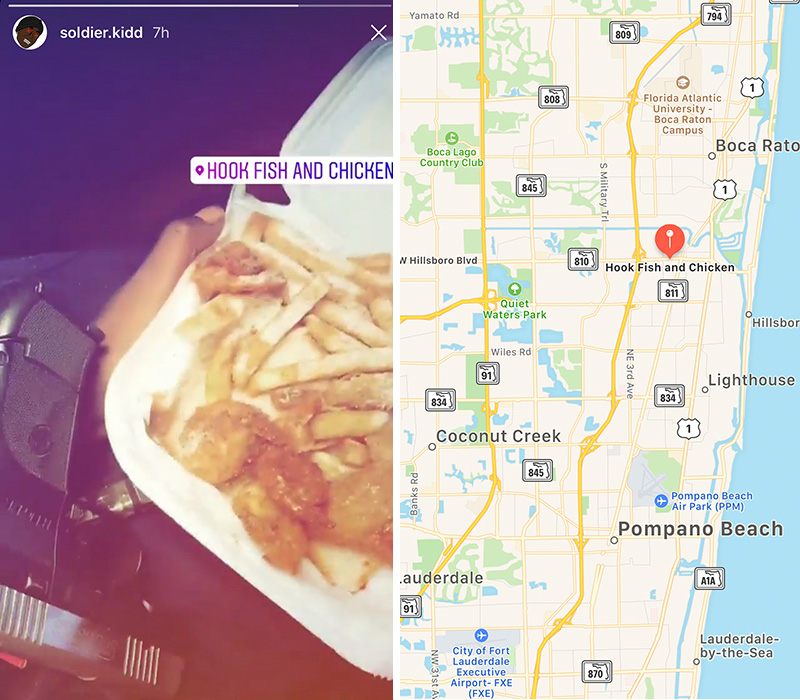 Soldier Jojo also posted a picture to his IG story with a seemingly identical red mask. The picture, which shows a timestamp of June 2nd, shows Jojo crouched beside a car with the red mask on top of his head and extending his middle finger toward the ground. Oddly enough, the image also has the letters "XXX" in red type. Another photo shows him posing in an undisclosed parking garage with Soldier Kidd.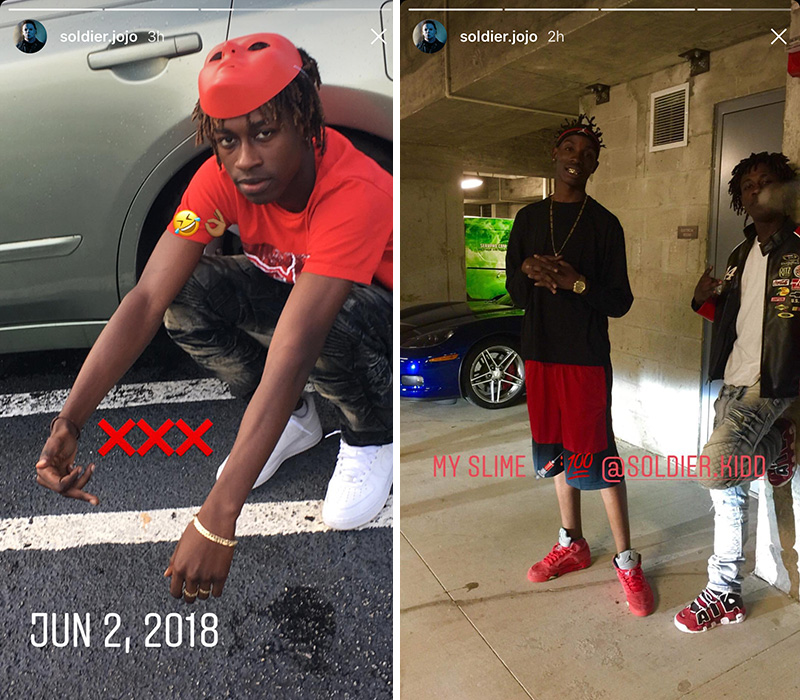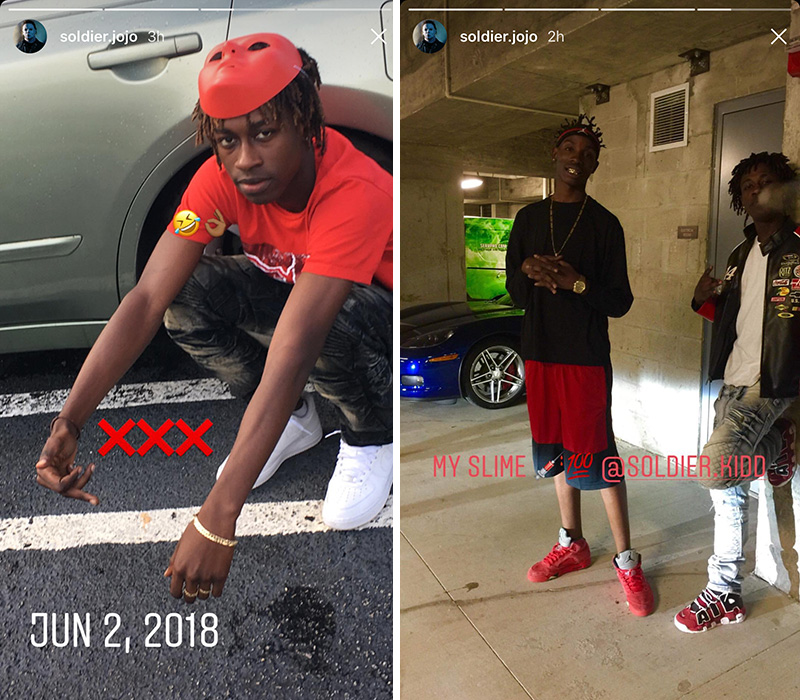 Fans of XXXTentacion were quick to jump to conclusions and accused Soldier Kidd and Jojo of being behind XXX's death, but both Soldier Kidd and Soldier Jojo are apparently a part of a group/rap collective called "XXX." It's not clear whether there's any connection between the group and XXXTentacion or if it's just pure coincidence.
After rumors emerged that Soldier Kidd and Soldier Jojo were responsible for XXXTentacion's shooting death, Soldier Kidd jumped on Instagram live to clear his name. He denied having anything to do with XXX's death, saying that he was at his house "all day popping Xanax and sh** like that."
Soldier Kidd also posted the following video on Instagram, saying that he didn't even know XXXTentacion.
https://www.instagram.com/p/BkMC9MJF-66/?taken-by=soldier.kidd
"I seen a lot comments on social media saying I had something to do with XXXTentacion's passing," Soldier Kidd said in the video. "We all got love for Florida. I got love for Broward [County]. I ain't even know who the man was, you feel me? We out here handling business, we out here getting money, we don't got no time for none of this sh** that's going on."
Soldier Kidd also offered his condolences to XXXTentacion's family before closing his video out by reiterating that he "had nothing to do with" XXX's murder.
For his part, Soldier Jojo uploaded a video on his own page also denying any involvement in XXXTentacion's murder.
https://www.instagram.com/p/BkMDwE8h59c/?hl=en&taken-by=soldier.jojo
For what it's worth, police believe the shooting was the result of a robbery, and detectives are reportedly offering a $3,000 reward for any information that leads to an arrest.
Be the first to receive breaking news alerts and more stories like this by subscribing to our mailing list.