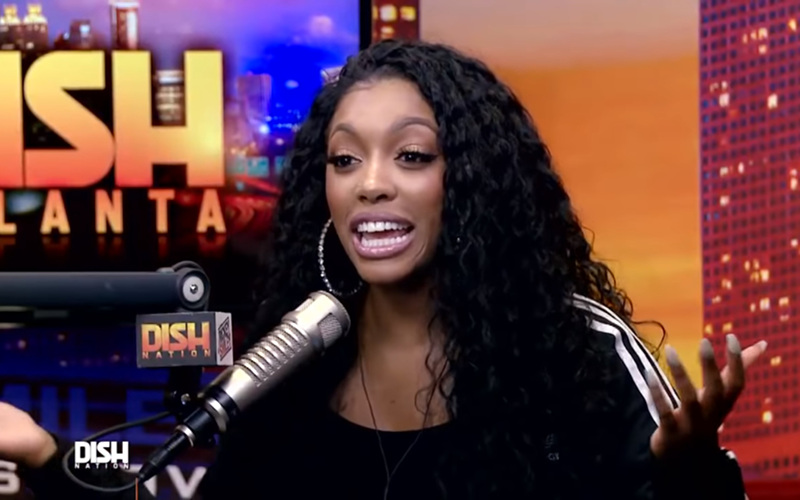 After years of somewhat of a desperate search, Porsha Williams may have found Mr. Right. She recently revealed on Dish Nation that's she in a new relationship but is keeping it private for now.
Porsha and her radio hosts were discussing how love often comes when you stop looking and she casually blurted out that she's got a new boo that she's quite smitten with.
"And that's how it happens, it's always when you're not looking anymore. It's when you go ahead and give up…I stopped looking and he arrived. Thank you, Jesus!

"I had gave up, honey, and bought cats online. They on the way, Ima have to cancel the order. I was ready to just let it go!"
https://www.instagram.com/p/BkAcSY9gOtN/?utm_source=ig_embed
Porsha says she wants her to take her time with this relationship before making it public or featuring the guy on The Real Housewives of Atlanta. "Keep it under wraps," new Atlanta Housewife, Eva Marcille, advised.
"I really wanna be private with this one until I have to," Porsha said. "I'm treading really lightly."
Some are already wondering if this new guy is Rickey Smiley. The two have great chemistry and have said they would be open to dating if they didn't work together at Dish Nation.
Rickey and Porsha are a thing? They been having this lil "will we, won't we" thing for years (?) but they together forreal? Is this confirmed?

— Niggamort (@Blike_Dante) June 14, 2018
Oh lord. She really fell for it ????? RT @brittanyalauren: Porsha and Rickey Smiley are dating?!?! pic.twitter.com/BHh0Bwwp3W

— NobodyWantsYallHoodies (@FancyFour) June 15, 2018
Rickey Smiley pulled Porsha? GOOOD GO MY MAN. GOOD GO.

— Tony Stank (@Vandalyzm) June 14, 2018
https://twitter.com/BonnieBombs/status/1007823589616357378
Smiley has since shut down the rumor and says he's not Porsha's mystery man.
"What [the blogs] don't understand is it takes an effect on people's lives when you put out things that are simply not true. Porsha and I have a great working relationship and we are friends. People would like to see us together but she has her thing going on and I have my thing going on."
The RHOA star has been very unlucky in love since her divorce from NFL player Kordell Stewart in 2013.
Her episode of Love Connection is scheduled to air soon, but it's no word if that's how she met her current boyfriend. "She's legitimately looking to settle down and fall in love and have kids," host Andy Cohen told Entertainment Tonight.
Whovever the man is, we wish the couple well. Let's just hope Porsha doesn't scare him off with another "baby-nup."
Be the first to receive breaking news alerts and more stories like this by subscribing to our mailing list.