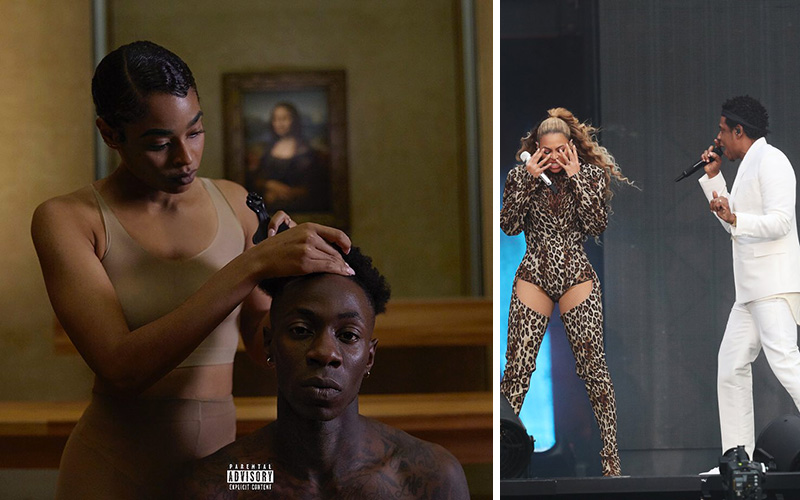 How do I stream Beyoncé and JAY-Z's Everything Is Love joint album if I don't have TIDAL? Long story short: YOU CAN'T! But there are a couple of ways for you to listen to the album without paying for a TIDAL subscription. Read on for the details…
Without warning, Beyoncé and JAY-Z (aka "The Carters") dropped their long-awaited joint album Everything Is Love exclusively on TIDAL Saturday afternoon (Jun. 16)
Following the release of their solo projects—Beyoncé's 2016 album Lemonade and JAY-Z's 2016 album 4:44, the power couple joins forces for a 9-track album featuring songs like "Summer," "Boss," "Nice," "Friends" and their new single "Apeshit" (WATCH THE VIDEO FOR APES**T HERE!)
The Carters announced the album's release at the London stop of their critically acclaimed "On The Run II" tour. Just as the couple's show at London Stadium wrapped Saturday night, the words "ALBUM OUT NOW" were plastered on the huge stage-length screen.
Surprise! pic.twitter.com/SYnAm6zCy7

— BEYONCÉ LEGION (@BeyLegion) June 16, 2018
While people are scrambling around and scouring the Internet for ways to listen to the album, the only way you can stream the album is through TIDAL, considering it's an exclusive release on that platform. But what if you're not a TIDAL subscriber?
Well, if you lack the TIDAL subscription required to stream Everything Is Love, there's a legal way to listen to it if you don't want to sign up for the service. You can purchase the album for $9.99, the same exact price for a monthly TIDAL subscription.
Or, alternatively, if you're still looking for a way to stream the album without dropping any cash, you can always sign up for a FREE trial of TIDAL using an e-mail address that's never been used for such a thing.
when u see "tidal exclusive" and u gotta create jay_bey_fan_99999@gmail.com for another login pic.twitter.com/RSpWuwOzA4

— Desus Nice (@desusnice) June 16, 2018
"But what if I don't want to listen to the album on TIDAL?" you ask. Well, in the words of the grandpa on the movie "Holes," THAT'S TOO DAYUM BAD!
Beyoncé and JAY-Z own TIDAL, so do you really think they're going to allow you to use your coins elsewhere? HELLZ NO!
So, either you create a burner e-mail for a free trial, spend the $9.99/mo to become a TIDAL member, buy the album outright for the same price as a monthly subscription … or just miss out on the whole thing altogether.
Be the first to receive breaking news alerts and more stories like this by subscribing to our mailing list.