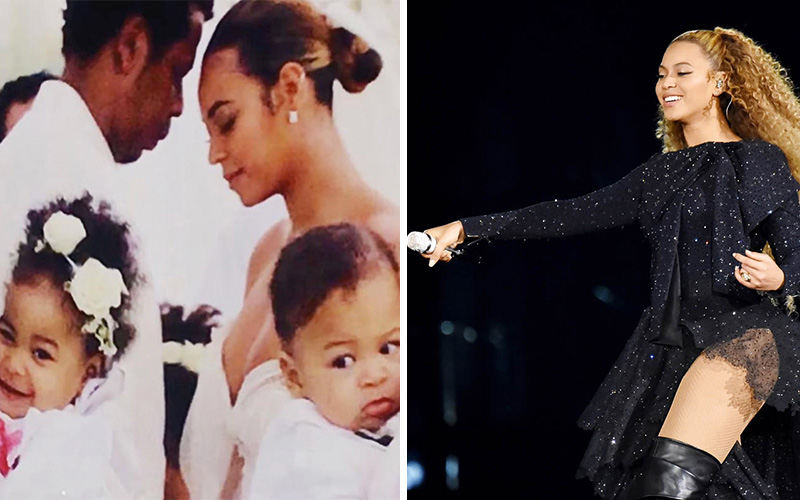 Beyoncé and JAY-Z's twins, Sir and Rumi, turned 1 year old on Wednesday (Jun. 13), and their superstar mom celebrated the occasion with special shout-out during the Manchester, England stop of her and Jay's "On the Run II" stadium tour.
At the end of the show, while singing the concert's closing number "Forever Young," Beyoncé said: "Happy Birthday to sir and Rumi. We love you!"
The crowd naturally cheered after the adorable mention, which comes just one week after the notoriously private parents gave fans a rare glimpse of Sir and Rumi during the tour's opening night show in Cardiff, Wales.
WATCH HERE:
Fans were hella confused last week when Beyoncé's rep told BuzzFeed that twin babies shown during the show's opening montage (below) were NOT Sir and Rumi.
RUMI AND SIR CARTER YALL THEY'RE SO PRECIOUS #OTRII pic.twitter.com/SRwHRFQgqy

— Jaya ? (@JayaHampton) June 6, 2018
Thankfully, Sir and Rumi's grandmother—Beyoncé's mom, Ms. Tina Lawson—posted THIS photo of the actual twins from footage apparently showing Mr. and Mrs. Carter's vow renewal ceremony, which is shown on the screen near the end of every "OTR 2" concert:
She captioned the image, "My sweet babies."
This is our first "official" look at the twins since Beyoncé's Instagram post last July celebrating the day the twins turned one month old. We also saw a quick glimpse of the babies last November when paparazzi snapped pictures of them in Miami, where the Carters were staying for JAY-Z's "4:44 Tour" concert.
While Beyoncé and JAY-Z never speak publicly about their kids (outside of their music, of course), Ms. Tina isn't shy about doting on her grandchildren. Last year, she gave us a small glimpse into Sir and Rumi's personalities, telling Us Weekly, "[Sir] has a stare, like a mean mug, like JAY, sometimes, which is so cute [and Rumi], she's just so happy all the time and so sweet. They are just adorable!"
She added, "It's amazing. It's one of the best blessings. Being a grandmother, it's not like being a mom because you don't have to have all the responsibility all the time, but they are amazing. This is my first experience around twins, and they're so different, and their personalities, and they are wonderful."