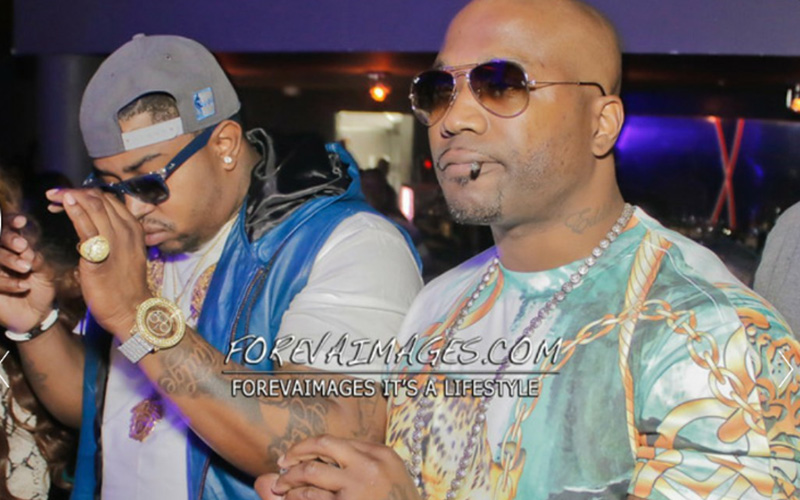 Lil Scrappy is back at home after spending eight days in the hospital following a pretty serious car crash in Miami, but he's not totally out of the clear yet, physically or legally.
Reports emerged last week that the Love & Hip Hop star was hospitalized after he was found unconscious following a bad car accident he was involved in after leaving Miami's King of Diamonds strip club. The rapper, who was thankful to be alive, posted a number of photos on Instagram showing off the extent of his injuries, which included a broken foot.
"Man God is great I can't even show u the car," Scrappy wrote, while also mentioning that his passenger—his friend, rapper Ca$ino Roulette—was also banged up pretty bad in the crash. "We f**ked up but God saved our lives. I'm blessed with a wife and daughter to help me back up but God is great and we are alive," he added.
According to TMZ, when police arrived at the crash scene (SEE PHOTOS), they found Scrappy and Ca$ino outside of the car and on the ground, but neither one of them could explain what happened or how they got out of the vehicle. Cops assumed the car was driving too fast for conditions, and a video of the accident released by TMZ pretty much confirmed that:
The footage shows Scrappy's white Mercedes speeding down the shoulder of a highway before ramming into head first into a utility pole. It wasn't clear what exactly caused Scrappy to crash, but it looks like he was out there on the road all by himself.
Fortunately for them, an eyewitness called 911 and first responders were able to get them transported pretty quickly to a nearby hospital.
In an interview with TMZ Live, Scrappy was adamant that he was NOT under the influence of any drugs, and blamed the whole thing on sleep deprivation. He said that he had driven from South Carolina to Atlanta to Miami on the day of the accident and admitted that he may have overextended himself by deciding to go out with his friend Ca$ino Roulette.
Now, two weeks after the incident, Ca$ino is preparing to sue over the extensive injuries he sustained in the crash. Ca$ino's attorney, Brett L. Schlacter, told TMZ that he suffered a number of "life-altering injuries" and is "lucky to be alive."
Ca$ino was reportedly in ICU for three days after the accident and is now back home in South Carolina recovering from his injuries—broken ribs, a concussion, and bruised lungs, liver and kidneys. He also had two major surgeries to repair his large intestine, which was ruptured.
Schlacter said his client feels like Scrappy was negligent and reckless when he fell asleep at the wheel, and he's pursuing legal action to cover medical expenses and to get financially compensated for his life-altering injuries and significant wage loss.
For his part, Scrappy says he doesn't remember falling asleep, but he does admit to driving too much the day of the accident. Though police have since closed their investigation into the crash, that doesn't mean he won't be charged later.
Be the first to receive breaking news alerts and more stories like this by subscribing to our mailing list.