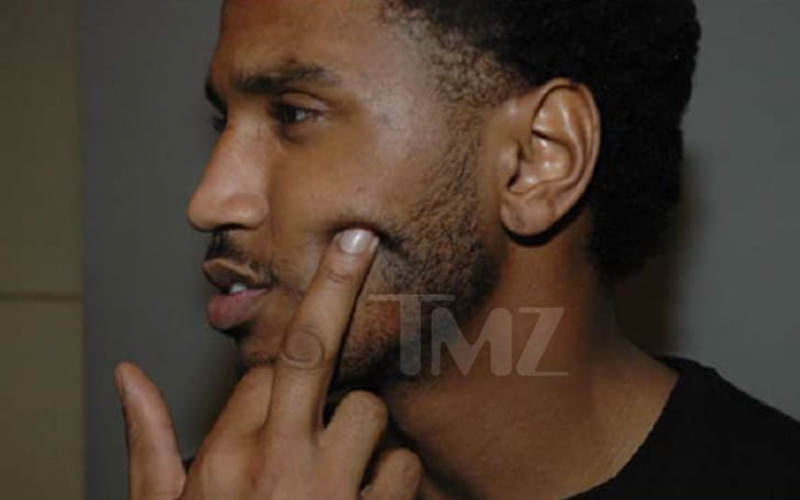 Trey Songz is being sued by a Detroit cop who is accusing the singer of punching him in the face with a closed fist.
According to a lawsuit filed in Detroit's federal court Monday (Jun 4), Songz was performing on stage in December 2016 when he became irate after concert organizers attempted to end his show early because it had run over its allotted time slot. During the performance, Trey said, "If a n**ga cut me off I'm going the f**k crazy…" And that's exactly what he did.
Video footage from the night showed the singer throwing microphone stands, speakers and whatever else he could get his hands on off the stage before jumping off the stage and continuing his tantrum. A photographer, who is also suing, was hit in the head by one of the flying objects.
Sgt. Robert Avery of the Detroit police department said as he tried to take Trey into custody, the singer fought him and punched him in the face, causing the officer to fall to the ground and hit his head on the concrete.
The lawsuit states that Sgt. Avery fell to the ground and hit his head on the concrete, allegedly causing him to suffer visible bruising and swelling to his right temple, as well as a contusion to his left forehead. Avery says Trey, whose breath had "a strong oder of intoxicants," also shouted F**k all y'all honkeys and f**k the police" and also yelled "f**k you cracker" at him.
Trey was eventually arrested and charged with assaulting, resisting and obstructing a police officer as well as aggravated assault. While being booked, police say Songz—who pled guilty to two counts of disturbing the peace—was very uncooperative and defiantly flashed a middle finger in his mugshot.
According to MLive.com, Songz apologized for his behavior when he appeared in a Detroit courtroom for his sentencing in August 2017.
Trey Songz addressed the court today in Detroit and apologized. pic.twitter.com/csfedainCh

— Elisha Anderson (@elishaanderson) August 18, 2017
Be the first to receive breaking news alerts and more stories like this by subscribing to our mailing list.