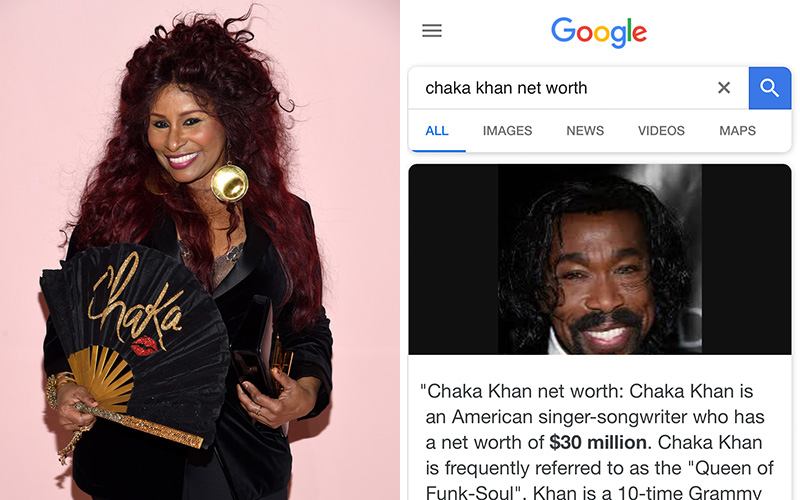 For most people, when they have questions about something, they turn to Google, which 9 times out of 10 gives them the answer(s) they desire. Sometimes, however, the search engine giant returns not-so-expected results that end up being HEE-LARIOUS.
Like that one time a search of "New England Patriots owner" or "Patriots owner" returned the result "Nick Foles," the Quarterback for the Philadelphia Eagles and Super Bowl MVP. Of course, Nick Foles doesn't actually OWN the Patriots (though he did "own" them in the Super Bowl), but that's what made the whole thing funny. It ended up going viral on social media and Google eventually fixed it.
Now, someone has pointed out yet another hilarious "Google Blooper." When you input the search terms "Chaka Khan net worth," you get this: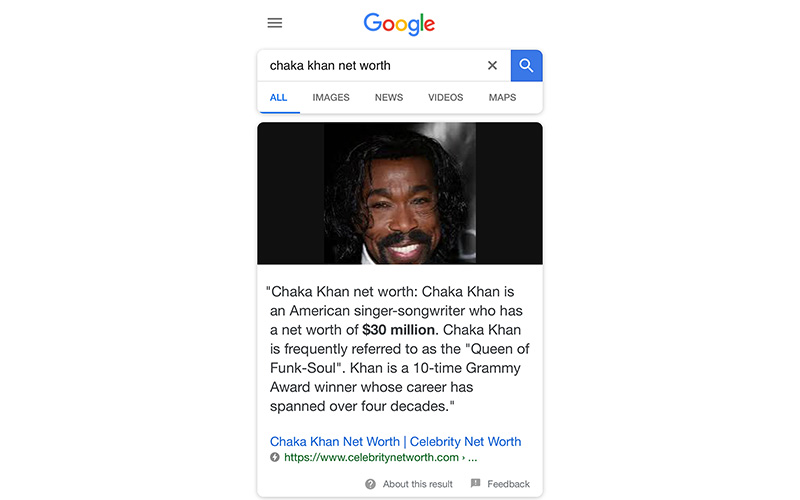 That is NOT a picture of Chaka Khan, obviously. It's actually the late R&B singer/songwriter Nick Ashford, one half of the legendary soul duo Ashford and Simpson. And the Internet is having a whole field day over the Google blunder.
I just googled "Chaka Khan net worth" and fell the fuck out laughing at the result.

— Phonte (@phontigallo) June 1, 2018
Google 'Chaka Khan net worth."

— Docta_KING (@Docta_KING) June 1, 2018
Google "Chaka Khan net worth" and either laugh or scream like i did

— Jay (@Jaylona_) June 2, 2018
Google Chaka Khan Net worth and I bet everything I got you gone cry laughing ????

— A.J. ??? (@datdrumaboyAj) June 1, 2018
Yal, PLEASE Google "Chaka Khan net worth" ???? you will NOT be disappointed!!

— LENA|MARIE. ????? (@N_Ething4Selena) June 1, 2018
LMFAO AYO. STOP WHAT YOU'RE DOING AND GOOGLE "Chaka Khan net worth" RIGHT THEE FUCK NOW

— 6rown (@djelzee) June 1, 2018
Me after i googled "Chaka Khan Net worth" pic.twitter.com/bXsmGpEi2N

— Ra'kim ?? (@brokeboyvibe) June 1, 2018
Y'all. Please go google "Chaka Khan net worth" and look at the photo that pops up ?????

Thank you @phontigallo for this laugh!

— Reggie Cunningham (@kidnoble) June 1, 2018
But why they do Sis like that ? go google "Chaka Khan Networth" ?? somebody is tf fired ?

— Issa Wife ?? (@Kissmykickssss_) June 1, 2018
https://twitter.com/eeceejohn/status/1002746458674814977
Oddly enough, the actual link to the search result shows the correct photo of Chaka Khan, so I have no idea why Google is showing Nick Ashford on the SERP (Search Engine Result Page).
If I were Chaka Khan, I would be drafting a NASTY e-mail to Google HQ right about now. How dare they?! (LOL). Anyhow, if you want to see the hilarity for yourself, you'd better hurry up before Google finds out and fixes it.
Be the first to receive breaking news alerts and more stories like this by subscribing to our mailing list.