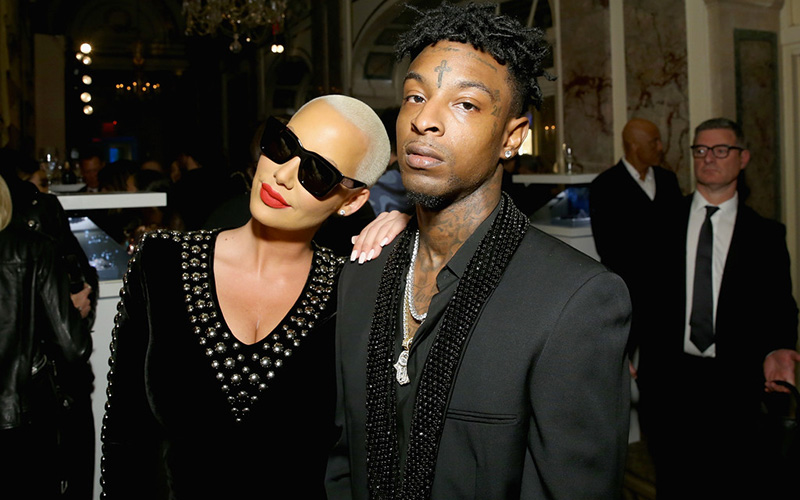 21 Savage is denying rumors that his breakup with Amber Rose was because she cheated on him. In fact, he says the fact that she's alive should let you know that she didn't cheat on him.
Yesterday, rumors spread like wildfire that Amber Rose had cheated on 21 Savage, which led to their breakup back in March.
The website Celebrity Insider quoted an anonymous "insider" who said Rose had stepped out on 21 with a friend of his. "Amber cheated on 21 with one of his friends. She feels horrible about it. That's why she's still the one in love while 21 is over her," the anonymous tipster claimed.
But 21 Savage is calling bullsh*t on that story, because if that had've really happened, Amber Rose "would be dead." (Sounds like someone has been listening to Blac Youngsta and Tommie's new single "Cheat on Me!")
Apparently, the "Bank Account" rapper caught wind of the story via DJ Akademiks' Instagram page, and called the whole thing "fake news," ending the speculation over a cheating scandal once and for all. He wrote in the comments section on the post, "dats cap she would be dead" along with a couple of crying laughing emojis.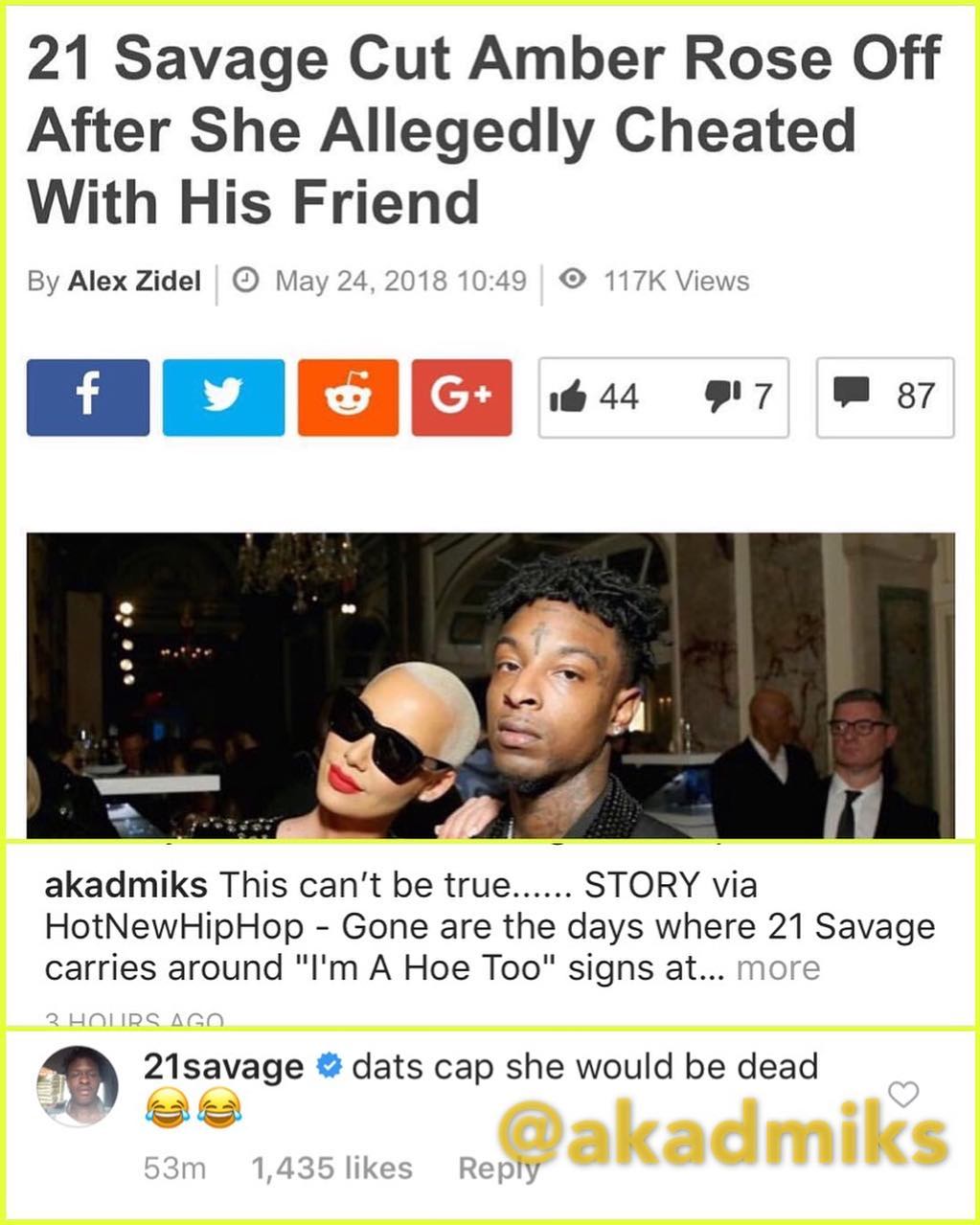 He doesn't clarify whether he would do the deed or would get someone else to do it, but HOPEFULLY, he's joking (hence the emojis).
For her part, Amber Rose has also dispelled rumors that she cheated on 21 Savage. She took to social media and wrote a long message on her Instagram stories to defend herself and set the record straight, saying that she's NEVER cheated on any of her previous exes.
After shutting down rumors that she and her ex-husband Wiz Khalifa are trying to get back together, she said, "I have never cheated on any of my exes. Literally never! I'm loyal, honest and trustworthy. Sometimes things just don't work out." She added, "I have never used anyone for money or clout; when I love I genuine love."
She also professed her undying love for 21 Savage earlier this month on Instagram.
"I know the Internet portrays me to be some heartless person or they feel like I'm incapable of love but I love him so hard. He is not only one of the most talented people I have ever met but he is so real, humble and smart as hell," she wrote.
"I don't care who you see me in a picture with or who the Internet associates me with because The Internet is fake [as f**k] and they pull stories out of their asses for click bait. It's the price of fame I guess but it's not real life because in real life Shayaa [21's real name] is my heart and soul… God brings people in [your] life for a reason and God brought me him. I don't care if you call me Thirsty, a hoe, a gold digger or whatever df else. I love him…"
Be the first to receive breaking news alerts and more stories like this by subscribing to our mailing list.