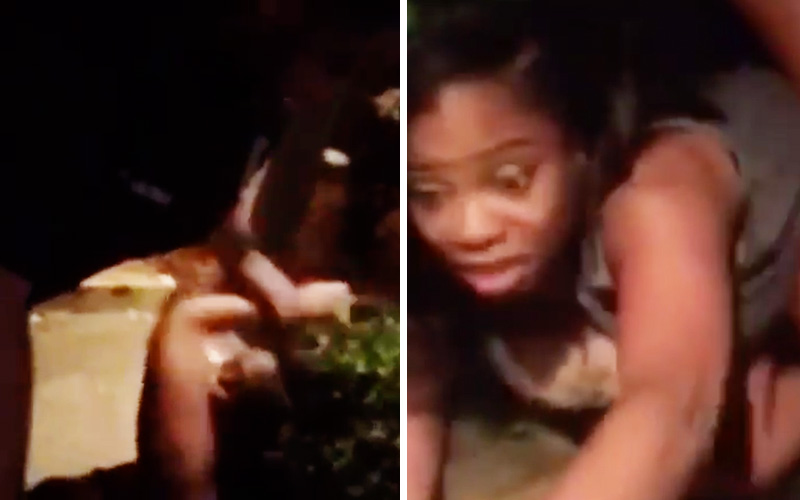 A security guard is accused of manhandling a group of women at Houston's restaurant in Atlanta for the crime of using the bathroom, and the aftermath of the situation was caught on video.
According to the police report obtained by 11 Alive News, an off-duty cop was working an extra job as security for Houston's at 2166 Peachtree Road last Sunday (May 13) on Mother's Day when the incident occurred.
The report states that the restaurant's manager asked top flight security (FYI: This is what we call cornball off-duty cops or security guards who have no authority and take their jobs waaaay too seriously) to escort three women out of the restroom because they were utilizing the facilities after hours, and they had refused to leave after being asked twice to do so.
When top flight security went into the restroom, he found the three women, later identified as Brittany Marie Lucio, Asia'h Sharrell Epperson and Erica Walker, all on their phones and ignoring his orders to leave the establishment.
The "officer" asked the women to leave a second time, and was, once again, met with no response, however, this time, the "officer" says they laughed at him, crushing his fragile ego. He says he asked them a third time to leave, and was, again, ignored.
Top flight security grabbed the same woman by the wrist once again, this time dragging her out the bathroom and through the restaurant before tossing her outside, where she shouted, "Get your f**king hands off me! You ain't about to touch me!"
That's when the "officer" said the woman, Brittany Lucio, swung at him and hit him in the mouth, which caused two "lacerations inside [his] mouth," 11 Alive reported. And, apparently, that's when all hell broke loose.
The "officer" then grabbed Lucio, as well as her friend, Erica Walker, and asked for the manager to call 911 for "backup" while he detained them. Not believing what she was seeing in front of her, Asia'h Epperson—an actress on the OWN TV show "Greenleaf" and a former American idol finalist—started recording the incident with her cell phone.
Video footage shared via Instagram shows the two women on the ground arguing with the manager while top flight security—whose name appears to be "J. Guzeman"—struggles to detain the women until the "real police" arrive.
Epperson can be heard in the background telling the cop, "You need to get off of these women! Let go of her!"
Not too long afterward, a real cop with handcuffs arrived on the scene and arrested Lucia because "they all began to walk away," the police report states.
More officers came to rescue top flight security from the women, who were all checked for injuries by Grady EMS and subsequently arrested and booked into the Fulton County Jail on charges of criminal trespass. Lucio was additionally hit with a felony obstruction charge.
11 Alive reporter Faith Abubey talked to Gerald Griggs, the attorney representing Lucio and Walker, and he said there are a number of "factual inaccuracies in the officer's reporting." Griggs added, "I'm concerned about that, considering there are numerous witnesses that will state they (the women) were an invitee onto the location."
Griggs said that the restaurant's kitchen was closed, but the dining room was still open. He explained that the three women had walked in to meet some friends who were already eating in the restaurant, and they claim that they were told by restaurant staff that it was OK for them to use the restroom.
Asked why the women didn't just leave when they were asked, Griggs told 11 Alive, "You can't just leave the restroom after you just finish using it. You have to wash your hands. Have to make sure that you have taking care of all of your needs."
Griggs said top flight security escalated the situation by trying to forcibly remove them from the restaurant through the back door, and now he and his clients are looking forward to a full investigation from the Atlanta Police Department, and the women would like for the D.A. to drop the charges against them.
"We are seriously concerned about the level of force that was used," Griggs said, referring to a claim from the women that top flight security threw them into the bushes. "We believe they were profiled and subject to police brutality."
In response to Griggs' claims of police brutality, a spokesman for Atlanta PD told 11 Alive "after claims of excessive force were brought to our attention, the Chief directed The Office of Professional Standards to review the officer's actions."
Griggs said, ultimately, he wants to know why the women were manhandled and how they ended up in the bushes, calling Houston's response to the situation "very disturbing." He said, "This is a very disturbing case and we hope to be able to come to a swift resolution with the charges being dropped."
Griggs told 11 Alive that, as a result of the incident and the attention its brought, Lucio was cut from a movie she was filming. She wrote on her Instagram page that she was "frustrated" by what happened and told 11 Alive in a personal statement that she was "embarrassed, humiliated" and "traumatized by the officer's lack of ethics, professionalism and blatant physical assault on my friends for no valid reason."
Lucio added that top flight security's version of events were "false and exaggerated" and reiterated that she would be taking legal action.
Griggs went on to say that he and his clients were in the early stages of planning a demonstration/protest, and were also calling for diversity and inclusion training, in reference to previous incidents in which the staff displayed racial bias towards black customers.
One of the women shared photos online highlighting the extent of her injuries. The pics showed a number of deep bruises on her arms and legs, scratches on her back (consistent with being thrown in bushes), and cuts to the back of her ears.  She appears to have a black eye in two of the photos.
For their part, Houston's said that they were aware of the complaint and were in the process of investigating. They also released the following BS statement:
"The evidence we have seen thus far shows that three women arrived approximately 30 minutes after closing time, they went into the restroom as a group after being told that the restaurant was closed. The three stayed in the restroom for more than 10 minutes, and refused to leave despite repeated requests from several managers to do so. Eventually, an off-duty Atlanta Police Officer was summoned with whom one or more of the women got into an altercation that led to arrests. Based on our current understanding, we believe our managers responded appropriately to this unfortunate situation."
Atlanta rapper T.I. led a boycott against Houston's last October after an employee at the restaurant's Buckhead location threw out a group of black female customers.
"This is the kind of activity that we will not accept in our community, as a culture, and with us having buying power in this city," he said. T.I. worked closely with the owners to improve relations before eventually calling off the boycott.
Be the first to receive breaking news alerts and more stories like this by subscribing to our mailing list.