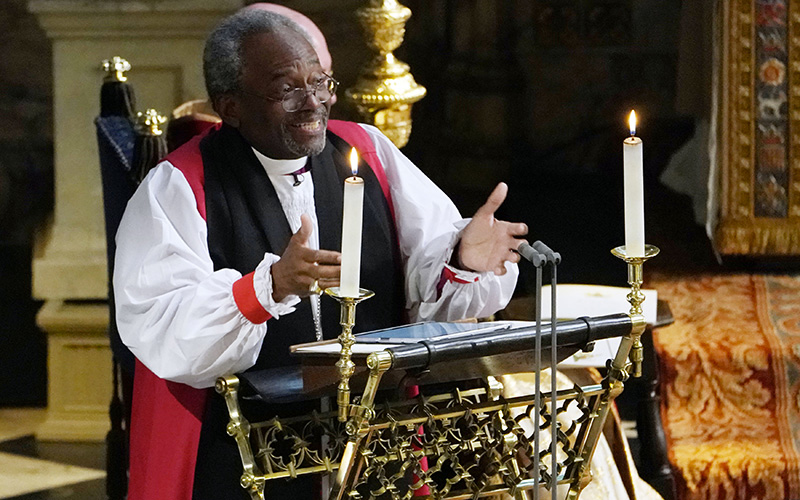 Unless you live under a rock, you know that Prince Harry and Meghan Markle's big Royal Wedding was held in London today, where they were officially "crowned" His Royal Highness The Duke of Sussex and Her Royal Highness The Duchess of Sussex.
You also may have heard about The Most Reverend Michael Bruce Curry, 27th presiding Bishop and Primate of the Episcopal Church, who delivered a rousing sermon during the ceremony, in which he quoted Dr. Martin Luther King, referenced slavery, and talked about how the power of love can bring so many people with different backgrounds together.
But what you may have not known (or heard) was that Bishop Curry stole the show with his speech, and Black Twitter was ALL. THE. WAY. HERE. FOR. IT!
Come through pastor with charisma, passion and a 10/10 preaching!!!

— Tolly (@tolly_t) May 19, 2018
What power what courage what preaching with a global audience in witness. "When love is the way.. poverty will become History" The redemptive power of Love. Well done Bishop Curry. #RoyalWeddding pic.twitter.com/9EzO53EoKs

— David Lammy (@DavidLammy) May 19, 2018
"Dr Martin Luther King said we have to discover the redemptive power of love." -Most Rev Michael Curry

Come through pastor with the seasoning and flavour. pic.twitter.com/V1TEcSZaO8

— DanielléDASH GIFLord (@DanielleDASH) May 19, 2018
In fact, Black Twitter was MORE than here for Bishop Curry's preaching, which pretty much took us ALL to church on a Saturday!
Okay, pastor! MLK Quote.

I'm ready to shout. Any moment. Let me know when. #RoyalWedding pic.twitter.com/0nfdThZyJ0

— Johnetta Elzie (@Nettaaaaaaaa) May 19, 2018
This pastor right here #RoyalWedding pic.twitter.com/1usQkCzmZB

— ???? (@TeeXCI) May 19, 2018
https://twitter.com/elin_fstreet/status/997800252584407040
When Bishop Michael Curry addressing the #RoyalWedding said "BELOVED" and quoted #MLK I think the entire Black American viewing audience sang out in unison, "PREACH PREACHER!" pic.twitter.com/2vsTlIzQLB

— Nicki Mayo (@nickimayonews) May 19, 2018
This preacher is taking the British people to Black Church. All right now! ?? #RoyalWedding pic.twitter.com/wPcdxeqqKY

— Common Girl ?? (@girlhoodposts) May 19, 2018
Did we mention that Black Twitter LOVED Bishop Curry's sermon? We did? Oh, OK.
Ooooo a black preacher? I'm here for it #royalwedding pic.twitter.com/RxICGD9rPL

— Queen Cyd??? (@babycyd15) May 19, 2018
A charismatic black preacher giving a WORD in a royal chapel. I can't believe this lol #RoyalWedding

— bolu babalola (@BeeBabs) May 19, 2018
The black preacher is here #RoyalWedding pic.twitter.com/TjU862WbHa

— Money Moves (@AshleyJAE_) May 19, 2018
I love that they turned it to a black church service. Lmao. Yass! PREACH PREACHER. #RoyalWedding

— Uwani (@TheUwaniAliyu) May 19, 2018
Black Twitter even pointed out how shook the white folks were, and how lost some of the royals and their guests looked.
All the royals hearing this Black preacher go IN #royalwedding pic.twitter.com/vjEk4zx2Ow

— Arianna Davis (@ariannagdavis) May 19, 2018
https://twitter.com/HustLLe_BuNNy/status/997799982144131072
I don't know if the UK have ever heard a Black American preacher before…but they gonna learn today #Royalwedding pic.twitter.com/HX3sVS68Fz

— Husky Haddish (@HuskyBro_Inc) May 19, 2018
This church ain't seen NOTHING like this brother black preacher ? #RoyalWedding

— PRE-KARDASHIAN KANYE (@CushKobain) May 19, 2018
And of course, the Black church jokes were aplenty!
A BLACK PREACHER JUST TOOK THE BALM IN GILEAD SPEECH TO WINDSOR CASTLE#RoyalWedding pic.twitter.com/AdGUQU453w

— Andray (@andraydomise) May 19, 2018
#RoyalWedding y'all done let a Black preacher up in an English wedding….just bought yourselves 5 more hours. Hope somebody brought potato salad ?

— Michael W. Twitty (@KosherSoul) May 19, 2018
https://twitter.com/AnotherNerd4/status/997799602991652864
A black preacher, we might be here for a while #TheRoyalWedding

— N.S (@N_A_A_S) May 19, 2018
Not a true black preacher if he don't send the collection plate around twice after this.

— Ice (@OfficiallyIce) May 19, 2018
All in all… Today was a good day.
Black preacher quoting MLK Jr at Meghan's royal wedding. We're gonna be okay.

— Glennon Doyle (@GlennonDoyle) May 19, 2018
Be the first to receive breaking news alerts and more stories like this by subscribing to our mailing list.