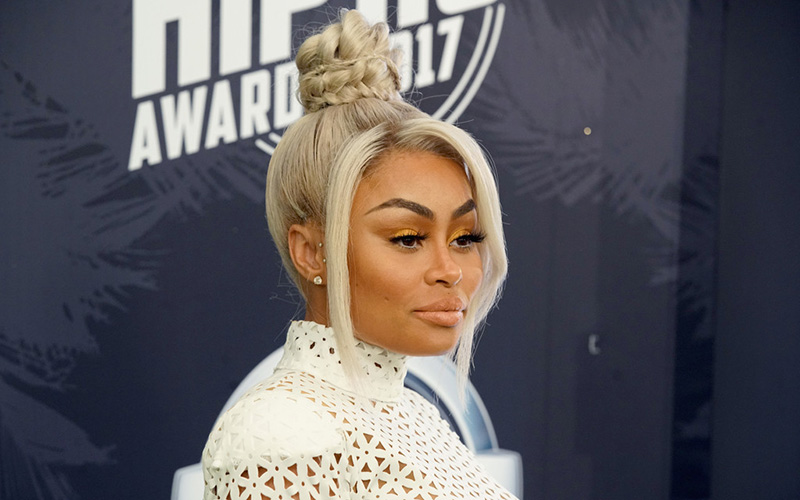 Blac Chyna's house manager died Thursday morning (May 17) after her family made the tough decision to take her off life support, and now reports are emerging that the reality star could be sued over the woman's death.
Lorena "Patty" Hernandez—who helped manage Blac Chyna's household and also helped out with her clothing line—suffered a brain hemorrhage in January as a result of a stroke she suffered back in July 2017.
After Hernandez's stroke, she continued to work, which eventually led to her having a seizure in Chyna's Lashed salon. And despite claims from Chyna that she's been supporting Hernandez's children, she could be facing a lawsuit from the woman's family.
On Wednesday, a source close to Patty's family told Page Six that she "was pronounced dead on Monday" after suffering a "third brain bleed." And her husband is reportedly preparing to file a lawsuit against Chyna for allegedly abusing his wife and failing to provide her with worker's comp.
.@BLACCHYNA may face a wrongful death lawsuit following longtime assistant's recent passing. https://t.co/5rUdalk9N1 pic.twitter.com/heEoTJAaxu

— Perez Hilton (@PerezHilton) May 18, 2018
"Remember when the news broke and she said she was helping [Hernandez] and she was helping the kids and everything? She never did," the source said, referring to Chyna's statement that she was caring for Hernandez's children. "I mean all she pretty much did was spread the word and reach out to her baby daddies, so she felt like, 'That's how I helped.'"

Page Six previously reported that Rob Kardashian and Tyga both made donations to a GoFundMe page established to cover Hernandez's medical expenses and help her children. Tyga donated $5,000, while Kardashian donated $10,000.

"[Chyna] has never ever been [to the hospital]," the source claimed. "She was only there the first day when they found her at Lashed, but the only reason she came to the hospital was to tell the doctors and everyone not to give out any information to anybody. When I got there they didn't even want to give me information because she gave them the order not to say anything. After that she never came back."
Hernandez's family took her off life support Thursday after her healthy organs were donated to other patients "so that she can give the gift of life to other families," Page Six's source explained.
The source added that Chyna "did reach out to try to work something out, but the lawyers said not to go along with it and just to let them handle everything. So I guess she just got really upset and called and she was just being horrible."
Page Six tried to reach out to Chyna's attorney Walter Mosley, who offered no comment. However, one of Chyna's longtime friends told Hollywood Life that Chyna was "heartbroken" over Patty's death and is shocked that her family would come after her like this.
"Blac Chyna is heartbroken over Patty's death, she loved her," the friend said. "She was so close to Patty and her kids and did everything she could to help so it's just crazy to her that people would be trying to put blame on her. The rumors of the lawsuit and the anger being directed towards her right now are a total shock to Chyna. She genuinely doesn't understand how or why this could possibly be blamed on her. She's praying for Patty's family and praying this nasty rumor about them suing her doesn't come to pass."
Be the first to receive breaking news alerts and more stories like this by subscribing to our mailing list.