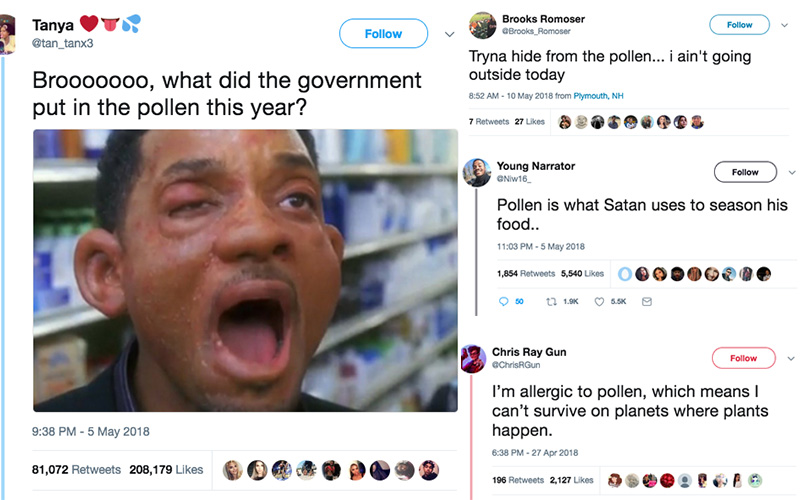 Hey, guys! Good news! Winter is over! The weather is getting warmer! It's finally SPRING!
Also: Hey, guys. Bad news. Winter is over. The weather is getting warmer. It's Spring… which means that POLLEN. IS. EVERY. F**KIN. WHERE.
While we should all be rejoicing the fact that what seemed like the longest/coldest winter is FINALLY over, those of us with terrible hay fever allergies dread this time of the year.
Check out these hilariously accurate tweets that will make anyone who is terribly allergic to pollen nod their head in 100% agreement.
https://twitter.com/Brooks_Romoser/status/994560814110724097
*opens front door*
*breathes in pollen* pic.twitter.com/uTC7vRjr5R

— starsky? (@starskyconway_) May 11, 2018
How pollen season doing people out here pic.twitter.com/sxdERRrYPI

— Ken (@ShadowCoon_) May 12, 2018
I think I had about a 30 second window between being glad the weather was nicer and my hayfever starting up again this year

— HOOKWORMS (@HOOKWORMS) April 19, 2018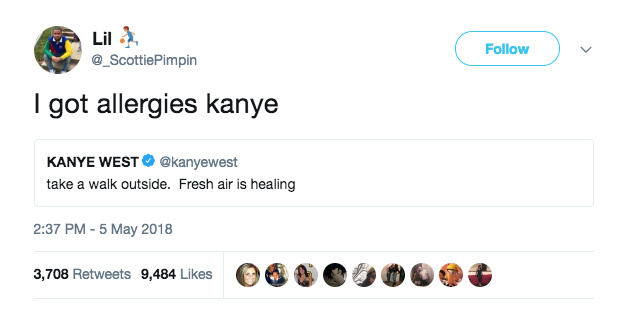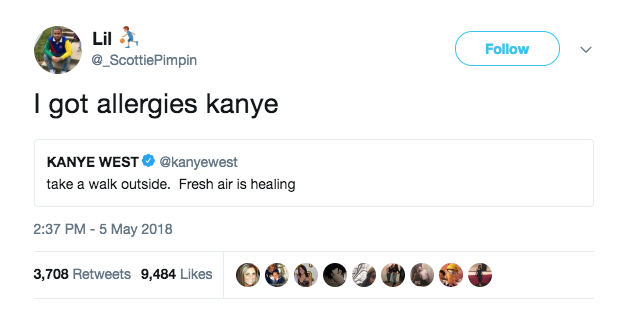 Brooooooo, what did the government put in the pollen this year? pic.twitter.com/dzT0oonTlY

— Tanya ???? (@tan_tanx3) May 6, 2018
Pollen is what Satan uses to season his food..

— Baldwin (@Niw16_) May 6, 2018
this pollen is rude as hell

— mAmí (@agos_serafini) May 10, 2018
i think pollen might actually pull off the upset and kill me this year

— charles (@CHARLESISWASHED) May 10, 2018
I'm allergic to pollen, which means I can't survive on planets where plants happen.

— Chrismas Ray Gun (@ChrisRGun) April 27, 2018
"No, honestly, my #hayfever isn't too bad at all today". pic.twitter.com/aAPqrDNspB

— alex woolfall (@woolfallalex) May 6, 2018
MY EYES ARE PUFFY AND RED AND THEYRE ITCHING AND I KEEP SNEEZING AND I RAN OUT OF MEDS FOR MY HAYFEVER HOW AM I SUPPOSED TO SURVIVE

— Julia (@KiIIerQveen) April 23, 2018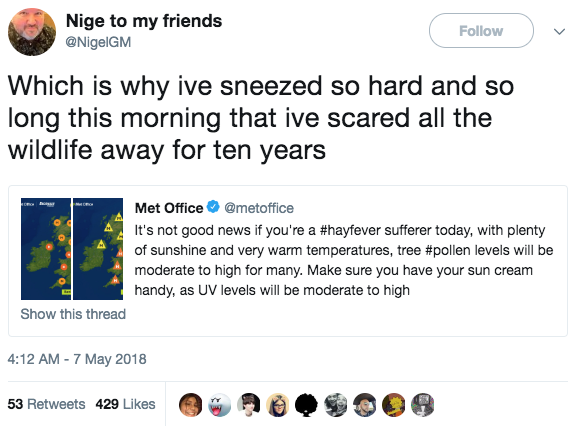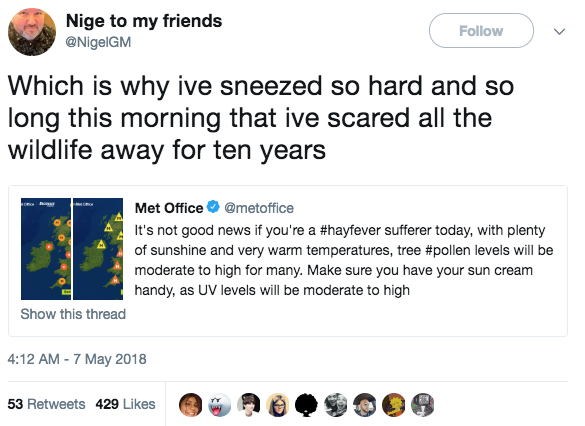 Trying to find shade but I can't see it because my hayfever has given me an eye infection and I can't wear my contacts. Blind and burnt. pic.twitter.com/TXXDEo16b3

— Rose Shalloo (@RoseShalloo) April 19, 2018
Hayfever is quite simply the shitest thing ever, beautiful day outside, take two steps out the door and BANG!
eyes are bigger than my arse and my nose running faster than Usain Bolt

— Jude (@judefxrbes) May 5, 2018
"Nothings holding me back this summer"

My hayfever: pic.twitter.com/bzGmlJgl6p

— ? (@YungahJackson) May 5, 2018
If you have hayfever you know that once you first rub your eye a little, you've fucked it from then

— lasharn (@sharnfranks) April 28, 2018
My hayfever has kicked in today so I've got a little sniffle. Woman next to me on the plane thinks I must have bird flu ? pic.twitter.com/LK5iAJxcYx

— Elliot Hackney (@ElliotHackney) April 26, 2018
Me and my hayfever on the way home when I run into someone cutting the grass pic.twitter.com/H7Y0caZQJm

— Stephanie Taylor (@stefJtaylor) April 18, 2018
Got me some nasal drip, some sneeziness, am I getting sick? Is this a cold?

*steps outside*

*30 seconds later, is covered in so much pollen I look like Bert from Sesame Street*

oh I see

*sneezes*

— Chuck Wendig (@ChuckWendig) May 3, 2018
Hayfever is NO JOKE – absolute karma for the fact I used to brag about not having It!! It can happen to anybody- stay humble kids ?

— Brooke Levi Vincent ? (@BrookeLVincent) April 30, 2018
Pollen on the left

Me on the rightpic.twitter.com/gX7uWiWxdb

— papichulò (@AsapMikeyyy) May 9, 2018
This how pollen be right after i wash my car ? pic.twitter.com/jEu0FBiIAt

— kyle ?? (@thekillakay_) May 10, 2018
Pollen is a thot

— Max (@15_keegan_15) May 9, 2018
The weather is lovely. The pollen is not.pic.twitter.com/0DUZjNPRms

— Comedy Central (@ComedyCentral) May 9, 2018
https://twitter.com/pandaisurbannnn/status/995333509773340672
Hey, pollen! Yeah, I'm talkin' to you! F**K YOU!!!
Be the first to receive breaking news alerts and more stories like this by subscribing to our mailing list.