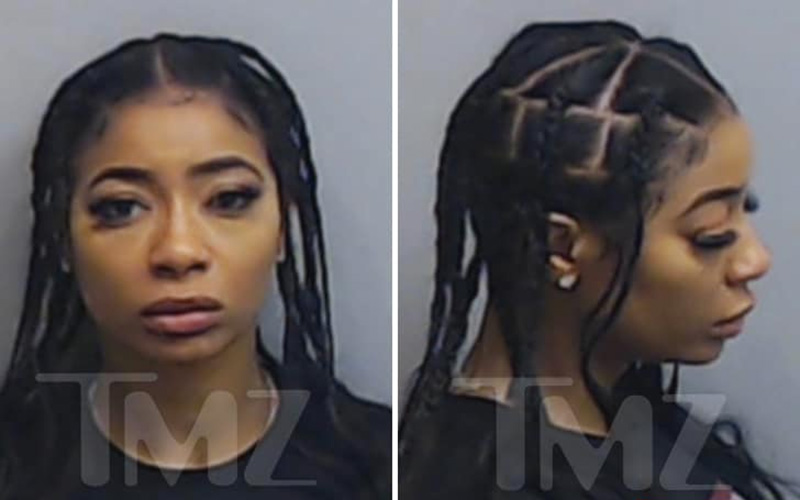 "Love & Hip Hop Atlanta" star Tommie Lee has officially been charged for allegedly beating up a mall employee.
According to TMZ, the Solicitor General's Office charged Tommie with battery with substantial harm for her part in the alleged incident, which happened at Henri Bendel store in Atlanta's Lenox Square mall back in February. Tommie is accused of punching and slapping an employee at the store.
The police report states that Tommie and an unknown male walked into the store on February 1st and got into an argument with an employee named Daniella. The argument escalated and Tommie allegedly went behind the employee counter and attacked Daniella. After the manager of the store broke up the fight, Tommie and her friend fled the scene before cops arrived, but the whole incident was captured on camera and authorities opened up an investigation.
After a warrant was issued for her arrest, Tommie was forced to turn herself in last month for the alleged attack, and was booked on a misdemeanor battery charge. She posed for a mugshot and all (above), and had to spend one night in the Fulton County Jail. She was released after she saw a judge and posted a $3,000 bond. As she was walking out, a TMZ reporter asked her about the incident, and she said, quoting Shaggy's 2000 hit, "It wasn't me."
TMZ reports that Tommie has a hearing about the incident next week, and she'll have to answer to TWO separate issues—her alleged mall beatdown and her 2016 DUI case. "She'd be wise to show up … not one, but TWO warrants for her arrest were already issued in this whole saga," TMZ says.
If she doesn't end up in jail over this, Tommie better sit her angry ass down somewhere before she ends up like her ex-boyfriend Scrapp DeLeon.
Be the first to receive breaking news alerts and more stories like this by subscribing to our mailing list.