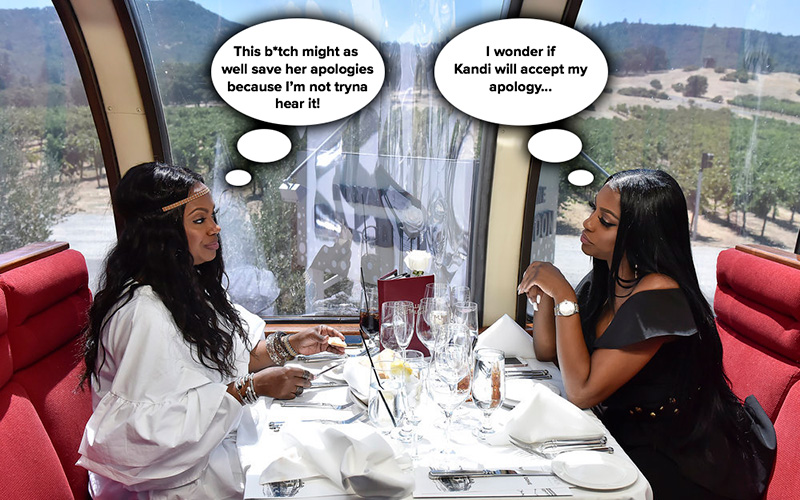 The Real Housewives of Atlanta cast filmed the reunion special for Season 10 last week, and according to reports, Kandi Burruss and NeNe Leakes targeted Porsha Williams and, despite an apology, went off on her for her part in those shocking accusations of Kandi and her husband Todd planning to drug and sexually assault her last season.
Though the allegations were proven to be false, thanks to now former cast member Phaedra Parks finally telling the truth during last season's reunion, the issue has still been a topic of discussion amongst the ladies throughout Season 10, and apparently, the situation was discussed during this year's reunion.
From Radar Online:
"The taping started with Porsha and Kandi getting into it," a set insider told Radar about Williams and Burruss arguing over the shocking drug and sexual assault claims from last season. "Then NeNe chimed in! It was intense!"

"Two hours into the taping and things were going crazy," the source added.

Burruss said that she was not ready to forgive Williams for her part in the rumor, admittedly started by former costar Phaedra Parks.

"I don't want to let it go, f**k her. Just kidding," Burruss said on a recent episode of RHOA after Williams fled the group's Barcelona trip.

According to the insider, "Porsha finally apologized."
Radar's insider also revealed that Kim Zolciak was also at the taping, "prepping for a fight with Leakes after their season-long feud." Kenya Moore—who, according to reports, might be the next in line to lose her peach—was also "on hand to defend her secret marriage to Marc Daly and refusal to film with him."
Unsurprisingly, "Marc didn't show up for filming," Radar's tipster revealed.
Porsha taking a lot of heat from her fellow "RHOA" castmates at the Season 10 reunion should come as no surprise to anyone who has watched the past two seasons of the show.
Porsha herself even predicted that she would be at the center of drama last month on Watch What Happens Live.
When a caller asked Porsha who would take the most heat during the reunion, she did admit that she took a lot of heat considering that she's at the center of many feuds this season.

"I did [take a lot of heat this season], but humbly," she told host Andy Cohen. "So it was OK. You know, when you're going through something unexpected, to get the heat, and you take it because it's like — some of it I deserved."

Porsha went on to say that she'd rather get it all out at the reunion so everyone can just move on and bury the hatchet.

"I don't like it," she said of the strained relationships this season. "I wanna have fun. You know what I want at the reunion? I really want us to just get it all out, you know? Just get it all out, even if there's a cry here and there, and at the end, I would just like for us all to hug and just move on to the next year. That's honestly what I want."
The RHOA Season 10 reunion will be split into three episodes this year (down from last year's unprecedented four-part special), with part one kicking things off on Sunday, April 8th.
Be the first to receive breaking news alerts and more stories like this by subscribing to our mailing list.