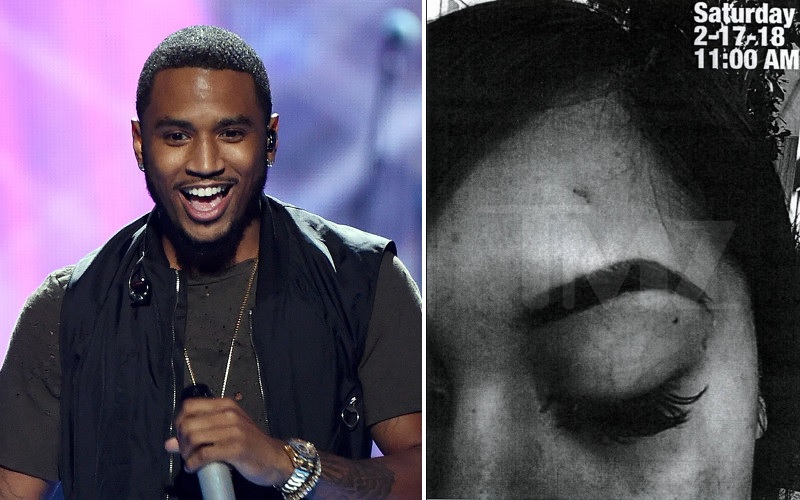 Trey Songz was booked on felony domestic assault charges. The singer turned himself into the authorities Monday (March 19) after allegedly punching and choking a woman during NBA All-Star weekend last month.
Songz—with his lawyer Shawn Holley by his side—turned himself into the Los Angeles Police Department around 6 a.m. Monday morning and was booked on the felony charges. He was released at 8 a.m. after posting $50,000 bond.
The 33-year-old has remained mostly quiet on the alleged incident. However, he broke his silence before turning himself in and denied the allegations. "I am being lied on and falsely accused for someone's personal gain," he tweeted against his lawyers and management's advice.
For weeks my lawyers & Mgmt have asked me not to comment on this and I initially agreed but this morning I feel that my fam, the women that raised me, my friends & fans especially the youth need to hear from me. I am being lied on and falsely accused for someone's personal gain

— Trey Songz (@TreySongz) March 19, 2018
I won't be speaking too much more on this but would like to thank you for all the prayers and support. ??????

— Trey Songz (@TreySongz) March 19, 2018
A woman named Andrea Buera accused Songz of physically attacking her for talking to another man at a Hollywood Hills party during All-Star weekend in February. She said he hit her so hard, she had a concussion.
Buera described the alleged incident in a press conference:
"I was attending an after party when Trey began yelling at me, choking me, punching me and ultimately, he knocked me to the ground. While I was on the ground, he continued punching me. And he did not stop until his security guard pulled him off of me.

"…I had to go to the hospital because he hit me so hard I had a concussion and was throwing up from the migraines."
TMZ shared several photos of Buerea's alleged injuries.
According to TMZ, Songz says there are witnesses that refute Buera's claims. The site also reports that Buera's original statement to police was "filled with inconsistencies."
Buera's lawyer Lisa Bloom made a statement to Page Six upon learning Songz had turned himself in:
"We are delighted at the news that Trey Songz has been arrested for felony domestic assault against my client Andrea Buera. Andrea will fully cooperate with the investigation and is ready, willing, and able to testify at trial, should that be necessary. We urge any witnesses to contact the Los Angeles police."
Buera was granted a temporary restraining order against Songz earlier this month. A hearing for a permanent order is set to occur in late March; Buera will testify.
Be the first to receive breaking news alerts and more stories like this by subscribing to our mailing list.