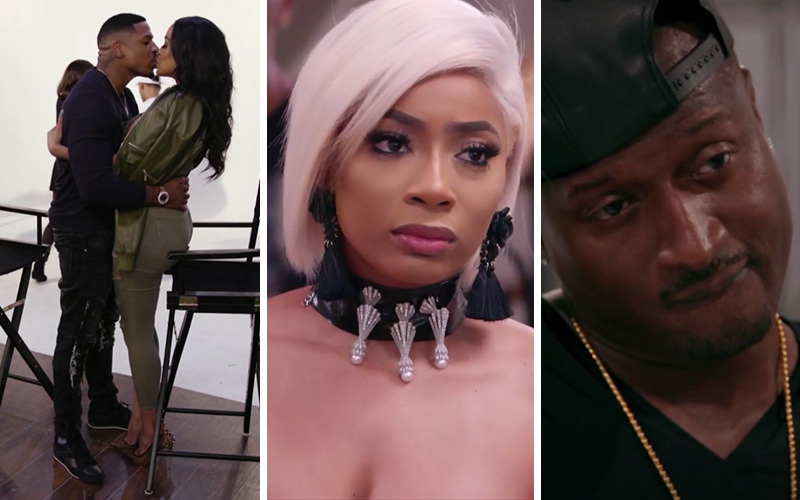 After forcing us to suffer through the Ambien pill known as Love & Hip Hop New York, VH1 is finally bringing back the best Love & Hip Hop franchise to ratchetify our TV screens.
Back for its seventh season (it's been that long? wow!), Love & Hip Hop Atlanta is returning with a set of fresh faces along with some old faces that are still up to their old tricks.
When VH1 was teasing the new season, they made it a point to mention that "the game has changed," but after watching the Season 7 Super Trailer (see below), it looks like more of the same drama, just in a different season.
Take Stevie J, for instance. Now that Joseline and her 'Diary of a Mad Latina Woman' storyline have been tossed into the trash where they belong, Steebie is still looking for a Latina woman to make her the "First Lady of Danger Zone Latina." And he has a lot of women competing for that spot, including newcomer Just Brittany, Estelita Quintero (from Season 6) and Love & Hip Hop OG Erica Mena, who is looking for a "fresh start" in the ATL. The only problem is … Steebie (who is facing federal prison time for not paying child support) still doesn't understand the concept of not mixing business with pleasure, which is going to cause a lot of problems down the road.
Just like Stevie J, Karlie Redd is still out here hoeing around too, or as she puts it, "still looking for love." And now that Karlie and Yung Joc are officially dunzo, she's found a new man to make Joc jealous—singer/songwriter/producer Sean Garrett. I find it extremely sad that Karlie still doesn't understand how ridiculous a grown ass woman pushing retirement age looks fighting over men on national television, but here we are.
Tommie Lee is back for another season (even though she said she was leaving the show, but hey, bills don't pay themselves), and she's still angry as hell. This season, she's really making an effort at jumpstarting her music career, but she's still not on good terms with her mama, who thought it would be a good idea for Tommie to "reunite" with her cop-calling sister Versace. One scene shows Tommie hurling a cup of coffee at Versace's head, so we can assume that reunion idea wasn't a good one.
And last, but certainly not least, Kirk still ain't shit. This season, he's coming in armed with the paternity test results to let us know whether or not he's Baby Kannon's father (spoiler alert: he probably is), but he still somehow thinks his relationship with Rasheeda is salvageable. Fortunately, she ain't having it, and lets him know that he is NOT moving back in, in spite of his "It's not fair" tears and his big ass moving truck sitting outside the house with all of his personal belongings. BOY, BYE!
Meanwhile, MiMi is finally showing off her latest lesbian lover Tamera, Jessica Dime and her fiancé Shawne are ready to start a family, Kirk's alleged baby mama Jasmine is making random pop-ups at Pressed looking for Rasheeda, and Sierra has finally moved on from Shooter and is ready for a new relationship.
The LHHATL Season 7 trailer also introduces us to a few new faces, like Tokyo Vanity, BK Brasco, Keely Hill and a Jamaican artist named Spice, who they call the "Queen of Dancehall."
Love & Hip Hop Atlanta Season 7 premieres on Monday, March 19th at 8 p.m.
Be the first to receive breaking news alerts and more stories like this by subscribing to our mailing list.