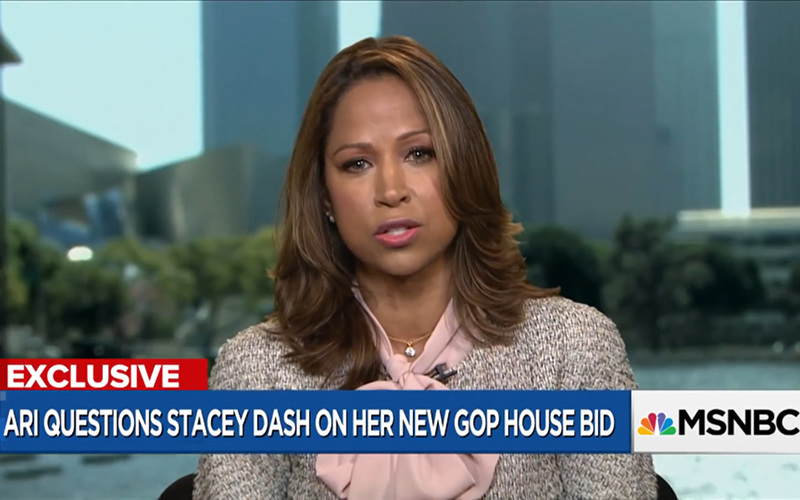 Stacey Dash is really out here trying to politically represent the residents of Compton by agreeing with Donald Trump about Neo-Nazis. Say it with me, "CLUELESS!"
Dash sat down with MSNBC's Ari Melber for her first televised interview since announcing her congressional run in California's 44th district, which includes Compton, San Pedro, and North Long Beach.
The problematic black Republican did herself no favors after saying Trump was "absolutely right" when he placed "blame on both sides" at the Charlottesville neo-Nazi rally that caused the death of counter-protester Heather Heyer after being run down by a car driven by a neo-Nazi.
"There were two extreme sides. And here's what it boils down to: Our right. They had a right to assemble. Both sides had a right, but they were both extremes. And here's what I said in the beginning, we have to listen to each other. If we do not listen, there will be no solutions. It's just a bunch of banter and noise."
Dash made sure not to co-sign Trump's "very fine people" comment. She simply said, "hate is not the answer" and continued to support the neo-Nazi's Constitutional right to assemble and protest. But, Melber pushed even further, hoping Dash would explain the president's controversial comment.
She responded:
"I'm not here to judge. The one who can judge is God. Do I know if everyone person in the neo-Nazi party? If they have a good heart or not? No I don't. Do I know every member of a gang, if they have a good heart or not? No I don't. Do I know every heart of a man in prison, if he has a good heart or not? No I don't. I'm not here to judge."
So, let's recap: Stacey Dash, a black Republican, is attempting to sympathize with neo-Nazis while running for elected office in a democratic stronghold that's predominately Black and Latino. To boot, 80% of voters in the 44th district voted for Hillary Clinton in the 2016 election.
The nearly 8-minute interview also covered other political subjects including California's sanctuary cities, healthcare reform, and gun control. Of course, Dash struggled to answer Melber's questions, often giving short answers and regurgitating Republican talking points.
One of Dash's opponents is Compton Mayor Aja Brown. At 35, she's Compton's youngest mayor told TMZ her run has nothing to with Dash. Brown wrote in a campaign statement:
"The people of the 44th District deserve to be represented by someone who lives, serves and exhibits genuine love for our community, families and children. I am running for Congress to be the voice and vote for the people who are striving every day to feed and raise their families. This campaign is about real people coming together for real progress in our communities."
Dash might as well write her concession speech right now!
So far, the "Clueless" star is the sole Republican running in California's 44th Congressional District. The election will be held November 6, 2018. But I doubt Stacey Dash will even make it to November.
Be the first to receive breaking news alerts and more stories like this by subscribing to our mailing list.