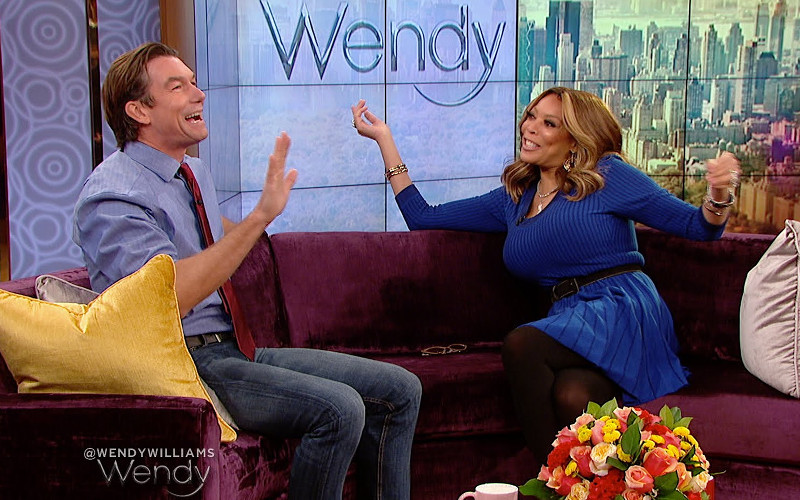 The Wendy Williams Show just got a new host. Due to illness, Wendy was ordered to take a 3-week vacation in February. The show will return earlier than expected, with actor Jerry O'Connell sitting in the purple chair starting next week.
. @MrJerryOC is guest hosting the #WendyShow the week of March 12. Visit https://t.co/kX9hLaajHK to request your FREE tickets! pic.twitter.com/nUmBpNPciA

— Wendy Williams (@WendyWilliams) March 7, 2018
Wendy is set to return to her show on March 19. In the meantime, O'Connell will step in for her for one week only. Producers made the announcement on Tuesday (March 6). The first Wendy gust host ever in the show's nine-year run said:
"I am so excited to help out and fill in. We all know nobody can fill the purple chair like Wendy, but I am honored to sit with her co-hosts and to bring the many fans all the Hot Topics they love. Like Wendy tells us, I am going to Say It Like I Mean It."
Clearly feeling threatened by another woman or person of color taking her job, Wendy has been quite vocal about not having a guest host if she's unable to fulfill her hosting duties. She even held this policy during her radio days. Instead, she opts for "encore presentations" (aka re-runs).
However, funny-man O'Connell is not a threat to her job security. Wendy offered her approval of the choice (which I'm sure still was a compromise). Wendy said in a statement:
"Jerry has been such a good friend to me and to the show. We're happy to welcome him as a guest host while I'm out getting much needed rest. Can't wait to get back in my purple chair!"
During the February 21 broadcast of her show, Wendy told her studio and viewing audience that her doctor ordered three weeks of rest due to Graves' disease and hyperthyroidism.
Graves' is an autoimmune disease that affects the thyroid and would noticeably cause Wendy's eyes to bulge on-camera. "[It] squeezes the muscles behind the eyeballs," she explained to her audience.
Earlier in February, Wendy missed several days of her show due to "flu-like symptoms." She also fainted on-air back in October after overheating in her Halloween costume; coincidentally, Jerry O'Connell was also a guest during that episode.
Be the first to receive breaking news alerts and more stories like this by subscribing to our mailing list.