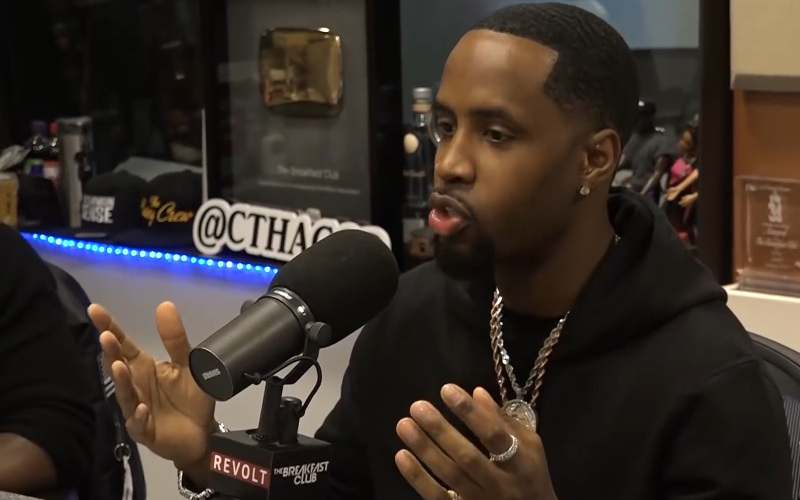 Several days after his eggplant rocked the internet, Safaree Samuels finally broke his silence on having his nudes leaked. And he's emphatic that he is not the one who leaked the photos.
Safaree stopped by The Breakfast Club on Wednesday (Feb. 28) to debut his new single, "Hunnid." But you know the hosts had to clown the rapper a little bit. "Is that really your meat," DJ Envy asked within minutes of the interview.
Safaree confirmed that it's him in the pictures and stated nothing has been photoshopped. He also shut down the rumors that he leaked the nudes himself for publicity, though all the euphemisms and innuendos he made during the interview show he's having fun with the attention.
"That's not something I want out there. My nieces, they follow me, they watch everything I do. My mom, my sisters – so people who think I'm trying to do stuff for promo… I would never, ever [leak] that. Why, randomly, now, would I say 'ok I'm going to do that?'"
The Love & Hip Hop star initially explained that he took the picture and video on Snapchat to document his workout progress and saved the images for himself, but did not send them to anyone.
"First of all, I didn't take a picture of my meat. I took a picture of myself. I've been working my 'V' in my pelvic bone hard and I wanted to make sure my joint is poppin'."
However, later on in the interview, Safaree confesses that he's been in communication with people he felt like he could trust and send them things. But he's still unsure how his dick pics ended up online for all to see.
"I don't know if somebody sent it to somebody else or if my iCloud got hacked or what," he said.
Safaree's anaconda impressed most of Twitter, even sparking the #SafareeChallenge. But he says his DMs are becoming overwhelming. "I want people to chill. Like, you all are really going crazy with the DMs and stuff."
Charlamagne, of course, took things to the next level and asked Safaree a couple of pause-worthy questions, like if he's ever "rearranged a woman's organs" or "ruined a gut or two?" And Safaree actually answered.
"I've definitely been in situations where I felt bad [for the girl] and it was a lot of pain for them. 'Don't go all the way' is something I gotta keep in mind but I'm gentle anyway. I'm not a rough guy anyway."

"…I don't know what women feel during the feeling and sensation of intercourse but it looks like it hurts."
Earlier this week, a source revealed Safaree was receiving several business offers, including porn, thanks to the pics. Safaree elaborated on TBC, stating that companies had reached out to him to create sex toy molds of his penis and to promote a brand of condoms. He didn't mention any plans to do porn, though.
The nude pics and Safaree's sexual experiences dominated the interview, but the conversation would shift to his music every so often and Safaree debuted "Hunnid," which he believes will be a smash and hopes its dance will become a craze.
You can watch Safaree's full Breakfast Club interview below:
Be the first to receive breaking news alerts and more stories like this by subscribing to our mailing list.