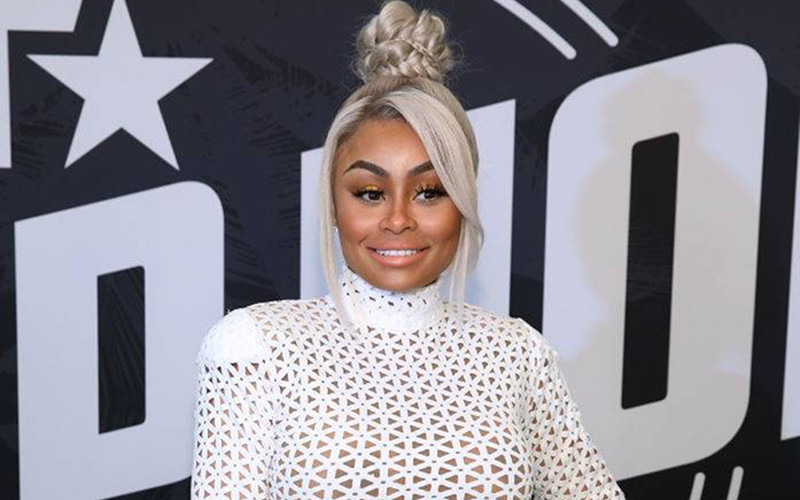 Blac Chyna is getting the Kardashian treatment in a way she probably never intended. A short sex tape of the TV personality has leaked online without her permission and she's hoping for legal repercussions.
Chyna became the No. 1 trending topic on Twitter today (Tues, Feb. 19) after a clip of her performing oral sex on an unknown man went viral. The 1 minute, 23 second video was uploaded by an anonymous source and she says she had no involvement in its release.
Walter Mosely, Chyna's lawyer, couldn't comment on the video to TMZ because "It's a criminal matter." However, Chyna and her legal team have contacted police in hopes of finding out who uploaded the video and to possibly sue the culprit.
Twitter has suspended the original account that posted the video as well as accounts that have shared it.
Attorney Lisa Bloom represents Chyna in her "revenge porn" case against ex-fiancé and father of her daughter Rob Kardashian, who posted (then deleted) several nude photos of her on social media last year after believing she was cheating on him. In response to her client's latest nude scandal, Bloom tweeted:
Revenge porn — posting explicit images without the consent of everyone in those images — is a crime, a civil wrong, and a form of domestic abuse.
It's also a way to try to slut shame women for being sexual.
Girls have killed themselves over revenge porn.
It's not a joke.

— Lisa Bloom (@LisaBloom) February 19, 2018
While it's clearly Chyna in video, her male companion's face is never seen. However, his voice is very much audible. Chyna's ex, Meechie, believes its him in the video and also says he had nothing to do with its release. He wrote on Instagram:
"I can't believe any body would stoop this low. I stay in my lane. I don't do the drama… Now I gotta deal with my dick plastered all over the world. You gotta be fckn kidding me."
Here a few Twitter reactions to the leaked sex tape, with many making fun of Chyna's "skills":
We really went from Black Panther to Black Chyna in less than a week pic.twitter.com/CzwOVx22G0

— Landon Moss (@_LandonMoss) February 19, 2018
I wake up to dead black Chyna with a dick in her mouth. It's Monday slow down.

— PARI$ HEELTON (@ImTheBombDotCom) February 19, 2018
Black Chyna was like… ??????? pic.twitter.com/kQTx8iHm5j

— Bayi ?? (@Gerald_Huggins) February 19, 2018
https://twitter.com/VinNice1/status/965652251502104577
https://twitter.com/TheShadyFacts/status/965705535348645888
Black Chyna has no choice but to upload a better video, that's just the rules.

— LENA (@anmctier) February 19, 2018
Thank Black Chyna for the head that y'all will receive later tonight. Bitches tryna prove a point

— LADY MACBETH (@TheMF90) February 19, 2018
Black Chyna ran from that facial like…… pic.twitter.com/hswHPRKhuH

— LUXURY DRUG TWEETS (@1FranklinSaint) February 19, 2018
Me after finding out why tf Black Chyna was trending. pic.twitter.com/tiDxq0ZZPu

— Breanna ?? (@musiciangirl_17) February 19, 2018
https://twitter.com/islandgirl_784/status/965696938007023617
Be the first to receive breaking news alerts and more stories like this by subscribing to our mailing list.