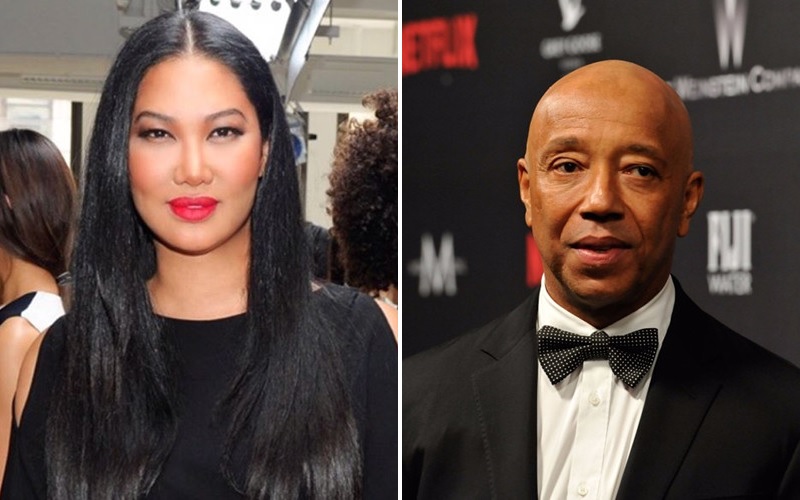 As more than a dozen women come forward to accuse Russell Simmons of sexual assault, his ex-wife Kimora Lee Simmons is coming to his defense, stating the allegations are "nothing like the person I have known" for over 25 years.
The day after filmmaker Jennifer Jarosik accused Russell of rape in a $5 million lawsuit, Kimora broke her silence on the scandal to a TMZ videographer on Thursday (Jan. 25). "I love him; We're still friends," she said of Russell before adding that she believes he's innocent of the allegations.
Kimora later took to Instagram to elaborate. Despite the allegations, she described Russell as a "caring and supportive father" who has worked to "uplift disenfranchised communities."
"I have known Russell for over 25 years. We were close friends, married, divorced and have remained friends, co-parents and partners throughout it all. These allegations against him are nothing like the person I have known in all that time. I have known him to be a caring and supportive father and someone who has worked tirelessly to uplift disenfranchised communities."
However, she also made it clear that she supports those who speak out against sexual harassment and assault.
"This is a pivotal moment in which men are being held accountable for their abuses of power and denigrating behavior towards women in all spheres. As a mother of two daughters, I believe that no one should ever be shamed or portrayed as an unreliable witness to their own experience for speaking up."
In the past few months, at least 15 women have accused Russell of sexual assault and Jennifer Jarosik is the 6th to accuse him of rape. She claims the mogul raped her at his Los Angeles home in 2016.
Jarosik filed a lawsuit against Russell—her friend of 10 years—on Wednesday (Jan. 24), seeking $5 million in damages. She alleges in the suit:
"Simmons got aggressive and pushed Plaintiff [Jarosik] on his bed. Plaintiff tried to force Defendant to stay away from her and in doing so, Defendant knocked Plaintiff off his bed, and Plaintiff hit her head and then Defendant pounced on her while she was still in shock and fear, and proceeded to rape her."
"These horrific accusations have shocked me to my core and all of my relations have been consensual," Russell wrote in a statement in response to Jarosik's allegation.
"I look forward to having my day in court—where, unlike the court of public opinion, I will have the ability to make use of fair processes that ensure that justice will be done and that the full truth will be known."
Russell's statement continued:
"In recent weeks, some former business, creative and romantic partners have aired grievances as claims I categorically reject. In some of these instances, financial motives and direct contradictory witness testimony has been supplied to the media, which has been completely left out of stories. The current allegations range from the patently untrue to the frivolous and hurtful. The presumption of innocent until proven guilty must not be replaced by 'Guilty by Accusation.'"
Two other women filed reports against Russell Simmons earlier this month claiming he raped them. Several other women have made similar claims, including filmmaker Jenny Lumet, whose graphic open letter caused him to step down from his companies.
Be the first to receive breaking news alerts and more stories like this by subscribing to our mailing list.