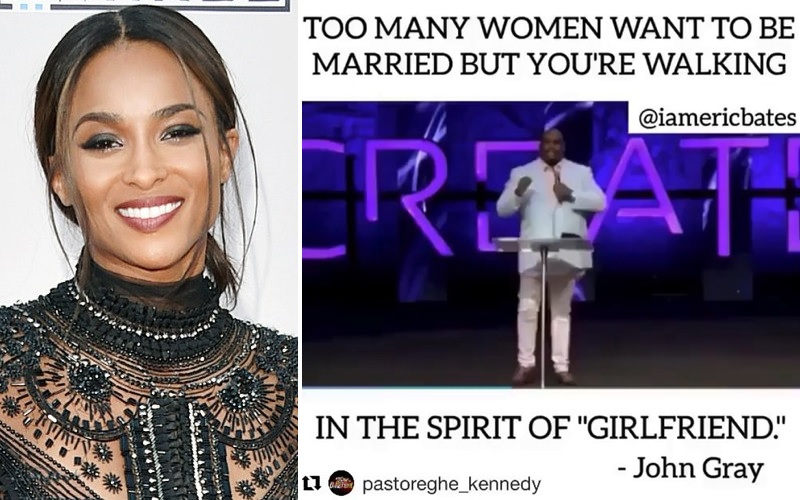 Black Twitter and Instagram had a lot say after Ciara inadvertently implied women should "level up" to meet the expectations of men if they want really want to find a husband. However, the backlash caused the singer to clarify her intentions.
Over the weekend, the happily married Mrs. Russell Wilson gave single women some unsolicited advice on how to get chose. She posted a clip of a sermon by Pastor John Gray in which he said too many are "walking in the spirit of girlfriend" and therefore can't find a husband.
"You're not a wife when I marry you, you're a wife when I find you… A wife is the presence of your character.

"Too many women wanna be married but you're walking in the spirit of 'girlfriend.' Walk like you're already taken… Carry yourself like you're already taken and I promise you, when you carry yourself like a wife, your husband will find you."
"#LevelUp. Don't Settle," Ciara agreed and captioned the post, which led to an onslaught of social media backlash. Many disagreed that women should change themselves and act a certain way to attract a man. Ciara was also dragged for perpetuating the archaic notion that all women aspire to be a "wife."
"level up"? these types of messages are so toxic to women. your value does not depend on a man wanting you and marriage is not the be all and end all. ciara is basic af for spreading this https://t.co/EQqTBDAIwa

— s (@sabrinaahmed) January 21, 2018
https://twitter.com/CiCiAdams_/status/955096113106837504
https://twitter.com/KimberlyNFoster/status/955087150541926400
Getting married to a half-baked man is the easiest mess to do. Someone should tell Ciara and her Pastor that today's women choose to be single until men #LevelUp! Marriage is a decision not an accomplishment dammit! ?????

— Chishimba (@MissNyambe) January 22, 2018
I'm not touching the Ciara topic but I do believe that it's sad that society programs women to believe that the greatest thing they can accomplish is to find a husband

— Mind Ya Bizness (@VeeRocks_) January 22, 2018
https://twitter.com/NamyDiablo/status/955539518991618052
Every so often, Ciara does something that reminds you to be grateful for the time Rihanna got her ass together on Twitter.

— Michael Arceneaux (@youngsinick) January 21, 2018
LEAKED FOOTAGE: Ciara after tweeting video of pastor talking about marriage. pic.twitter.com/RyFLxzxyp0

— playboi carson. (@CarsonZolanski) January 21, 2018
Believing her post had been misconstrued, Ciara responded to the backlash. She explained that she needed to learn how to love herself before someone could love her in the "perfect" way she wanted.
As you recall, Ciara had an extremely messy break-up with Future and the two share a three-year-old son together. She married Seattle Seahawks quarterback Russell Wilson in 2016 and they welcomed a daughter in 2017. Many have referred to Ciara and Wilson as #RelationshipGoals.
Be the first to receive breaking news alerts and more stories like this by subscribing to our mailing list.