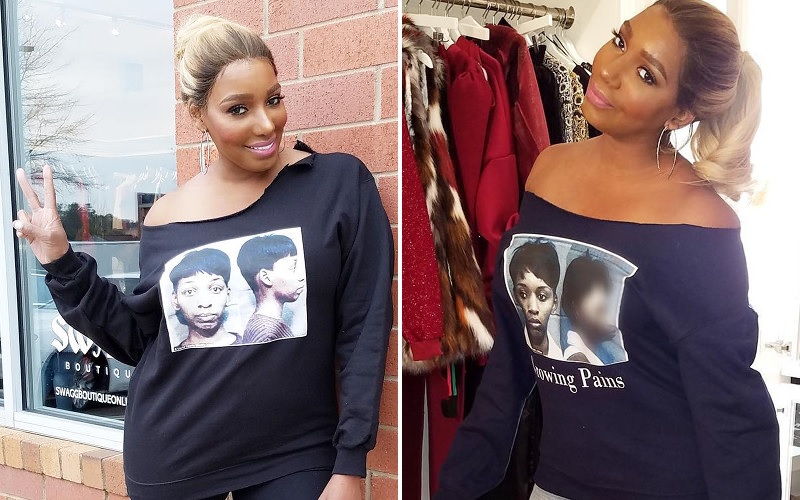 Sheree Whitfield really thought she was doing something when she brought up NeNe Leakes' old mugshots. Unfortunately, her little shade backfired and NeNe is the one getting the last laugh.
Thanks to Sheree, NeNe is ready to embrace and profit from her past. On Tuesday (Jan. 16), NeNe took to Instagram to debut two t-shirts available on her online boutique featuring a mugshot from an arrest from 25 years ago. "From MUGSHOTS to MILLIONS," she wrote.
One of the shirts also includes the phrase "Growing Pains." NeNe explains that growing up without her father and mother contributed to behavior that led to her being arrested when she was 25.
"Growing up without my mother or father i experienced many growing pains but without them, i could not be who i am or have accomplished the things that i have today.

"Your past does NOT determine your future. From Trial to Triumph i hope that i can inspire anybody to embrace and not be ashamed of what your past has made you become today!"
NeNe's new "mugshot collection" was inspired after Sheree tried to come for her by bringing up her old mugshot during the most recent episode of Real Housewives of Atlanta. Sheree was feeling some type of way after NeNe questioned her relationship with Tyrone Gilliams—who is currently in jail for fraud—and called him a con-artist.
Leakes later said on Watch What Happens Live!:
"I really don't care about Shereé bringing up a mugshot. Anybody can get a mugshot. A mugshot does not equal 10 years in prison for doing a Ponzi scheme.

"And by the way, Shereé can be worried about her own mugshot, her son got a mugshot and her man got a mugshot."
NeNe's own run-in with laws occurred back in the early 1990's. A 25-year-old Linnethia Johnson was arrested in 1992 on three felony counts and one misdemeanor count of thefts of service from a phone company.
She pleaded guilty to all four counts and was ordered to repay $2,650 and was placed on two years of probation. However, NeNe was later arrested three more times for violating her probation and shoplifting.
NeNe's mugshot t-shirts are expected to go on sale later this week exclusively at her Swagg Boutique in Atlanta and its website.
Be the first to receive breaking news alerts and more stories like this by subscribing to our mailing list.