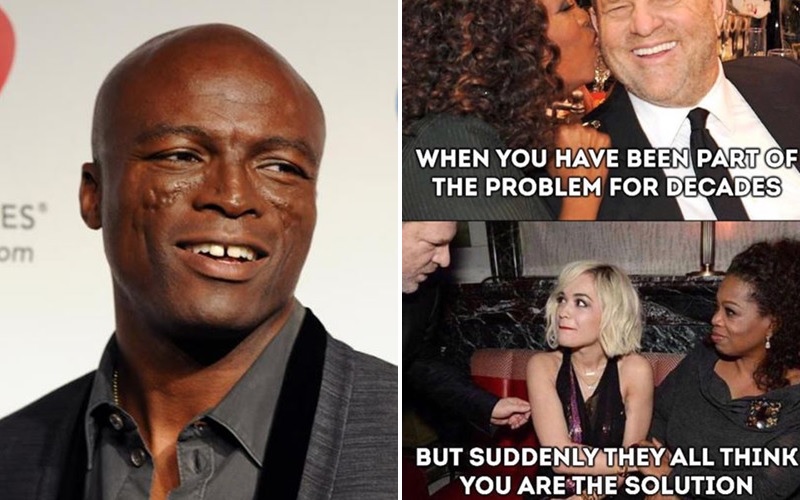 Oprah Winfrey got Hollywood super excited about a potential 2020 presidential run following her inspiring Golden Globes speech earlier this week. But there's one Hollywood celebrity who's definitely not here for a President Winfrey.
Singer Seal slammed Oprah on Wednesday (Jan. 10) for her rousing #MeToo and Time's Up speech. He posted a meme insinuating that Oprah's "been part of the problem for decades" when it comes to sexual harassment in Hollywood due to her association with Harvey Weinstein.
Seal wrote on Instagram:
"Oh I forgot, that's right…..you'd heard the rumours but you had no idea he was actually serially assaulting young stary-eyed actresses who in turn had no idea what they were getting into. My bad. #SanctimoniousHollywood"
https://www.instagram.com/p/Bdw9Onnn7og/
Allegations against the disgraced Hollywood giant obviously sparked the #MeToo movement when more than 30 women came forward to accuse Weinstein of sexual misconduct. Seal's post suggests that Oprah knew about Weinstein's behavior, but never spoke out, a criticism that that other Hollywood heavyweights like Meryl Streep have also faced.
Despite her professional relationship with Weinstein, Oprah has made it clear that she stands with his accusers and other victims of sexual harassment. "If we make this just about Harvey Weinstein, then we will have lost this [watershed] moment," Oprah told CBS News as Weinstein's scandal grew back in October 2017.
"I think this is a moment where no matter what business you work in, there have been women who not only had the disease to please, that's a part of it, but who felt that in order to keep my job, in order to keep my positioning, in order to keep moving forward, I've got to smile, I've got to look the other way, I've got to pretend he didn't say that, I've got to pretend he didn't touch me – I think those days are about to be over."
It was also reported in October that Oprah had privately lent her support to Weinstein. However, her reps quickly shut down the report and clarified that she was only interested in doing a 60 Minutes interview with Weinstein in hopes that he would admit his inappropriate behavior.
Oprah's rep told TMZ:
"Oprah has not spoken to Harvey Weinstein directly. Someone from his team reached out to her to see if she would talk to him, and she said she would if it was for an interview. There are no plans for an interview at this time…

"She was only interested if he'd look in the mirror and give her the honest, bone marrow truth."
Though she didn't mention Weinstein by name, the crux of Oprah's Golden Globes speech was that a "new day is on the horizon" due to the #MeToo movement and the brave women and men speaking out against sexual abuse and harassment in the workplace.
Reports suggest Oprah is "actively thinking" and "intrigued" by the idea of running for President of the United States in 2020, but she has made no official announcement and has previously denied any plans of running for elected office.
Be the first to receive breaking news alerts and more stories like this by subscribing to our mailing list.