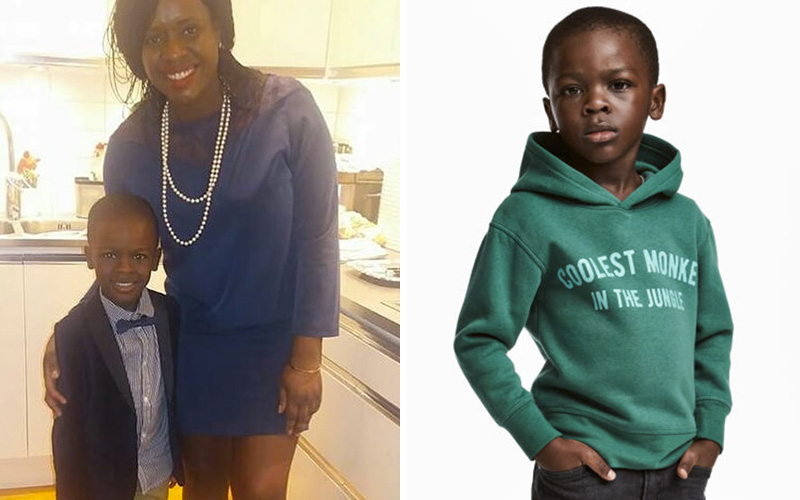 The mother of the little boy in that racist H&M ad, in which he can be seen modeling a green hoodie with the words "Coolest Monkey In the Jungle" printed on it, has responded to the backlash. And, surprisingly, her response is nowhere near what you think it would be.
While most Black people are upset at H&M for putting a little Black boy in a hoodie calling him a "monkey," his mother, Terry Mango, is far from it. In fact, she doesn't understand the outrage in the least bit, and has taken to social media to share her thoughts on the situation.
After the offensive photo went viral, people began to question where Mango was when H&M decided to do a photoshoot with her son in the hoodie. While some argued that she probably wasn't present during the shoot, others accused the brand of photoshopping the hoodie on the boy after it was done.
Well, it turns out, Terry was most definitely there in person during the entire shoot and watched the whole thing go down. However, she doesn't see what the problem is, and wishes that black people would "stop crying wolf all the time" and "get over it."
Read her full Facebook post (which was screenshotted and is now being shared all over the internet) below:
"[I] am the mum, and this is one of hundreds of outfits my son has modeled. Stop crying wolf all the time, [it's] an unnecessary issue here. Get over it. That's my son, [I've] been to all [of his] photoshoots and this was not an exception. Everyone is entitled to their opinion about this. I really don't understand but not [because I'm] choosing not to but because it's not my way of thinking. Sorry."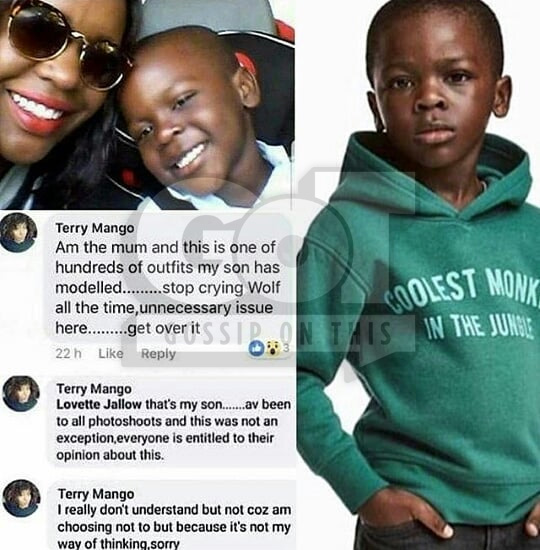 According to her Facebook profile, Terry Mango hails from the African country of Kenya, but now lives in Stockholm, Sweden, which probably explains why she doesn't understand the racist background of the word "monkey." However, still… the folks at H&M should have known better.
Meanwhile, H&M has since responded to the backlash they received over the ad, apologizing in an official statement to "all customers, staff, media, stakeholders, partners, suppliers, friends and critics" and admitting that they "got this wrong."
Read their full statement below:
H&M is fully committed to playing its part in addressing society's issues and problems, whether it's diversity, working conditions or environmental protection – and many others. Our standards are high and we feel that we have made real progress over the years in playing our part in promoting diversity and inclusion. But we clearly haven't come far enough.

We agree with all the criticism that this has generated – we have got this wrong and we agree that, even if unintentional, passive or casual racism needs to be eradicated wherever it exists. We appreciate the support of those who have seen that our product and promotion were not intended to cause offence but, as a global brand, we have a responsibility to be aware of and attuned to all racial and cultural sensitivities – and we have not lived up to this responsibility this time.

This incident is accidental in nature, but this doesn't mean we don't take it extremely seriously or understand the upset and discomfort it has caused. We have taken down the image and we have removed the garment in question from sale. It will be recycled. We will now be doing everything we possibly can to prevent this from happening again in future.

Racism and bias in any shape or form, conscious or unconscious, deliberate or accidental, are simply unacceptable and need to be eradicated from society. In this instance we have not been sensitive enough to this agenda.

Please accept our humble apologies.
Be the first to receive breaking news alerts and more stories like this by subscribing to our mailing list.