We were just celebrating the young black love between Cardi B and Offset a few months ago. But we now may be watching the relationship crumble and many are wondering if the newly engaged couple will even make it down the aisle.
In the past several weeks, Cardi and Offset's relationship has been tested time and time again due to cheating rumors and leaked alleged sex tapes, all courtesy of the Migos rapper. Fans really began to worry about the couple's status when Cardi wrote she needed to follow her heart and mind before making a decision.
In a now-deleted tweet on Monday (Jan. 8), Cardi wrote:
"I'm going to make a decision in my own times with my heart and mind. I don't need to be rushed or be told what to do. It's my life! I belong to me not to the world."
One day earlier, Cardi confirmed Offset cheated and defended her fiancé's infidelity, writing on social media that "everyone" gets cheated on.
"No it's not right for a nikka to cheat… But what you want me to do? Go f*ck me another nikka? start all over again and get cheated on again? This sh*t happens to everyone and I bet too You too… People handle they relationship different soo"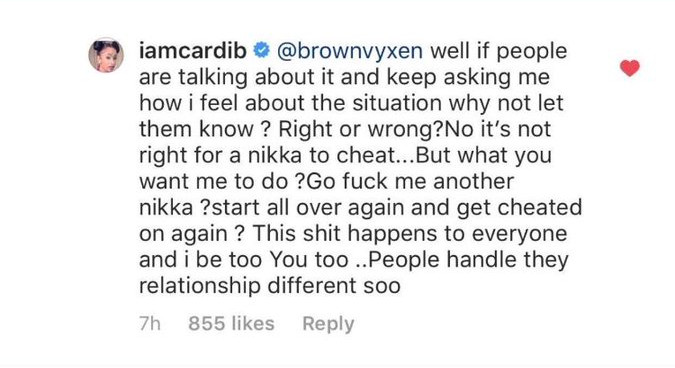 Cardi's comments came days after a second sex tape allegedly featuring Offset with another woman leaked online. The first alleged sex tape with a woman who was not Cardi B leaked on Christmas day.
This was followed by rumors of Offset cheating on Cardi with at least two other women, one being Celina Powell. The Instagram model claims Offset is the father of her unborn baby girl. Offset responded by sending Powell a cease and desist letter and the two are reportedly battling it out via their lawyers.
During a December 28 concert, Cardi called out Offset for cheating on her. "I let a n***a know, though. You do that sh*t again….you gon' lose your wife," she said onstage echoing a lyric from Beyoncé's "Don't Hurt Yourself." Offset and his Migos crew were in the same building at the time.
Offset proposed to Cardi B onstage at the Power 99 Powerhouse concert in October. The two began dating in early 2017, but it's getting really hard to tell if they can make through 2018.
Be the first to receive breaking news alerts and more stories like this by subscribing to our mailing list.