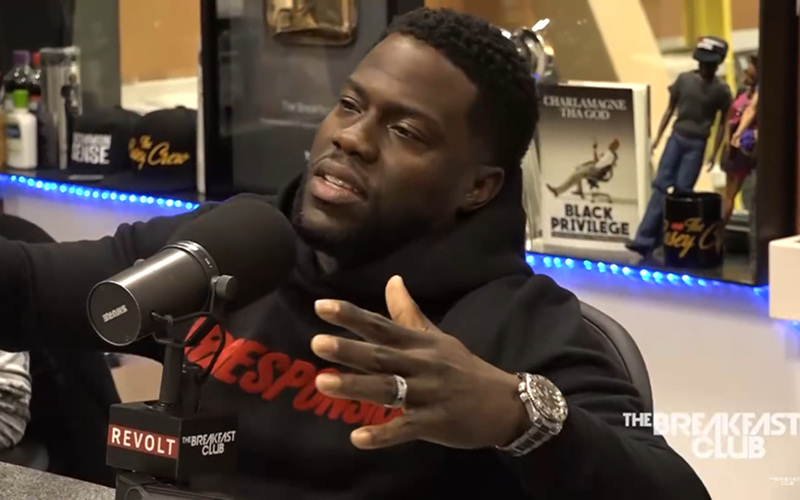 Kevin Hart says he's been on Santa's "naughty list" this year, but is working towards being a better man. The comedian reflected on his scandalous year and admitted he cheated on his wife while she was pregnant.
Promoting his upcoming film, Jumanji: Welcome to the Jungle, Hart appeared on The Breakfast Club today (Dec. 14). However, the interview wasn't all laughs, as the actor opened up about being exposed for cheating on his wife, Eniko Parrish, while she was eight months pregnant with their first child.
"I'm guilty, regardless of how it happened and what was involved, the sh*t that I can't talk about, I'm guilty. I'm wrong. It's beyond irresponsible. There's no way around it. That's Kevin Hart in his dumbest moment. That's not the finest hour of my life. With that being said, you make your bed you lay in it."
Back in September, Hart revealed in an Instagram video that he was being extorted over "sexually suggestive" videos and photos with another woman. Instead of paying the money, he came clean and publicly apologized to his wife and family.
Days after he revealed the extortion plot, a sex tape featuring a man resembling Hart leaked online. 27-year-old model Montia Sabbagg confirmed she was the woman caught with Hart in the photos and videos and claimed that she had no involvement in the extortion plot, which was investigated by the FBI.
Hart tells the Breakfast Club hosts that he knew he "f**ked up" and hoped that his wife would forgive him after he told her about his infidelity. He also hopes to be a better example for his son moving forward.
"You don't plan to f*ck up. You f*ck up, and then you go, 'Oh shit, I f**ked up' … I'm gonna go home, I'm gonna address it, I'm gonna make my wife fully aware of what's going on in the situation that I have now put us in and I'm hoping that she has a heart to where she can forgive me and understand that this is not going to be a reoccurring thing and allow me to recover from my f***ing massive mistake. That's what I'm trying to do not only as a man, but within teaching a lesson to my son."
In July, Hart was the center of another cheating scandal. He was caught on video with rising Latin singer Monique "MoMo" Gonzalez in a car while in Miami. Witnesses said the two were "canoodling" and "hooking up" for 20 minutes. Hart laughed off this cheating rumor with a meme.
"Have I been naughty or nice? That's definitely a tough question for Kevin Hart right now, it was a tough year for me," Hart told Extra host Mario Lopez's daughter on the Jumanji premiere red carpet when she asked what he wanted from Santa Claus this year.
"I had some bumps in the road, but the good thing is you take great steps backwards to take great steps forward. So now, I've recovered from some not nice times and now what I basically want is for Santa to know that I'm doing good and I'm doing better. Just to know I'm a good guy."
Parrish gave birth to the couple's son, Kenzo, in late November. Hopefully, 2018 will be a much better year for the family.
Be the first to receive breaking news alerts and more stories like this by subscribing to our mailing list.