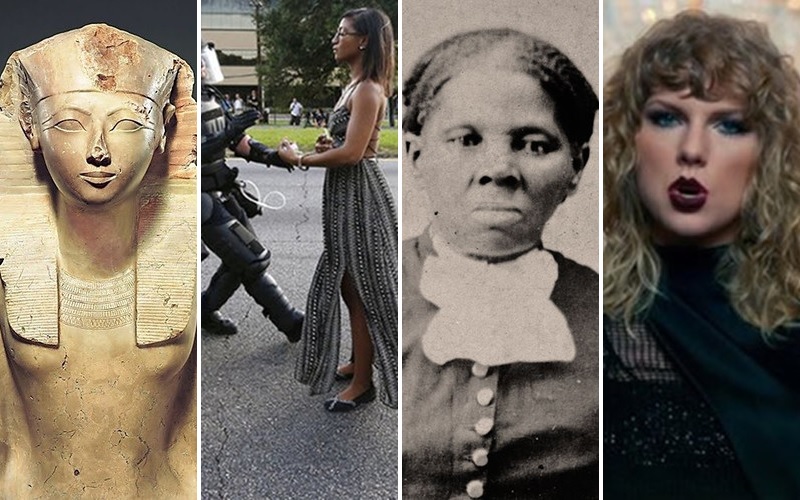 Taylor Swift is probably somewhere celebrating that her album, Reputation, spending its third consecutive week at the top of the charts, but she might wanna stay off Twitter right now. After a fan claimed their fave was the "baddest," Twitter has been going all the way in on Taylor Swift to prove otherwise, with receipts!
On the day Reputation dropped way back in early-November, a fan made the rhetorical statement: "Name a b*tch badder than Taylor Swift."
Name a bitch badder than Taylor Swift ??? pic.twitter.com/AkSyQBUIME

— Nutella (@xnulz) November 10, 2017
But leave it to Twitter to make something go viral a whole month latter. Over the past few days, many Twitter users have responded to the tweet by naming several other "bad bitches," including historical figures like Rosa Parks and Harriet Tubman, Holocaust survivors, feminists, and even their own mothers and grandmas.
Harriet Tubman, with a major head injury, freed dozens of slaves, joined the Union Army as a nurse, became an ARMED scout & spy, led a raid on Combahee Ferry that liberated 700+ slaves, married a man 22 years younger, advocated for women's suffrage. pic.twitter.com/820HIli5l5

— Helen Graves (@helengravesnyc) December 2, 2017
— Kali Devi (@GoddessKaliDevi) December 2, 2017
Safiyyah Khan, British-Pakistani girl who smiled down on an ultra right protester.https://t.co/4G22Ot9wI8

And she's wearing FREE PALESTINE t-shirt while at it. pic.twitter.com/vAOnp6to0F

— anak baik-baik™ (@pitoist) December 3, 2017
Someone tried to steal my then-80yo mother's purse and she grabbed it back, called the police, and then ran the rest of her errands. ? https://t.co/1gwzZSTJwD

— coco (@cococoyote) December 3, 2017
https://twitter.com/catinthehat1003/status/937102758208978944
My grandmother. Pulled out of school age 10 to care for her 12 siblings by taking over an adult women's duties in rural Mexico. All her siblings became professionals thanks to her. She's now almost 80, has arthritis and no fingerprints. She can get away with murder if she chose.

— Emi (@LazyDraws) December 3, 2017
Nzinga, queen of the Ndongo and Matamba Kingdoms. She I s best remembered for her resistance against the Portuguese, and setting her people free from slavery. pic.twitter.com/LoR0PibzCZ

— Jonny Cairo (@HereticPharaoh) December 3, 2017
At 15, @Malala was shot in the head by the Taliban for insisting that girls had the right to an education. At 17, she became the youngest winner of the Nobel Peace Prize in history. At 18, she opened a school for Syrian refugee girls in Lebanon. https://t.co/UjPdnoqc0o

— shauna (@goldengateblond) December 3, 2017
Pharaoh Hatshepsut; she one of the longest and prosperous reigns of any pharaoh (male or female). #WomenInHistory #AncientEgypt #Kemet pic.twitter.com/mp4X93zjK7

— Jonny Cairo (@HereticPharaoh) December 3, 2017
My grandmother who raised a half dozen kids, only one of which was her own, worked every day of her life. Could drink anyone under the table and survived breast cancer TWICE. And when her body finally gave out and she left us she was more afraid of what we would do without her. https://t.co/EPxKyXkVDb

— Richard Jensen (@RichardJensen46) December 3, 2017
Sophie Scholl, the German student executed by the Nazis for distributing anti-war leaflets at the University of Munich in 1943 comes to mind. pic.twitter.com/AZCO0oWg0K

— ? Katy (@lotuspad) December 3, 2017
Franceska Mann, the Polish ballerina, who, while being led to the gas chamber, stole a Nazi guard's gun, shot him dead, and started a female-led riot that gave hope to all of the prisoners of Auschwitz in the face of certain death https://t.co/s7yM6MDYT5

— Hollywood Histories (@moviehistories) December 2, 2017
Milada Horakova. Czechoslovakian politician & freedom fighter. Arrested by nazis in 1940 and tortured. Freed by US soldiers in 1945. Arrested again by communists in 1949. Sentenced to death in a staged hearing and hanged in 1951. Remained positive and strong to the very end. pic.twitter.com/WCIhYRjyRF

— Tomas Novotny (@newky_perknov) December 3, 2017
Mariya Vasilyevna Oktyabrskaya: her husband was killed by the Nazis in 1941 during Operation Barbarossa. She went to the Soviet gov't and demanded to get a tank to kill Nazis. The gov't relented and she killed Nazis with her tank. pic.twitter.com/9Iinz8ndxx

— ??? (@shonan_naminori) December 2, 2017
https://twitter.com/DesDelgadillo/status/937340026572087297
anyone who has openly disavowed white supremacy https://t.co/5fdrrsVnqP

— J. Jennifer Espinoza (@sadqueer4life) December 3, 2017
I'm sure the original poster only wanted to show Taylor Swift some love, and didn't mean anything by the tweet. However, even Swift can't argue with this list of strong women.
Be the first to receive breaking news alerts and more stories like this by subscribing to our mailing list.