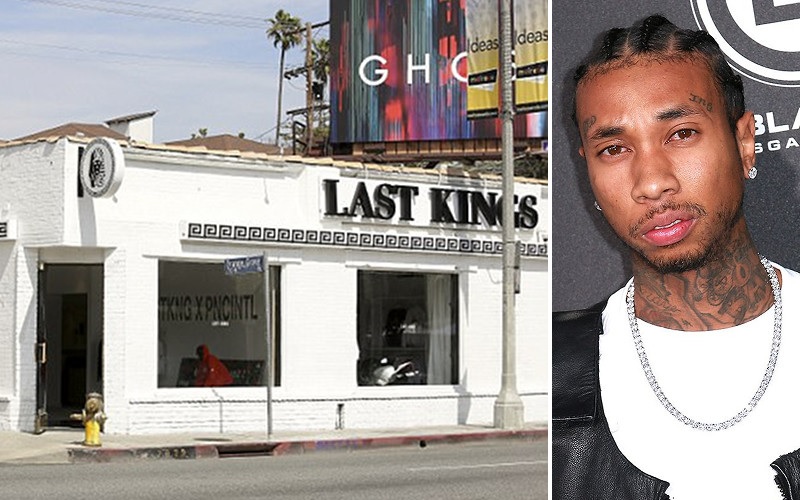 Tyga got robbed! Well, his Los Angeles clothing store was robbed. Police are currently investigating the matter, but currently have no suspects.
TMZ reports that Tyga's Last Kings clothing store was broken into either late Friday night (Dec. 1) or early Saturday morning. The thieves got away with several articles of clothing, but the total value of the stolen items is unknown.
An employee reported the robbery when they arrived on Saturday morning to open for business. Police arrived at the storefront located on Melrose in the Fairfax area of LA to survey the scene and check for clues. They have opened an investigation, but have yet to identify any suspects.
Tyga's Egyptian-themed clothing venture has faced a few obstacles since it opened in 2014. Last year, he was ordered to pay $186K to the landlord of a rental property he was using for his clothing label. The landlord sued to cover damages to the property and five months of unpaid rent.
From TMZ:
"Tyga's landlord found the place abandoned, and it was a disaster. The doors had been painted black with Egyptian patterns, the ceiling tiles were painted over and there were ink stains around 5,000 feet of concrete flooring. What's worse … the landlord says someone poured ink down the drain and into the public sewer … an environmental no-no."
And in 2015, Tyga's collaborator and former business partner, Chuon Gen Lee, sued the rapper for $1.6 million, claiming he stole the Last Kings brand concept and failed to hold up his end of a business agreement the two had made. She not only won the case, but the damages were increased to $2.1 million earlier this year.
So yeah, Tyga definitely needs the money from those stolen goods.
Be the first to receive breaking news alerts and more stories like this by subscribing to our mailing list.