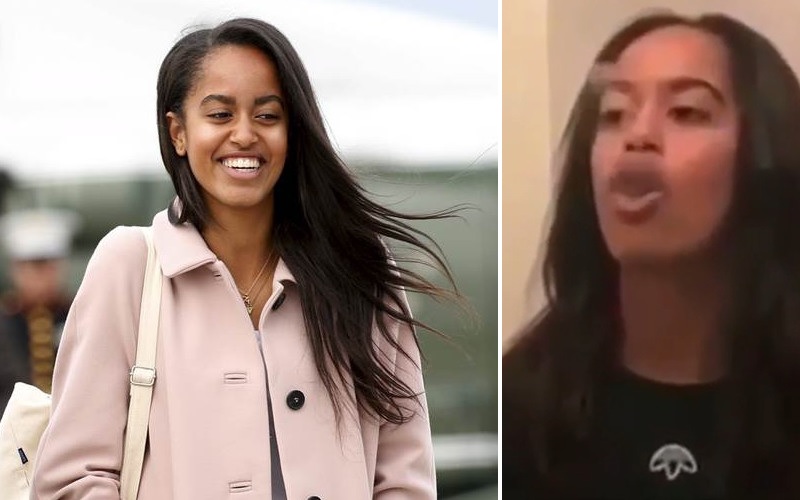 Malia Obama can't seem to get a break. And the only thing she's doing is living her teenage life (at Harvard). The 19-year had the nation talking after a video of her blowing smoke rings went viral.
Conservatives lost their minds Friday (Nov. 24) after right-wing site The Daily Caller posted a video of Malia attempting to blow smoke rings while in a bathroom. Since I'm on the "Leave Malia alone" team, I'm not going to include the video, but click here to view it for yourself.
For the record, it's also unknown exactly what Malia was smoking.
The video was seemingly recorded on Snapchat and captioned: "F**king get your camera right now." Barstool Sports first posted it on Instagram but later deleted it. Daily Caller then picked it up and the vid went viral on Twitter, YouTube, and other social media platforms.
Trump supporters/Barack Obama haters used the video as just another chance to criticize Malia and the former president. However, most of Twitter – especially Black Twitter – was not here for the games and Malia Obama quickly became a trending topic.
Some mocked the haters, while many suggested we leave Malia alone since she's now a private citizen and just doing what college students do. Others also advised the 19-year-old to get new friends, assuming a friend is the one who released the vid into cyberspace.
Saddened to wake up to the news that Malia Obama held secret meetings with Russians and subverted our democracy.

— David Dennis Jr. (@DavidDTSS) November 24, 2017
I still can't blow smoke rings so good for Malia.

— Diamond Sharp (@diamonde) November 24, 2017
https://twitter.com/SteeloBrim/status/934220860671524865
There will be no Malia Obama slander on my timeline pic.twitter.com/sTFZwInF5C

— icon. (@LoveMayaJ) November 24, 2017
https://twitter.com/HUNTYCHAN/status/934175725195812866
I am so sick of Malia Obama's "friends".

— jaVe. (@javeauriel) November 24, 2017
Malia Obama is a 19-year-old acting her age at Harvard. She balanced being a kid and being First Daughter extremely well, despite unethical pursuit by the media.

If conservatives are worried about America's teens, they should stop adult men from dating 14-year-old girls.

— Kaivan Shroff (@KaivanShroff) November 24, 2017
Malia Obama needs to recreate this picture and really get them mad. pic.twitter.com/rEm8NwD7YX

— Black Shaggy (@villaintalk01) November 24, 2017
https://twitter.com/francinederby/status/932825629086625793
W A R N I N G! ….. W A R N I N G! ANYONE who attacks Malia Obama WILL feel the wrath of Michelle & The Streets of Chicago! #MaliaObama pic.twitter.com/dJpJylmoXl

— #LaquanMcDonald (@ifuaskmee) November 24, 2017
The fact that Right Wingers are more offended with Malia Obama, 19 yrs old, making out with a 19 yrs old guy than with Roy Moore assaulting underage girls and Trump bragging abt sexual assaults tell you everything about their deep seated hatred for black people

— NoChillMood (@ritaag) November 24, 2017
All I know is Malia Obama needs better friends who won't put her business online all the damn time.

I don't want to know what that young private citizen is doing. She's minding her business.

— Johnetta Elzie (@Nettaaaaaaaa) November 24, 2017
Malia Obama out here blowin' smoke rings like most college kids at her age and Trump supporters are going crazy. Meanwhile, this is what Trump's boys are doing. pic.twitter.com/SzdHBJzKVS

— Denizcan Grimes (@MrFilmkritik) November 24, 2017
I just want Malia Obama to get some friends who won't film her every time she smokes. Nobody in her circle is loyal at all.

— Simply TC (@BienSur_JeTaime) November 24, 2017
BREAKING: Malia Obama is behaving like a normal college student.

— Be water, my friend. (@_emptyyourmind) November 21, 2017
BREAKING: Malia Obama smokes weed pic.twitter.com/tYkluMIa1v

— 101 (@whorechata101) November 24, 2017
Former first daughter Chelsea Clinton and current first daughter Ivanka Trump even defended Malia on Twitter.
Malia Obama's private life, as a young woman, a college student, a private citizen, should not be your clickbait. Be better.

— Chelsea Clinton (@ChelseaClinton) November 24, 2017
Malia Obama should be allowed the same privacy as her school aged peers. She is a young adult and private citizen, and should be OFF limits.

— Ivanka Trump (@IvankaTrump) November 24, 2017
Malia also made headlines earlier this week when she was caught kissing a boy and smoking a cigarette while tailgating before a football game between Harvard and Yale. Internet detectives identified the boy as Rory Farquharson, a Brit who attended the prestigious Rugby School and is rumored to be Malia's Harvard boyfriend.
Malia is 19 and just started her first year at Harvard earlier this year. She's living her carefree life and doing the things that most kids her age do. After spending eight years in the public spotlight, can we please just let her be?
Be the first to receive breaking news alerts and more stories like this by subscribing to our mailing list.