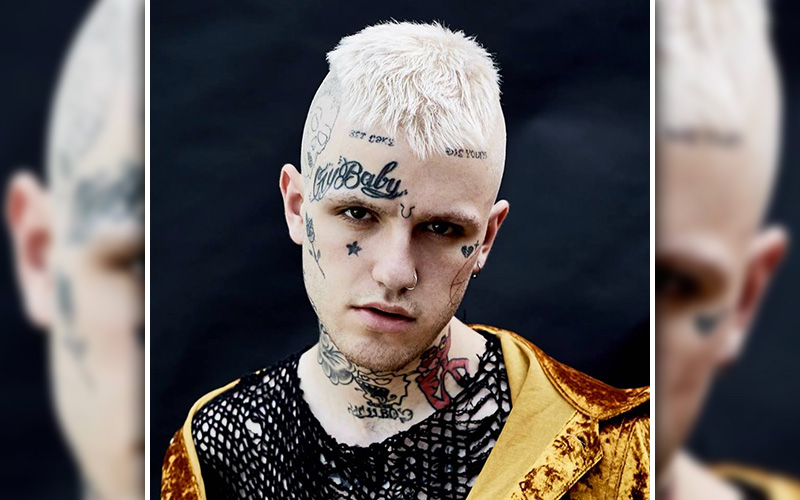 Lil Peep—an up-and-coming rapper, singer and YouTube star—has died, according to multiple internet reports and an Instagram post from his manager Mikey Cortez.
"I'm completely heart broken and lost right now," Cortez said on Instagram. "I can't even feel it's not real. I love you and I'll miss you always. One of the realest. Please someone tell me this isn't real."
Though his cause of death has yet to be revealed or confirmed, it is believed that the New York-based emo artist (real name: Gustav Åhr) died as the result of a drug overdose. He was just 21 years old.
Lil Peep, who had a large internet following in the millions (nearly 900K Instagram followers, over 200K Twitter followers, 235K Facebook likes and more than 300K YouTube subscribers), had a promising career ahead of him.
Peep's initial fame came from his YouTube channel, where a number of his music videos have millions of views. His debut album, Come Over When You're Sober, was released on September 1st.
The rapper's drug-infused anthems and his social media accounts offered a glimpse into his lifestyle, which often included him drinking heavily and abusing prescription drugs. In fact, within the last 24 hours, he posted photos of himself taking Xanax and talking about death, saying, "When I die You'll love me."
Lil Peeps last few Instagram posts, don't ignore the signs, help your friends.

Rest in peace Lil Peep?? pic.twitter.com/UlKdlXzbOO

— 713 Magazine (@713magazine) November 16, 2017
His album included numerous references to his use of cocaine, molly, Xanax, ecstasy and other drugs.
Posts on online forums such as Reddit and KanyeToThe are attributing Lil Peep's death to an overdose before a concert in Tucson, Arizona Wednesday night (Nov. 15).
Peep, whose "Come Over When You're Sober Tour" launched last month in Seattle, was scheduled to perform a concert at The Observatory in Santa Ana, California tonight (Thurs, Nov. 16), which would have marked the end of the tour.
Lil Peep's name is currently trending on Twitter, with many users (including well-known celebs and Hip-Hop artists) are sharing their condolences and paying tribute to the emerging rapper.
https://twitter.com/tydollasign/status/931054288670924800
in the short time that i knew you, you were a great friend to me and a great person. your music changed the world and it'll never be the same. i love you bud. forever pic.twitter.com/tpbxpkf4f4

— Beerbongs & Bentleys (@PostMalone) November 16, 2017
R.I.P Lil Peep Dawg

— underdog (@lilyachty) November 16, 2017
No. Not lil peep ?

— pw (@petewentz) November 16, 2017
RIP LIL PEEP

— Lil pump (@lilpump) November 16, 2017
Damn, RIP Lil Peep. Real rockstar.

— Solace (@Issa_GOLD) November 16, 2017
https://twitter.com/cubsrule00988/status/931054231070629890
Lil peep dying should be an eye opener to not ridicule someone for their drug use but to talk to them about it. A lot of times it is just a coping mechanism to supress pain and illness. Being vocal with those you truly care about is so damn critical, don't take it for granted.

— RyansAverageLife (@RyanAbe) November 16, 2017
I can't believe such a talented amazing person is gone so quickly. I love you Lil Peep. Rest In Peace ? pic.twitter.com/xYsehmnIYX

— peanut ? (@Pea_P0D) November 16, 2017
https://twitter.com/GraveOfFairfax/status/931049958391783424
R.I.P. Lil Peep ? pic.twitter.com/H3uIhBOlnC

— HipHopDX (@HipHopDX) November 16, 2017
https://twitter.com/EddyBaker/status/931051524381446145
If you see your homie always popping pills he's not getting lit… he needs help.

Damn RIP lil peep..

— George Orozco (@George_Orozco) November 16, 2017
fuck i can't believe lil peep died. i really thought this was just the beginning for him… RIP 🙁 fuck mental illness

— olivia o'brien (@oliviagobrien) November 16, 2017
"When I die bury me with all my ice on, when I die bury me without the lights on"

RIP Lil Peep ?

— chris melberger (@chrismelberger) November 16, 2017
Be the first to receive breaking news alerts and more stories like this by subscribing to our mailing list.