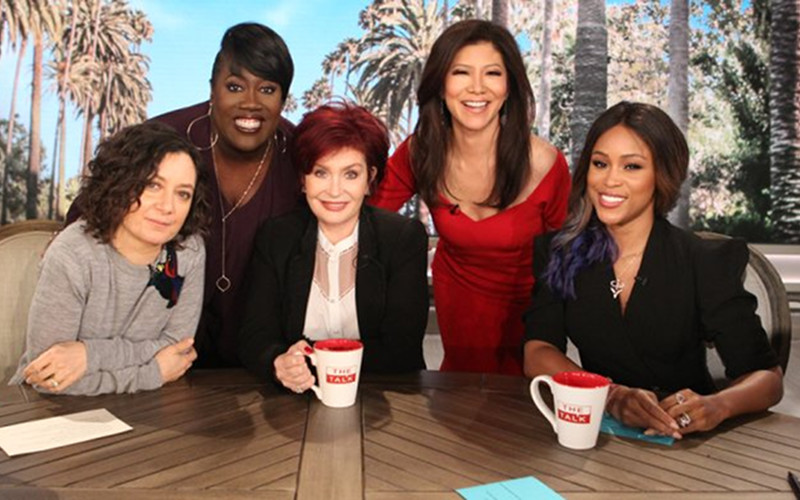 Talk about a pleasant surprise! Eve is back on the scene and she's adding another title to her resume: talk show host. The rapper/actress has officially joined The Talk as a permanent host.
Joining Julie Chen, Sharon Osbourne, Sara Gilbert and Sheryl Underwood, Eve made her debut at the Talk table on Tuesday (Nov. 14). "Honestly, I am the most excited I've been in a long, long time," she said.
"I feel like the first day of school. My face hurts from smiling. I am so honored to be here with you ladies. Thank you so much for having me. Thank you!"
Eve tells Variety she excited to show fans another side of herself:
"It is a new career move for me. I am interested in hosting, and specifically on this show, because I feel as though I can express myself in a way people haven't seen me before, and be able to engage in great discussions [and] have some fun. I'm just in a place in my life where I was looking for a platform to express myself."
The Grammy winner guest co-hosted the show for a full week just two weeks ago and was a hit with viewers and her future co-workers. "I just love the passion, and that somebody's willing to fly from London and be part-time with her family," Gilbert said of Eve who lives in London with her husband and four stepchildren.
"She had done so many things and now that she wants to take on this arena, I just respect her so much," Osbourne added. "We're all so different, and this brings such a different element to our table… So, we love her."
Even Chen's mother pushed for the rapper to join the talk show. "She said, 'She has a kind of aura, and [it's not] The Eve Show. She just looked like she fit in.' I was like, 'Alright Mama Chen, I'll put the vote in the ballot box.'"
Interestingly, Eve recently had a recurring role on the short-lived VH1 series, Daytime Divas, a campy primetime soap about the private lives and antics of the hosts of a fictional daytime talk show. Eve portrayed a lifestyle guru who was in the running to replace one of the co-hosts.
It seems life is imitating art. Eve replaces Aisha Tyler, who announced her departure from The Talk just three months ago to focus on other projects. We wish Eve well as she enters the jungle of daytime talk.
Be the first to receive breaking news alerts and more stories like this by subscribing to our mailing list.